Nursery school celebrates 90-plus years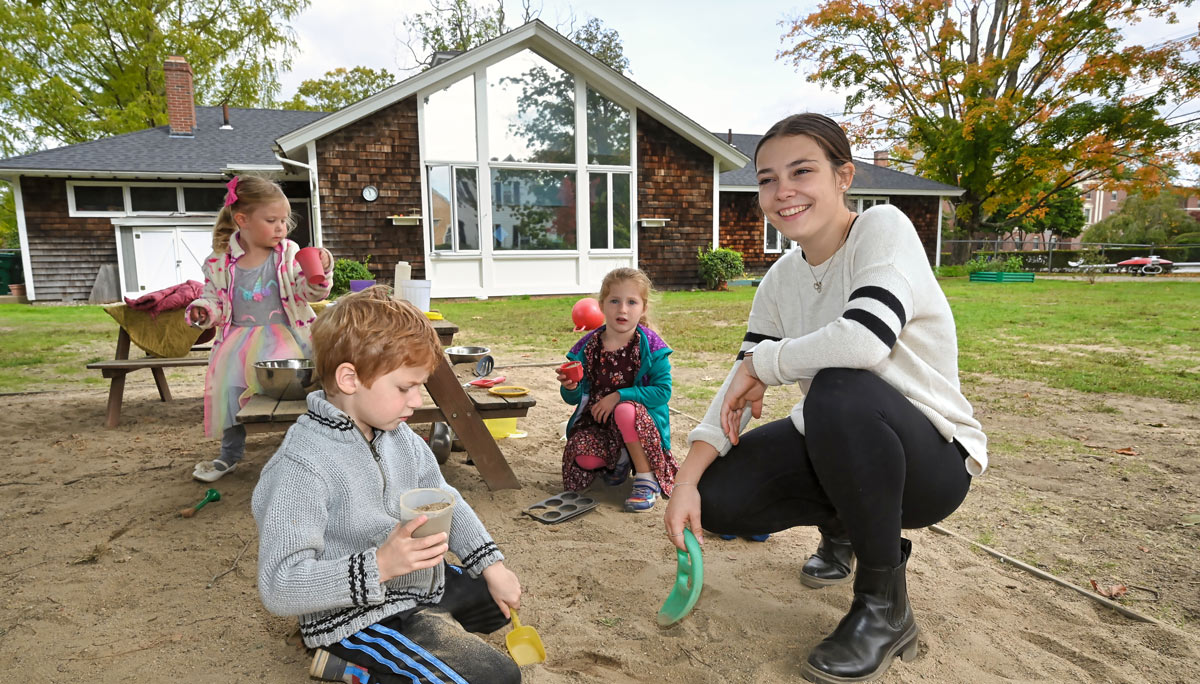 Resource provides experiential opportunities for Wheaton students, early education for children
Each week, the animated squeals of preschoolers fill the playground at Elisabeth Amen Nursery School, providing lessons to those within earshot about the importance of joy and play. Wheaton students regularly observe youngsters to learn and to gain firsthand experience in early child development for their education and psychology courses.
The original nursery school was founded in 1931 and was one of the first college-affiliated laboratory nursery schools in the country, thanks to Elisabeth Amen, a professor of psychology and education at Wheaton. When the school received a new building in 1966, it was named in her honor.
For more than 90 years, the nursery school has offered opportunities for Wheaton College students to work with children and observe their behavior; served as a source for student and faculty research; and provided local families a nurturing place for their children to learn and grow.
That long history was celebrated on Saturday, October 1, during a festive community event  featuring face painting, crafts and singing at the school, which is located on East Main Street, just steps across from Wheaton's main campus.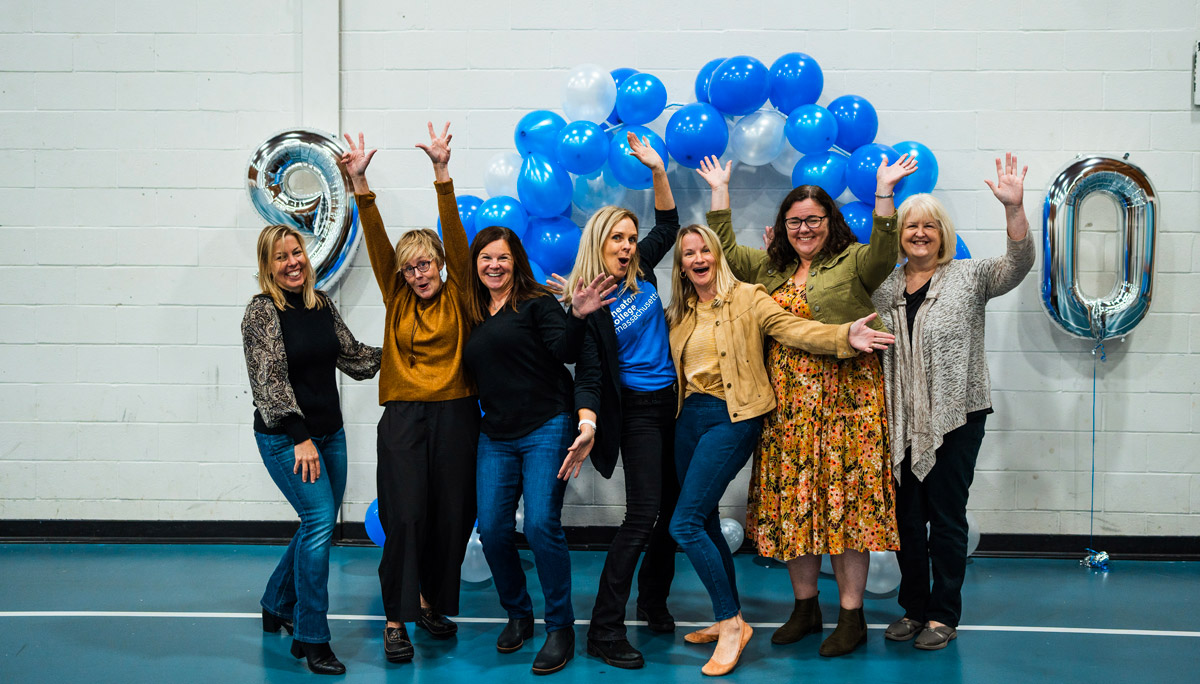 "I think it's essential to highlight 90-plus years of operation and awareness of the importance of providing higher education opportunities for students to observe children in a natural school environment," said Michelle Curran-Mason, who began as the nursery school interim director in 2018 and became director in 2019. (Marge Werner served as director for 25 years before retiring in 2018.)
"Students majoring in psychology and education get to observe and interact with children without traveling off campus. At the same time, the nursery school has offered high-quality, safe care for children in the community, including throughout the COVID-19 pandemic," said Curran-Mason, who began at the nursery school as lead teacher in 2001.
Anoushka Agrawal '20, who double majored in psychology and economics, and worked as teacher's assistant at the nursery school, said the experience was an integral part of her Wheaton journey.
"From day one, I was able to see the power of being an educator, interacting with young children and being part of shaping their world view at such a young age. Working at the nursery school was one of my most exciting times of the week," said Agrawal, who is pursuing a master's degree at Rice University studying human computer interaction. "I learned that I needed the sense of excitement that came with working with children in any job that I take on."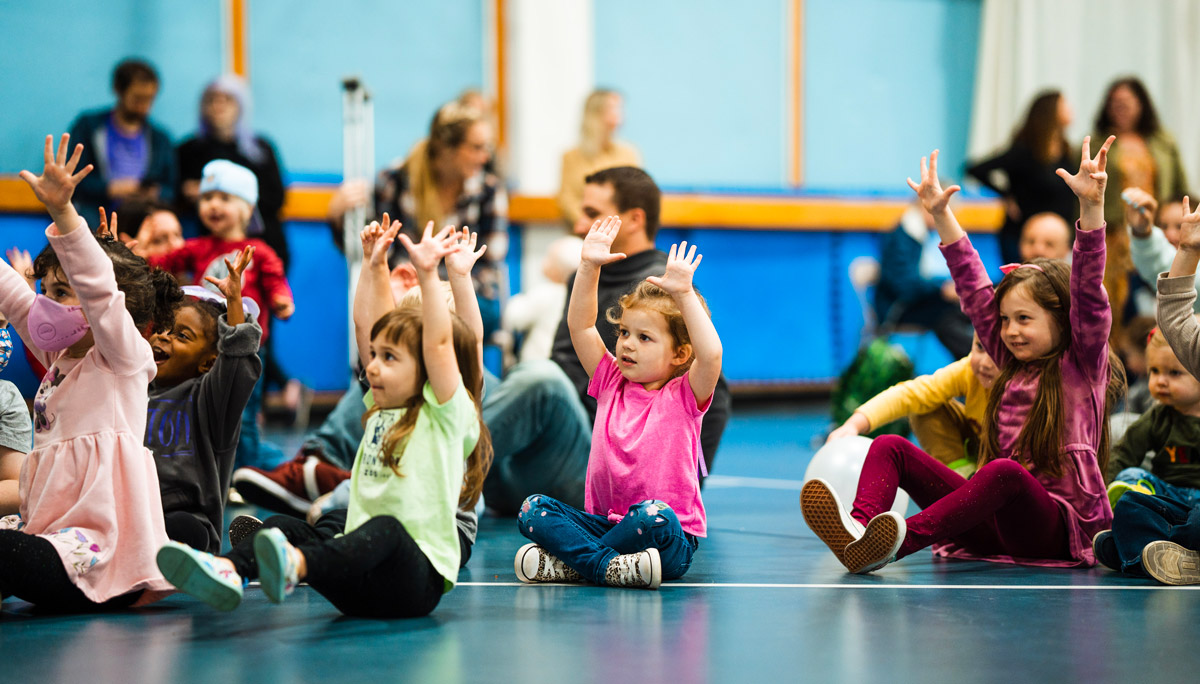 Amen initiated and led the efforts to create the nursery school because she considered it as an essential part of teaching child psychology, according to a 1952 Wheaton Quarterly story about her retirement.
Wheaton's psychology and education departments continue to use the nursery school extensively each semester as a lab for courses, said Associate Professor of Psychology Matthew Gingo and Assistant Professor of Education Sara Donaldson.
"Many of our early childhood education majors work part time at Amen throughout their time at Wheaton," said Donaldson. "The school has opened its doors to students needing pre-practicum field placements, and students taking 'Special Education PK-12' also observe at Amen for their independent field study project, if they are interested in topics related to preschool-age students."
This fall, the students in Donaldson's "Teaching Math and Science" class will be creating Open Education Resource dialogic math read aloud materials that encourage children and adults to have conversations about books. The materials will be shared with Amen families, the professor said.
Gingo, who has collaborated with Curran-Mason on his "Child Development" course for 10 years, said he greatly values the partnership with her and the nursery school staff.
"Time and again students note that the experience of observing children is a highlight of the course. By linking the readings and conversations we have in class to weekly observation assignments, the students get a richer and more robust understanding of the complexities of child development," Gingo said.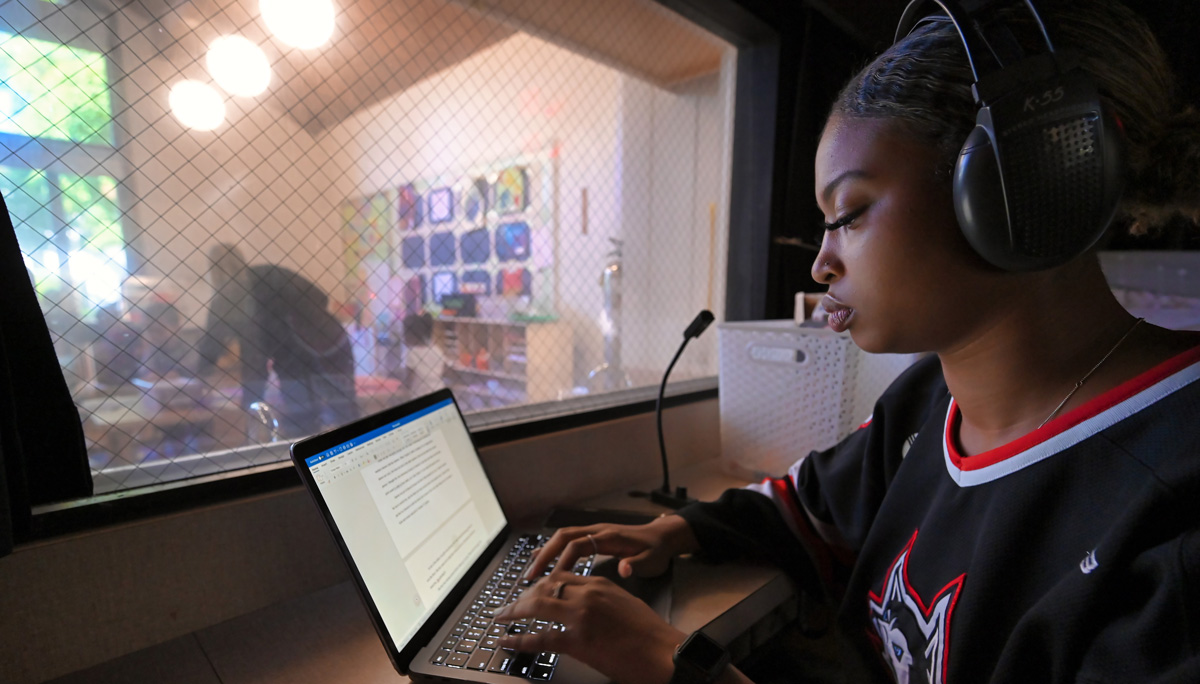 Isabella Robishaw '23, a psychology major, who plans to become a licensed clinical social worker or school counselor in the future, took "Child Development" with Gingo during the spring 2022 semester.
"We went to the nursery school weekly to do hour-long observations. We used those observations to write a page connecting what we saw at the nursery school to what we learned and discussed in class. The ability to go to the nursery school as part of this class was super beneficial," Robishaw said.
"It is one thing to listen to a lecture or read a book to acquire knowledge, but to see and observe the concepts we have learned play out in real life allowed me to gain a deeper understanding and made the content more interesting," Robishaw said. "In addition, I saw how the teachers interacted and responded to the children. Those observations gave me good insight into how these interactions benefit children's development and how I can use those same techniques the next time I work with children that age."
Alexa Leary '24, a biology major who also took the "Child Development" class last spring agreed: "I found the nursery to be a great aspect of this class as it gave me the opportunity to apply my knowledge learned in the lecture and watch it in person at the nursery."
Students who do a senior research capstone in "Child Development" also use the school as a resource as they design and conduct a semester-long original research project that involves interviews, experimental manipulations and interaction with the children. Their work in the nursery school has been great for career preparation.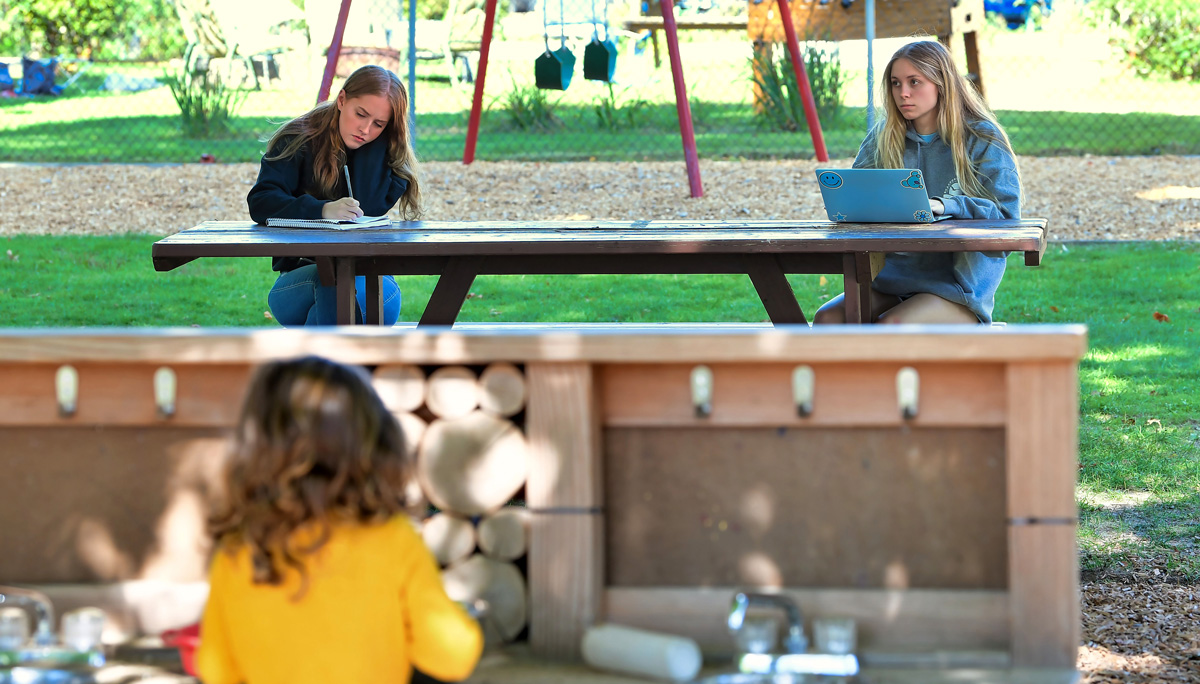 Ellie Guerin '23, a psychology major, this semester is working at the nursery school as a teacher's assistant and observing children as part of her research capstone.
"Working with the children has not only deepened my understanding of child development, but it also helps with my own social-emotional learning. The children teach us patience, resilience and courage, and I help them figure out which shoe goes on which foot," Guerin said.
"I have been able to build strong bonds with the current preschoolers and I'm still connected to our now kindergarteners. This has been incredibly rewarding. Preschoolers are their own entity entirely, but this particular batch has been developing in the midst of a pandemic, so we are watching history in the making," she said. "I am incredibly blessed to be a part of the experience and I am looking forward to what the year has to teach me."
In addition to the many students who have connections to the nursery school, many Wheaton staff and faculty members also have sent their children there.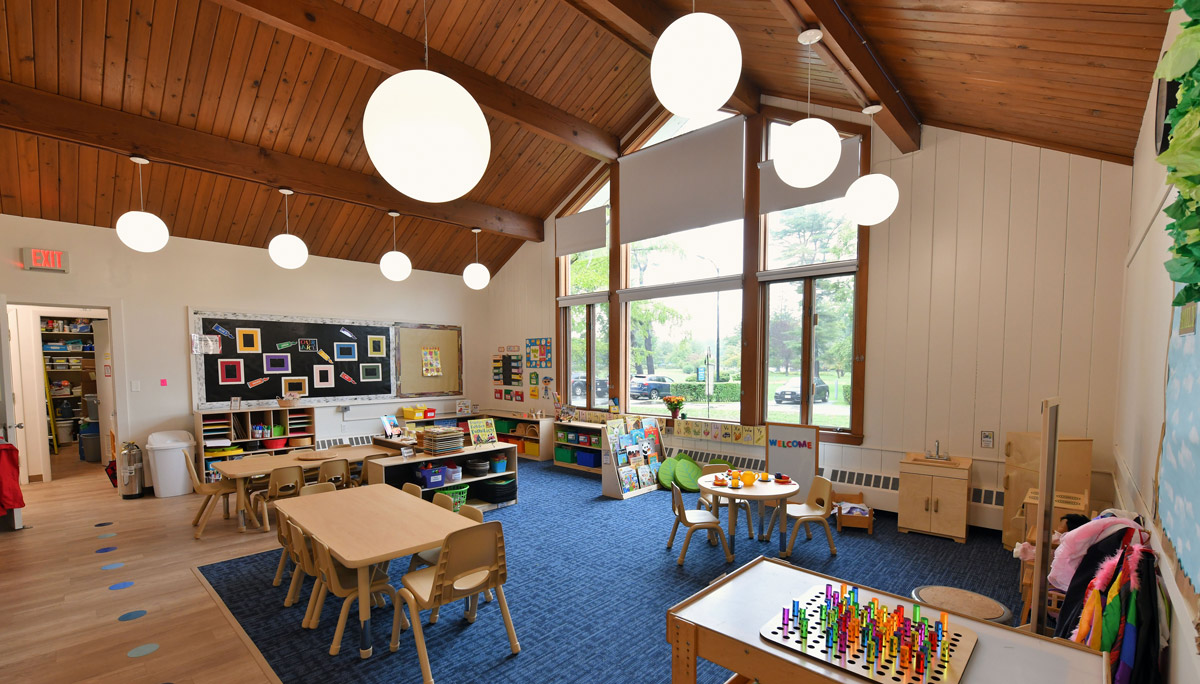 From a parent's perspective, the nursery school offers many benefits, noted Kate Boylan '04, Wheaton Fund associate director and mother to two boys who attended the preschool.
"The Amen nursery school is truly special. Sure, every parent could say that about their child's nursery school experience—and should, as nursery school teachers are the greatest gift—but, I can attest: the teachers there are so loving, flexible, experimental and so devoted," said Boylan, who attended the community event with her children.
"They somehow are able to manifest the magic of providing a structured [and, therefore, safe] curriculum for children, all while being creative and fun so children experience joy, iteration, activity, engagement, social interaction and meaning in their learning," she said.
"So much of pre-school can be routinized—and there is definitely a time and a place for that—but for parents who are seeking a different type of engagement and delight before sending kids off to primary school, the Amen nursery school fits this charge," she said.