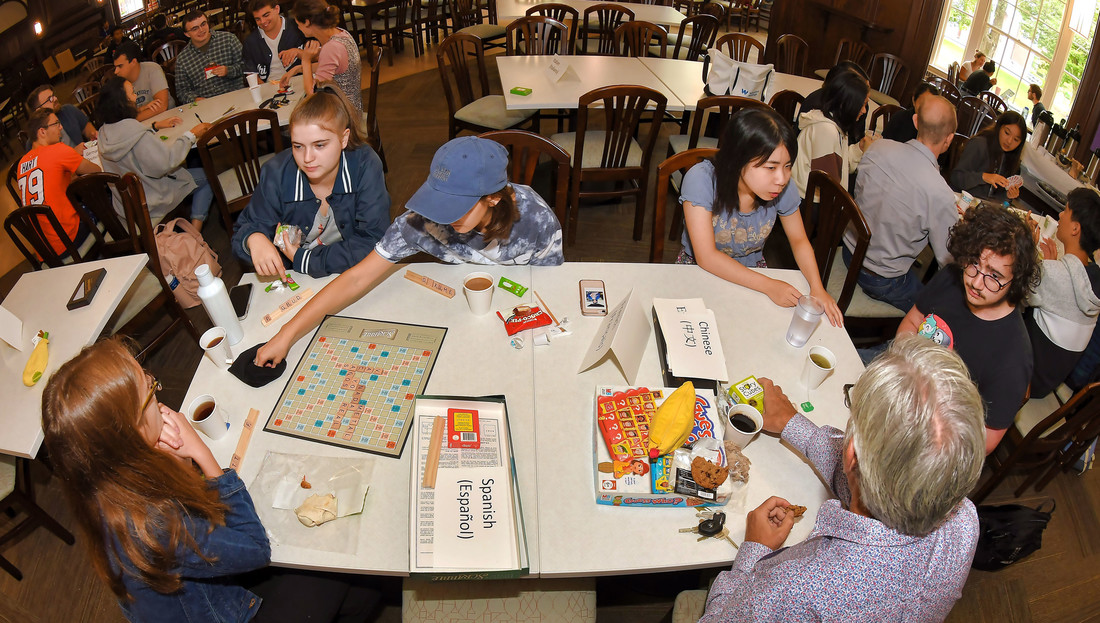 Students practice speaking, listening at International Board Game Café
It's lunchtime on Friday, a few weeks into the fall semester, and a corner of Emerson Dining Hall is buzzing with the sounds of conversation in many different languages.
At one table, students lay out Bananagrams tiles to spell words in Italian. At another, they play with wooden blocks containing Japanese characters. Along with coffee and tea, students pass around Haribo Goldbären (gummy bears) and Lu Petit Écolier (chocolate biscuits), as they practice speaking in German and French.
The International Board Game Café is back in business.
Launched in spring 2017 as a conversation space (games were added last fall) and sponsored by the Center for Global Education and Wheaton's language departments, the café is held every Friday from 12:30–1:30 p.m. at Emerson. It's a space where students, and others, can practice their first, second—even fourth—languages.
"We welcome everyone in the Wheaton community—faculty, staff and students—to participate, whether or not they are studying a foreign language," says café founder David Murcko, program coordinator in the Center for Global Education. "Native speakers are encouraged to come, as they bring perspective, ideas and friendships to students who wish to learn more about the world outside of Wheaton."
Murcko, who has studied multiple languages and is working to regain his fluency in Japanese, says introducing games to the conversation tables has helped students socialize, to connect over a common activity while they talk. Some of the games come with their own lessons—like a set of playing cards featuring a different Spanish phrase on each card.
"Students seem to enjoy practicing in a less formal, less intimidating setting," Murcko says.
Among the café regulars is Dolma Lama '22, a film and new media studies major from Nepal who speaks five languages in addition to English: Nepali, Tibetan, English, Japanese and Hindi.
"I get a chance to explore different cultures inside the small bubble of Wheaton, and I really appreciate it. The hour passes by so fast," Lama says.
One of the people she has met through the café is staff member Catherine Arendt, program manager with the Wheaton Fund, who speaks Japanese and lived in Japan for 25 years, who Lama says has helped her in many ways.
"From experience, I understand how important it is to be able to practice speaking a new language in an informal and supportive setting. The café provides that opportunity," Arendt says. "Having lived, worked, and raised a family in rural Japan, Japanese is such a part of me. I appreciate having the opportunity to express that part at my workplace. I also enjoy feeling more connected to students—I leave the café feeling invigorated."
Professor of French Studies Jonathan Walsh says he was quickly on board when Murcko proposed the idea a few years back. The café builds on a similar program, a French conversation table, that his department had run for many years.
"One never gets enough exposure to a foreign language unless studying it in a country where it's spoken. So any chance to practice it, no matter how informal or unstructured, helps a great deal," Walsh says. "One of the benefits of a residential liberal arts campus is the chance to extend learning outside of the classroom, to encourage the continuity between what is learned in class and in students' residential lives. The international café is a terrific example of that connection."
Natan Chalem '23 was hired this fall to run the café's French table. Chalem, a U.S. citizen who grew up in Paris, France, is fluent in English and French, and also speaks German and Spanish. He's a music major looking to double major in mathematics.
"I think the café could really help students learn languages more effectively, as it forces them to become completely immersed in the language, even if only for an hour," Chalem said.
Business and management graduate Jennifer Lonergan '18 credits the café with helping her build confidence in her Japanese language skills. She recently finished a year of teaching in Japan through the competitive Japan Exchange and Teaching (JET) Program.
"Aside from the obvious language improvement, the café helped prepare me for the unease of exclusively using your second language to communicate," Lonergan says. "At first, I was afraid to communicate in Japanese since I feared that I would sound stupid. After months of attending the café, however, that fear was replaced by a desire to communicate effectively, no matter how many grammatical mistakes were made. This was invaluable for my JET experience, since I no longer felt held back by my own insecurities."
Back from a "whirlwind" year in Japan ("I quite literally hiked Mt. Fuji during a typhoon," she says), Lonergan is pursuing a career in international marketing and says she is confident her JET experience will aid her on that path.