Nursing program inaugural class begins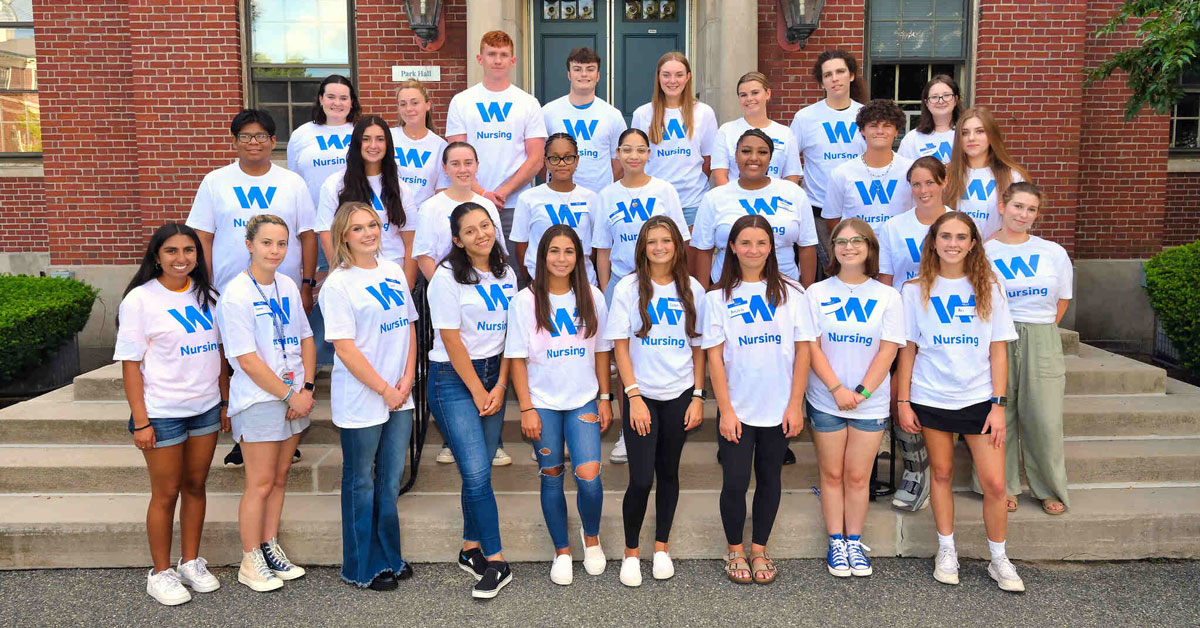 Dinner and orientation celebrate and prepare first students in new major
Gathered for a group photo on the steps of Park Hall wearing white T-Shirts emblazoned with a giant blue "W" across the front, they looked like superheroes getting ready to take on the world. In a sense, they are.
As Wheaton College's inaugural nursing program class, the 36 students who started the fall semester on August 29, 2023 are embarking on an educational journey that equips them to become problem solvers and will help them address widespread inequities in health care in a supercharged way—armed with an interdisciplinary liberal arts education that emphasizes the strength of diversity, equity and inclusion in health care.
The college's new four-year bachelor of science in nursing degree program was officially launched in 2022. The first class of students was officially welcomed on Sunday, August 27, 2023, at a dinner held in the Wooley Room in Mary Lyon Hall. See gallery below.
They heard from several college leaders, faculty and staff members, who offered remarks and infused the room with excitement.
"Today, we are celebrating the vision of the college for embracing this new nursing major and all those who made it possible. But, most importantly, we are celebrating you, our nursing students who have entrusted us with your education and success," Colette Dieujuste, dean of nursing, told the students.
"The opportunity to watch you grow will be energizing, inspiring and, at times, challenging, but we will succeed," she said. "We are committed to preparing you to be highly skilled nurses, compassionate in the care that you will give both locally and globally."
In addressing the group, President Michaele Whelan shared that her mother was a psychiatric nurse, so she grew up hearing about her patients and the care and dedication that she had for them. Whelan also noted the appropriateness of hosting the dinner in Mary Lyon Hall, which opened in 1849 and was the site of the school's first science laboratories.
"It was the first building on campus set aside solely for teaching and I believe it has one of the longest continuously operated classrooms in the United States," she said. "You, as the inaugural class, are joining in all these firsts. …We have utmost confidence in you. I know you are going to do wonderfully well."
Other speakers included: Darnell Parker, vice president for student affairs and dean of students; Walter Caffey, vice president for enrollment and dean of admissions and student aid; Karen McCormack, interim provost and vice president of academic affairs; Laura Ekstrom, associate professor of biology and neuroscience; Bonnie Charland, associate director for quality management at VA Boston Healthcare System; and Judy Beal, dean and professor of nursing emerita at Simmons University. Charland and Beal are members of Wheaton's Nursing Advisory Board.
On Monday, August 28, the students participated in an all-day orientation session in the Diana Davis Spencer Discovery Center Dedicated to Free Speech and Innovation. They spent the day reviewing Wheaton's nursing policy, receiving guidance on how to be successful and being introduced to a learning and testing platform.
The nursing students hail from all over the country, including California, New Jersey and Virginia, but share a drive to be of service to a world in need.
The desire to do something that is not only personally beneficial but also helps others is what drew Iriah Mcclean '27 to enroll in the nursing program.
"Growing up I've always wanted a job where I could help people," Mcclean said. "To me, it wouldn't feel right if I wasn't helping people out. I also love science and math, so that played a part as well."
Mcclean's career goal is to start out as a registered nurse and then specialize.
Sophia Newcomb '27 also has always loved science. "But, I didn't want to be a scientist or do anything in that realm," Newcomb said. "I like helping people, so I figured nursing would be good. And I was going to come to Wheaton to play field hockey and I heard about the nursing program, so I thought, perfect."
Photos by Keith Nordstrom