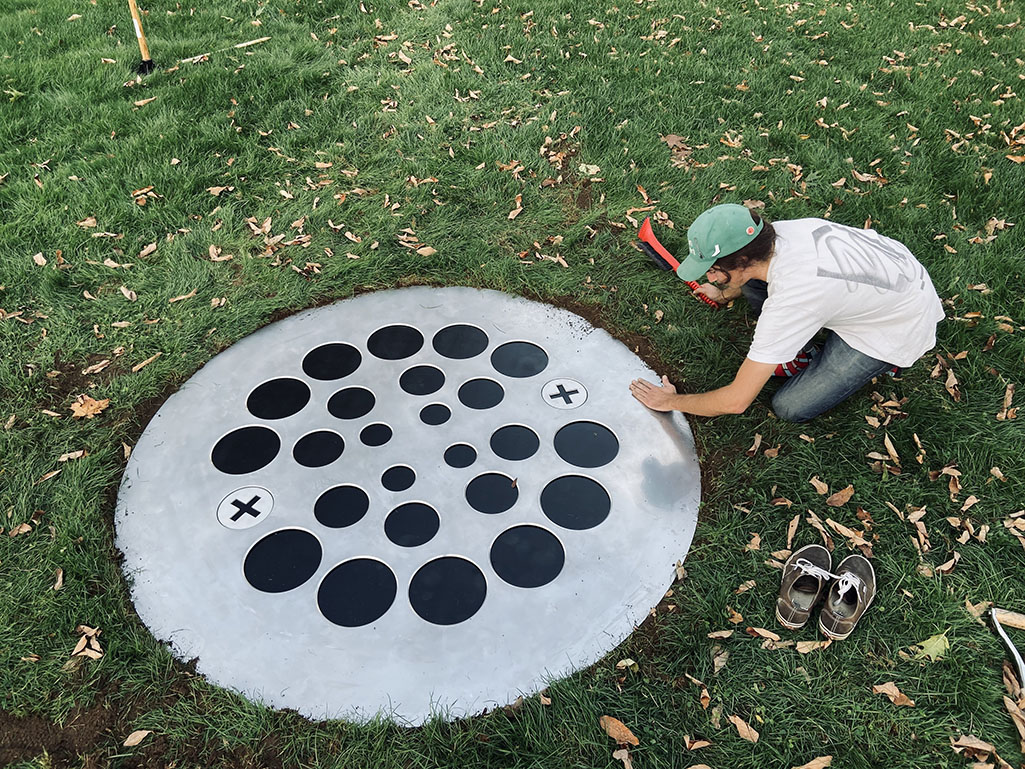 Giant drain designed by RISD grad part of growing public art program
Those who regularly pass through the area of Young, McIntire and Clark (YMC) residence halls might have noticed a curious new addition to the grassy quad: a six-foot-wide flat metal drain.
Though it resembles a giant version of the drain one might find in a sink or tub, this drain doesn't serve a utilitarian function but rather an artistic one. It's Wheaton's latest public art piece, on loan through the Permanent Collection from artist Oscar Bedford, who will discuss his work at a campus talk on Wednesday, October 30.
"… So Below," which the artist installed over October break, is the first work commissioned through Wheaton's new graduate school partnership, part of the Public Art At Wheaton (PAAW) program, and funded through the Caroline Edwards '70 Fund for Public Art.
The partnership is part of an ongoing effort to bring more public art to campus and to introduce Wheaton students to the opportunities available to them after graduation, said Associate Professor of Art Kelly Goff, who manages both the fund and PAAW.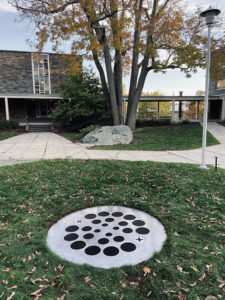 "As a pilot program, we've partnered initially with the RISD [Rhode Island School of Design] graduate sculpture program, where there is a diverse and steady stream of talent. By staying focused in our reach, I can work closely with colleagues at RISD to create a program that is dynamic and mutually beneficial," Goff said.
A Wheaton committee including Goff, Permanent Collection Curator Leah Niederstadt and Gallery Director Elizabeth Hoy reviewed the proposals and selected the first commissioned piece, which will be on loan for at least two years. A second proposal process is underway now.
All artists interested in submitting a proposal are invited to tour campus. On his visit earlier this year, Bedford was inspired by the bowl shape of The Dimple, though for logistical reasons his sculpture was installed on the YMC quad.
"The conversations between the college's historic and contemporary buildings reflect poetically the school's rich history (which is palpably remembered) and its evolving commitment to contemporary social and academic interests," Bedford said in his artist statement.
"At first encountered as a whimsical visual pun on the sink-like landscape of the quad, the aluminum drain will operate as a foil to its stately surroundings and—upon further contemplation—represent more poetically a threshold between the active life of the college that is currently being played out on top of it, and the 'waters' of time and history that have already passed through it," he said.
Bedford will discuss his new installation, as well as his other work, in a campus talk on Wednesday, October 30, at 5 p.m., at Watson Fine Arts' Ellison Lecture. The event is also sponsored by the Visiting Artists Program.