Model UN delegates win at Harvard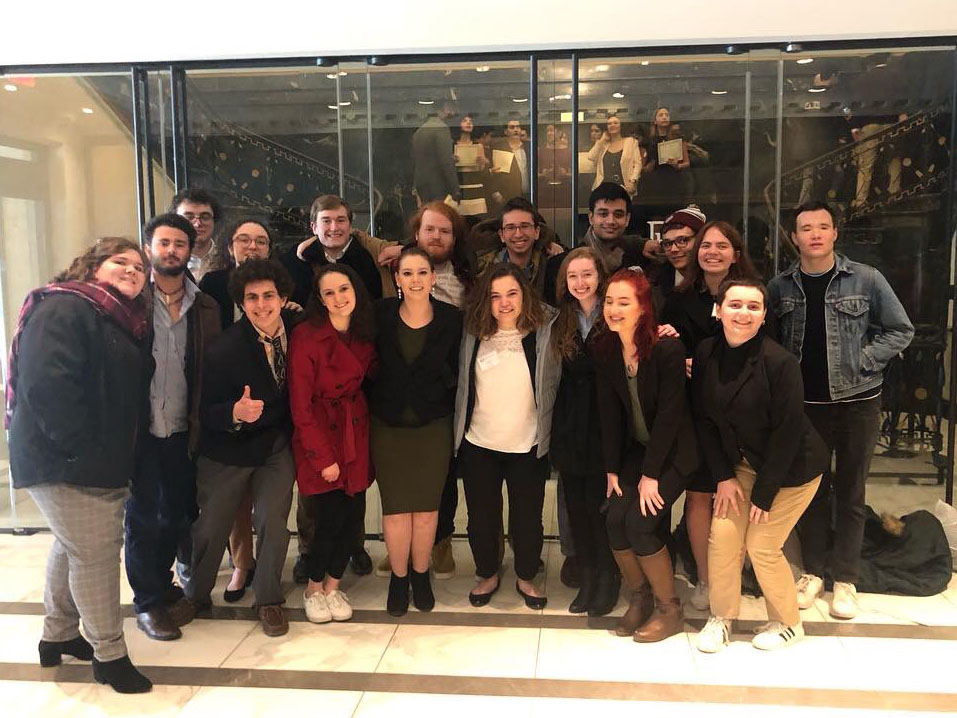 The Wheaton College Model United Nations (UN) team competed at the Harvard National Model UN conference this past weekend, February 14–17, and brought home the college's first-ever awards from the prestigious annual event.
Jeremy Holt '20 won Best Delegate for his efforts representing the French newspaper Le Figaro, as a reporter in the event's Press Corps. Amber Wright '20 won Honorable Mention for her work representing the Consortium on Gender, Security and Human Rights in the Non-Governmental Organization (NGO) Programme.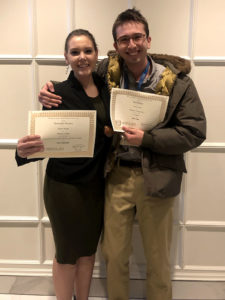 Currently in its 65th year, the Harvard conference is the largest and among the most well-known in the college circuit, drawing about 3,000 students from more than 65 nations. The 2019 event featured 25 committees discussing a range of topics, including cyber warfare, human trafficking, illegal migration, a number of refugee crises, and issues and historical events going back to the 13th century.
"The most challenging part of the conference was the sheer speed of it," said Wright, an international relations and sociology double major, who serves as head delegate of Wheaton Model UN. "Everything was moving so fast, and you had to constantly be engaged, but it was absolutely exhilarating."
As a member of the Press Corps, Holt wrote news articles and shared tweets about what occurred in three of the committees: the UN Security Council, UN High Commissioner for Refugees (UNHCR) and the Historical General Assembly of 1991.
"I wrote stories about escalating tensions in Yugoslavia, nationalism in Kurdistan and anti-immigrant sentiment among UNHCR member states, among other issues that took place within the committees' arcs," said Holt, a double major in English and international relations.
Holt said his assertiveness in press conferences, as well as the breadth of topics he covered in his reporting, helped make him stand out in the Press Corps—despite it being his first time as a reporter at a Model UN event.
"Little things here and there also helped: for example, I exceeded my content quota twice, I kept to Associated Press style, and I quoted Wheaton political science professor Nick Dorzweiler as an expert source in one of my articles," he said.
Wright said her current experience as an intern with Nosapo, an immigration and human rights NGO based in Massachusetts, contributed to her success at the event. As a member of the NGO Programme, she participated in two committee debates and also ran a Twitter account for her NGO, as well as completing other projects.
"I took some of the skills I learned at Nosapo (like social media post construction, infographic making and petition crafting) and applied them to my committee. For example, the last assignment I submitted at the conference was a petition series crafted by my NGO, which included two petitions, infographics to accompany them and a video clip debuting the series," Wright said.
Holt also recently completed an internship, over winter break, with Nosapo.
Other students who participated in the 2019 Harvard National Model UN conference included: Casey Smith '20, Joe Perez '20, Mateo Espinosa '19, Rosie Hankes '21, Oliver Brown '21, Sydney Murphy '21, Kiran Pfitzner '21, Tre Ayer '20, Ethan Fabing '22, Mae Flibotte '22, Kat Kjos '22, Haley Grover '22, Lucy Raleigh '22, Stevent Cleto-Garcia '22, Ben Cohen '22, Katie McLoughlin '22, Leaf Rorick '21 and MaryAnna Sansone '22.
The team has one more conference coming up, the Five College Model UNUnited Nations Conference at Mount Holyoke College, in April. They also will be hosting Wheaton's second high school conference, WheaMUN, on April 6.