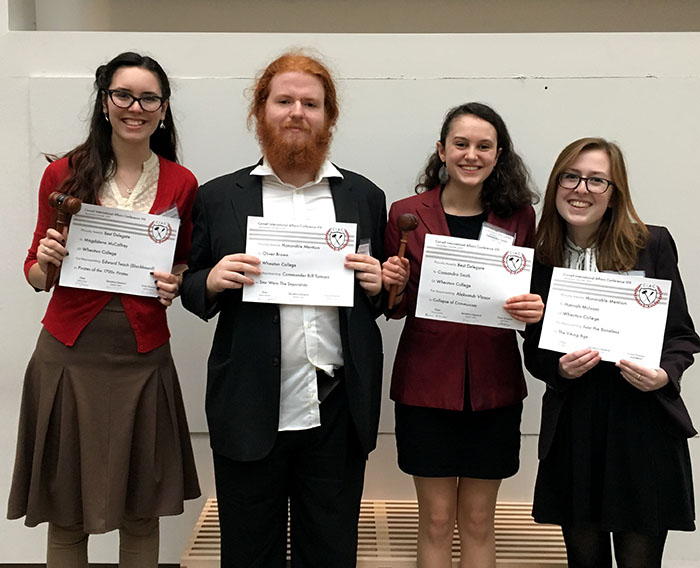 The Wheaton Model UN team brought home four awards from their first competition of the academic year, at Cornell University, including two Best Delegate honors.
Maggie McCaffrey '20 and Casey Smith '20 both received the highest individual award for their participation in the Cornell International Affairs Conference (CIAC) in Ithaca, N.Y., on November 2–5. Wheaton delegates Hannah McIsaac '19 and Oliver Brown '21 received honorable mentions.
This is the second year the team has competed at Cornell; last year, the group brought home two awards.
"The conference at Cornell is centered around crisis committees rather than general assemblies, so we were able to be creative and have fun with our personal stories in our committees," said Madison Borrelli '18, who serves as the team's co-head delegate along with Breanna Fedor '18. "In each committee, it can be a challenge to come up with inventive but reasonable ideas to help your character move forward. If one idea is denied, you have to be quick to come up with another while also being an active participant in the committee room debate. This sort of conference requires a lot of multitasking skills, as you need to keep an eye on many things happening at once."
At Cornell, conference committees discussed a wide range of topics, including the Viking Age, 18th century pirates, the fall of communism, outer space exploration, global climate change, treasure hunting and Star Wars.
The Cornell conference is the farthest event the Wheaton team attends. Their 2017–18 schedule also includes Harvard National Model United Nations in February and Five College Model United Nations at Mount Holyoke College in March. The team, which has 20 delegates and seven alternates and meets weekly, also will send a small group of delegates to the Brown University Crisis Simulation in March.