Wheaton's Model United Nations (MUN) team brought home two awards recently from the Cornell International Affairs Conference in Ithaca, N.Y., in the group's first time attending the event.
Breanna Fedor '18 won Outstanding Delegate for her work in a committee that focused on the 15th century Japanese Onin Civil War, while Casey Smith '20 received honorable mention in a committee charged with addressing Hollywood's lack of diversity and the competition of video streaming services.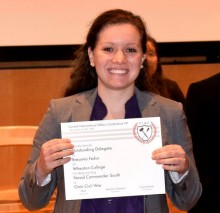 "Both delegates have proven themselves to be exemplary students of diplomacy and tactful negotiators in their short time so far with the Wheaton MUN team, dominating our on-campus simulations and pushing our team to constantly improve and better itself," said Joshua Steele Kelly '17, a political science major who serves as the team's co-head delegate along with Fedor.
Twenty students from Wheaton's 25-member team attended the conference, which divided students from various college teams among committees debating a range of issues, from historic events to current and even futuristic topics.
Fedor's group faced numerous challenges that would have been seen during the Onin Civil War, including "natural disaster, peasant uprisings, religious revolutions and even treachery within our own committee," Fedor said.
"With each crisis we had to think quickly and act decisively because, if we didn't, the crises left unresolved would snowball out of our control and made acting in the future that much more difficult," she said.
Fedor said she made special effort during the conference to speak up in committee and to write strong directives.
"In past simulations, I have struggled with these things, preferring to take most of my action through crisis notes. My main focus over the weekend was to really push myself to excel in areas where I knew I was weak," she said.
A psychology and German double major, Fedor said it was challenging at times to have her voice heard during the exercise.
"I was one of three women in my committee of 14, and after the first day of constantly being ignored and disregarded I decided to channel my inner 'nasty woman' and speak up more," she said. "I took charge of situations where people tried to take advantage of me."
Smith, a triple major in history, secondary education and Russian studies, who serves as team secretary, played the role of actor Matthew McConaughey in the Motion Picture Association of America (MPAA) committee. That group focused on the wake of the #oscarssowhite controversy and debated Hollywood's role in regulating inclusiveness. They also dealt with the issue of increased competition from film streaming services, specifically a new conglomerate called NetPrime.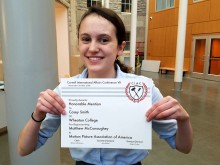 And the conversation certainly got lively, Smith said.
"We attempted to impeach the president of the MPAA in a struggle to revitalize our image for a modern, inclusive audience," Smith said. "Several actors left their contracted production studios and leaked secret information to NetPrime, which began a witch hunt and ignited the controversy of actors being prohibited to work both for NetPrime and the six major production companies that comprise the MPAA."
Taking on the problem from an actor's standpoint proved challenging, Smith said, as the actors didn't have power to make decisions on behalf of the major production companies. So she and the other actors joined together to prevent individual companies from monopolizing their careers.
"We called for a movement for actor independence to try to force major production companies to lobby against NetPrime for its unfair contract policies," Smith said.
Also this academic year, the Wheaton MUN team will attend the Harvard National Model UN Conference in February and the Five College Model UN Conference in March, at Mount Holyoke College.
The team also will host a high school Model UN conference at Wheaton on April 1.