MLK-inspired celebration and reflection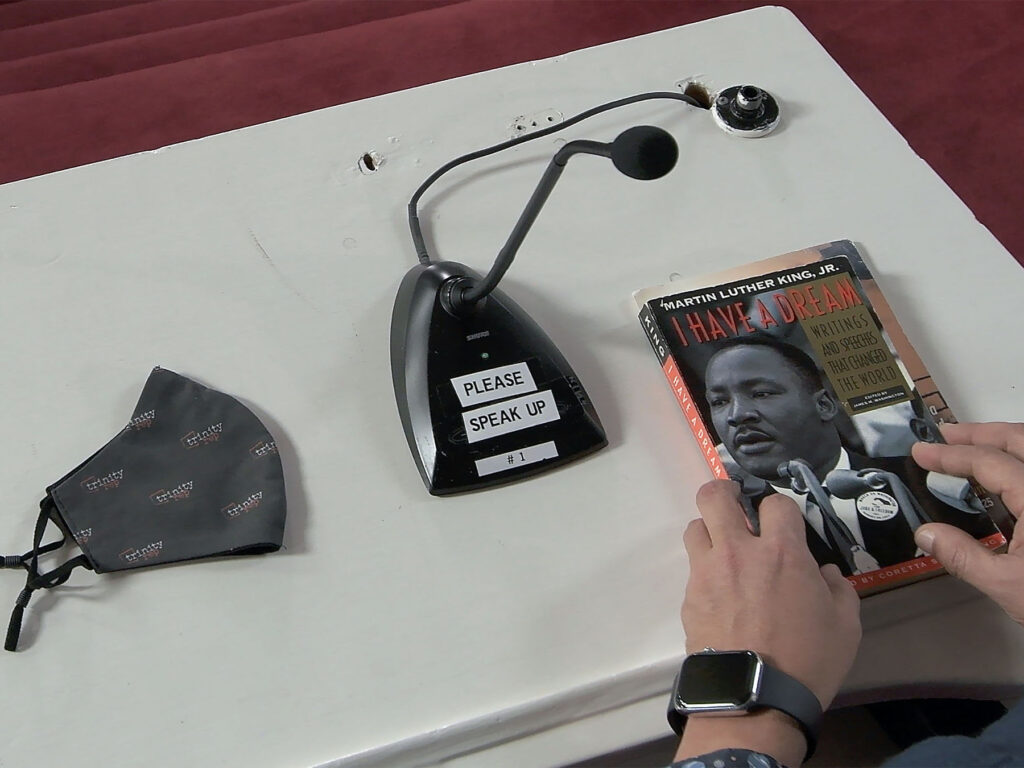 Awards program, week of activities draw Wheaton community together
The Wheaton community gathered virtually Thursday night, February 18, for the Martin Luther King Jr. Legacy Celebration sponsored by the Marshall Center for Intercultural Learning, Diversity, Equity and Access Leadership's Education and Programming Committee, and the Office of the President.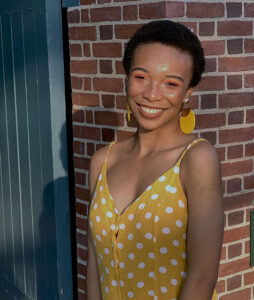 The annual event featured the presentation of the MLK Legacy Award to Angel Bird '21 and Wheaton staff member Donnie Taveras; the honoring of winners of the Creativity Showcase, Kneeco Hanton '21 (first-place) and Anisa Antonio '21 and Zano Nkosi '21 (tied for second-place); and an inspiring keynote address by Joe Wilson Jr., visiting assistant professor in theatre and dance. A question-and-answer session was held after Wilson's speech.
"Tonight is entitled our MLK Legacy Celebration, but it also serves as a checkpoint on our journey toward creating an anti-racist campus and our goal to have an impact on our communities beyond Wheaton," said President Dennis M. Hanno, opening the event attended by nearly 300.
The MLK Legacy Award recognizes those whose actions and leadership help the campus community live in a manner that is equitable, inclusive and consistent with King's values. A selection committee that includes the President's Council and past award recipients determines the winners based on nominations.
Angel Bird is a business and management major and co-president of the theme residence Renaissance House. Donnie Taveras is the assistant director of student engagement and leadership development in the Office of Student Activities, Involvement and Leadership.
A compilation of nominations noted that Bird has been committed to making Wheaton a space for Black students to thrive, has sought to engage others in conversations about social identities through an intersectional lens and helped broaden the focus of the Renaissance House. "I cannot think of anyone more committed to living out the MLK and Wheaton values of innovation, community, inclusion and high standards more than this student," one nomination stated.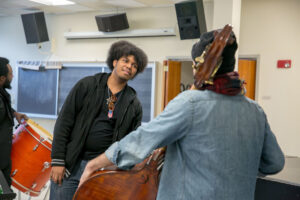 Comments from Taveras's nomination described his dedication to social justice, anti-racism and equity as truly impressive. "This person remains steadfast in their commitment to our anti-racist mission as they challenge policies, protocols and programs in and out of the division that have an impact on the student experience and the community," one nomination noted.
Creativity Showcase winners
Kneeco Hanton '21, a music major and Marshall Center 2020 intercultural early arrival assistant, won first place in the Creativity Showcase. Tied for second place were Anisa Antonio '21, a Hispanic studies major and co-president of the theme residence Renaissance House, and Zano Nkosi '21, an economics major and a member of the Wheaton African Students Association.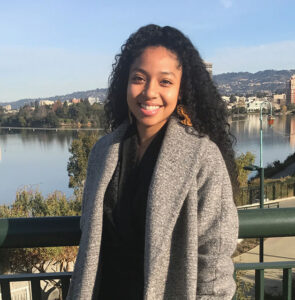 Students were invited to submit work for the showcase that reflects current times and ties to King's philosophies and principles of equity, justice and peace. All of the submissions can be accessed on the showcase page on the Wallace Library website.
Hanton wrote a song titled "Why I Do What I Do" that describes experiences with anti-blackness from the two sides of his ethnic identities. Antonio wrote the piece "What Does it Mean to Recognize Us?" that celebrates the efforts of individuals and recognizes women who go unappreciated or unrecognized. Nkosi created Jabulile (Joy), a web presence featuring photos and other elements dedicated "to showing another perspective of blackness, a happier one."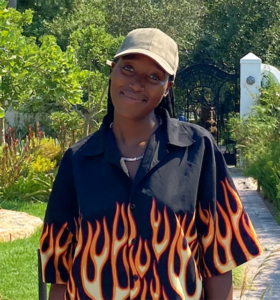 Hanton explained his inspiration in his submission: "I had in mind that I wanted to imagine I split into the two halves of my ethnic identity [African American and Boricua]. These two identities would have a conversation with each other about their experiences and reveal that these experiences, as a result of anti-blackness, are not too dissimilar; one person could easily repeat word for word what the other person said because they experienced it themselves. Their combined experiences are the reasons why I actively engage in the arts as well as community and organizational work [hence the title 'Why I Do What I Do']."
A passionately presented keynote
The celebration featured the pre-recorded prelude to the keynote "Are We Ready to Reach the Mountaintop?" delivered from Cole Memorial Chapel by Joe Wilson Jr. He then presented a live speech during the virtual event that shed light on the country's troubled past, the challenging present and the hope for a future that will require hard work.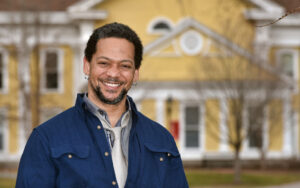 When asked before the celebration why he selected this excerpt from King's "I've Been to the Mountaintop" speech to present, Wilson noted that it was one of King's last and most prophetic.
"In this speech, King reflects upon his life and his commitment to 'the dream.' While seeming to believe that progress would come 'at some point,' King has a deep understanding that the price of this movement would ultimately be his life," said Wilson, who has played King on stage and is the founder of the Center for Activism and Performance at Trinity Repertory Company in Providence, R.I.
"My reason for choosing this piece was to speak to what I believe is the ultimate question that King and each of us must confront: What are we willing to give up for the pursuit of justice and equity?" Wilson said. "How do we keep moving forward to create 'that more perfect Union?' How do we embrace our fear in the midst of radical reimagining and change? The future seems so uncertain. The calls for social, economic and political reconstruction grow louder and more intersectional, while the fight to maintain the order of a former time becomes more entrenched. Will we resist becoming overwhelmed, discouraged and even more polarized as a result of this vital work? The Wheaton College community is in the midst of asking many of these same questions."
First-ever week of MLK programming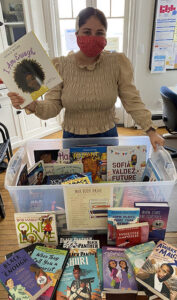 In addition to the MLK evening celebration and as part of Wheaton's ongoing anti-racism work, Diversity, Equity and Access Leadership (DEAL) and the Marshall Center for Intercultural Learning presented a variety of other events and sponsored activities throughout the week of January 18.
The events were designed to help the campus community reflect on and articulate personal goals and commitments around anti-racism, said Raquel Ramos, Marshall Center dean and DEAL co-chair.
The week began with a campus book drive aimed at collecting works by Black authors that will benefit the Boys and Girls Club of Metro South-Taunton and the Brockton Boys and Girls Club. Kayla Berrios, Marshall Center multicultural program coordinator and DEAL senate member, conceived of and organized the book drive.
"MLK emphasized the importance of empowering Black communities through education. We continue to have conversations on why representation matters, not only on our college campuses and in classrooms but in our literature and teachings. The book drive gives our community the opportunity to address that," Berrios said.
"I attended Taunton Public Schools from middle through high school and rarely read stories from authors who looked like me, let alone saw characters that reflected my family or experiences. The purpose of the book drive is to share Black stories, history and experiences. My hope is that the children and teens reading these books see themselves and it inspires them to read more. I want this drive to empower them and show them that literature does not solely belong to or have to reflect one narrative.
"DEAL and the Marshall Center strive to amplify the voices of all communities. We work with our Wheaton community and leadership to recognize the significance of making sure all experiences are heard, affirmed and celebrated," she said.
Stephanie Burlington Daniels '97, associate professor of theatre and dance and DEAL co-chair, invited Ebony Williams '08, an author, therapist and recent visiting artist, to lead a virtual guided meditation and writing workshop on January 19 to help participants create a vision for the type of community sought at Wheaton.
On January 21, the Marshall Center and the Center for Religious and Spiritual Life hosted "Beloved Community," an interfaith conversation on leadership, faith and social justice. On January 22, Daniels and Ramos co-hosted "Community Conversation on Racial Justice" to facilitate a discussion about individual action plans for 2021 and ways to support each other.
"We designed the week to provide an opportunity for personal reflection, learning and to help folks create goals to move this work forward. We had mostly staff and faculty participation, although students were also at each session," Ramos said. "The concept of the beloved community is an aspiration King spoke of. We are interconnected. We must come together, value and understand one another's experience and see our common humanity."