Meaningful service on 9/11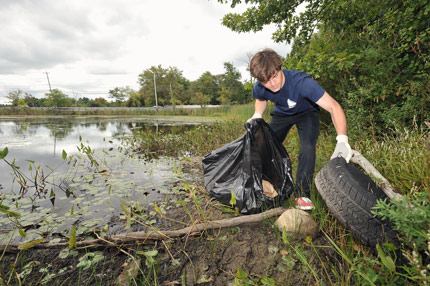 On Friday, September 11, the Wheaton College community will participate in the annual National Day of Service and Remembrance by engaging in local service projects. The work will continue throughout September and October in Norton, Easton, Attleboro, Plainville and Boston.
This year, members of the Wheaton community plan to clean up the banks of the Norton Reservoir, help get preschool classrooms ready for the new school year at Norton Head Start, help with exhibit preparations at the Easton Children's Museum, and set up for an annual fundraiser at Capron Park Zoo in Attleboro, among other projects.
At his inauguration ceremony, Wheaton College President Dennis M. Hanno issued a call to the entire community to contribute at least 15 hours of service during the year, via the Wheaton Cares challenge. Students, alums, staff members and faculty are all meeting the challenge in their own various ways, including participating in local service projects.
In 2009, President Barack Obama established the national service day to honor the victims of the terrorist attacks of Sept. 11, 2001, as well as the first responders. The proclamation creating the day was enacted after a seven-year effort by the family members and support groups who sought it to honor lost love ones and recapture the spirit of unity and compassion in the country. Volunteers from all walks of life are encouraged to engage in service in all 50 states.
"President Obama's declaration was not only about honoring the victims and heroes of that horrible day," notes Vereene Parnell, associate dean of the Wheaton College Office of Service, Spirituality and Social Responsibility (SSSR), "it was also about remembering that we are not helpless, that we can choose to focus on compassion and community, rather than on hatred and extremism; that together we can build a better more just world."
Parnell has been working with local community partners to organize and coordinate the service projects with the help of Patricia Rezendes, assistant director of Alumnae/i Relations; Cassie Peltola '14, the AmeriCorps VISTA education partnership specialist in SSSR, and Susan McNary, dean of students administrative associate. Several students also have signed up to be team leaders of projects, including Evania Thompson '18, Choening Dorji '18 and Erin Cotton '16.
Cotton, an anthropology and creative writing double major, has participated in service days for the past two years as a community service intern with SSSR. This year for the second time she will lead the Norton reservoir clean up scheduled to take place on September 11.
"Last year, a lot of truly passionate students got involved in the cleaning efforts," said Cotton. "I originally wanted to lead this effort because it reminded me of a similar clean up event in my hometown of Conway, N.H., called Valley Pride Day, an annual litter clean up of the Mount Washington Valley. Clean ups like these give community members spaces to be proud of within their towns, and also allow them to protect and promote local wildlife.
"With these service projects, I see each year how the Wheaton community is able to leave 'the bubble' in order to provide time, energy and passion in surrounding towns. Wheaton is a special place that we will all feel an attachment to long after graduation. Service project experiences make us vividly aware of the communities around us."
Dean Parnell points out that over the years SSSR has worked to elevate service experiences so that in working with local partners students also can have a real impact on community-identified problems all year long.
"Our commitment to contribute to the local community continues well beyond our September and October projects," said Parnell. "We help clean up our Head Start classrooms once a year; but two students and our AmeriCorps VISTA worker, Cassie Peltola, also created a whole new on-going literacy program staffed by Wheaton volunteers for our youngest neighbors. We go to the Greater Boston Area Food Bank once a month, but many faculty members and students from Wheaton's Hungry Lyons Theme House also regularly volunteer at Cupboard of Kindness food pantry here in Norton; and various clubs and teams take turns hosting monthly cooking nights for a near-by soup kitchen."
Service projects:
Friday, September 11
Easton Children's Museum
Clean up and exhibit prep
Norton Reservoir
Cleaning up the banks of the Norton Reservoir
Norton Head Start
Getting pre-school classrooms ready for new school year
Crystal Spring, Plainville
Fall farm and garden clean up
Saturday, September 12
Norton Reservoir
Kayaking out on the reservoir for an island cleanup
Greater Boston Food Bank
Sorting food to stock local shelters, soup kitchens,
food pantries throughout Southeastern Massachusetts
Rhode Island Women's Center
Helping create a safe home for women and families in need
Capron Park Zoo
Setting up for annual fundraiser
If you have any questions, please contact sssr@wheatoncollege.edu. Please register for service projects here by Tuesday, September 8; space is limited. Share your experiences on Facebook, Instagram and Twitter using #WheatonCares.