Making local history accessible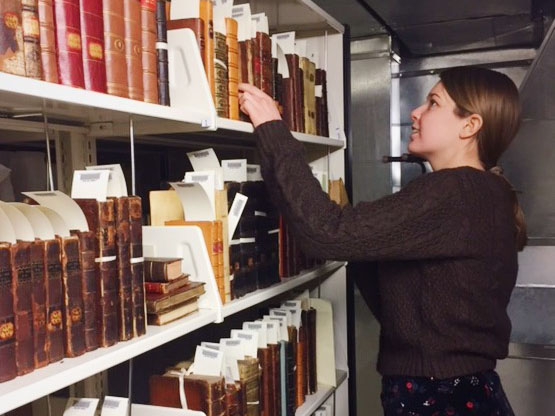 History of art and Italian studies double major Annie Tucker '20 helped make images from an 18th century collection available to 21st century researchers during a winter internship at the Redwood Library and Athenaeum in Newport, R.I.
Wheaton Archivist Mark Armstrong, who supervises Tucker in her student job with the Gebbie Archives, helped her come up with a list of libraries where she could intern. She found the historical legacy of Redwood Library, which was established in 1747 by a group of colonists, particularly interesting. She also appreciated the library's diverse collection of materials.
Tucker's main job was to add archival photographs from the library's Newport Collection to an online database. She also created an inventory of rare 16th and 17th century books.
"As a result of this internship, I'm able to better understand how information becomes available to the public. It's a much more involved process than I had previously thought," she said. "As the internet takes an increasingly prominent role in research, it was eye-opening to realize how the process of publicizing material is ongoing and so much material has yet to be made accessible. I also learned about the different platforms that are used to catalog materials and how this varies by institution and material."
Tucker, who is also pursuing a minor in digital humanities, is planning to attend graduate school to study library and information science with a concentration in archival management.
"My aim is to be an archivist in an academic library or another institution that collects a diverse array of subjects and material," she said.
She received a Porter Cleveland Fellowship to support her winter internship.