Library shines light on faculty scholarship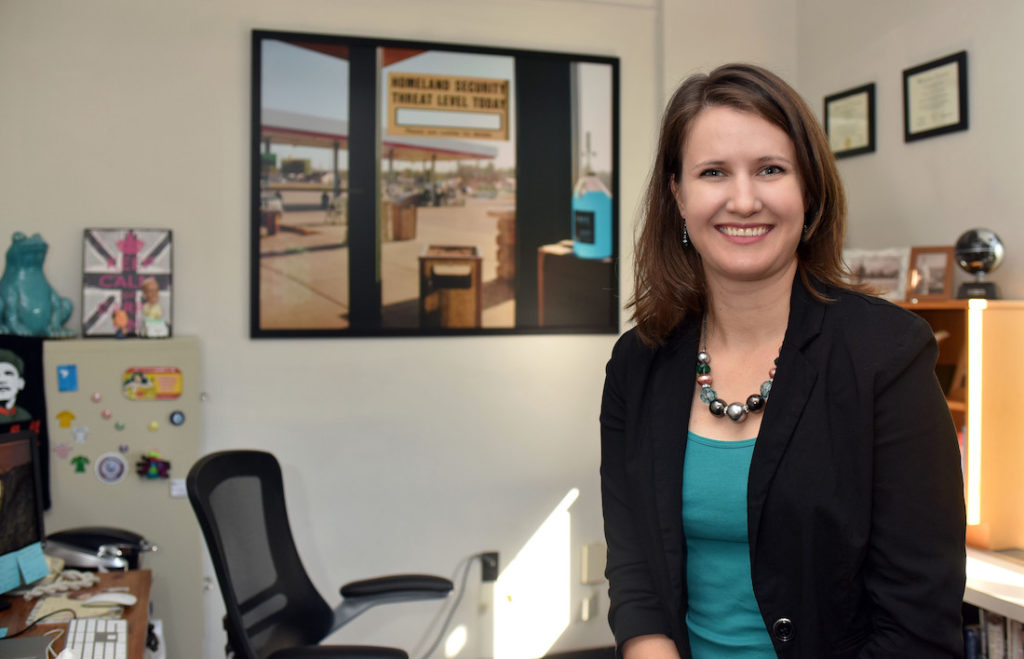 Assistant Professor of Political Science Aubrey Westfall will kick off the library's new Faculty Scholarship Speaker Series with a discussion of her book, "The Politics of the Headscarf in the United States," on Thursday, September 27.
Sponsored by Wheaton's Madeleine Wallace Library in partnership with the faculty-staff Library Technology and Learning Committee (LTLC), the new speakers series is designed to promote the range and quality of scholarship present in Wheaton faculty—to the campus as well as to the greater Wheaton community, according to Lauren Slingluff, associate dean of library services.
"This is meant to recognize and celebrate faculty scholarship, faculty research and the many contributions Wheaton faculty make in their fields," Slingluff said. "We bring in a lot of great speakers from other schools, and at the same time we have so much expertise here on our campus."
Slingluff said the library hopes to feature up to four talks this year, covering a variety of disciplines and topics. Faculty are encouraged to nominate colleagues and themselves, and the LTLC will select speakers from those submissions.
Provost Renée White said the series is a natural complement to other programs that highlight faculty work, including Faculty Lunch Talks, which are hosted by the Provost's Office, and the more informal Faculty Flash Talks, both of which give faculty an opportunity to highlight newly completed research and works in progress. 
"It's important to offer different ways that the community can learn about what faculty are doing," White said. "This series is intended to be open to the community so that people who would not normally attend the other events have an opportunity to learn more about what our faculty do."
The Faculty Scholarship Speaker Series is a natural extension of the library's role on campus, White said.
"Since Wallace Library is a place that creates, manages and distributes knowledge, it makes perfect sense for it to host this event," she said. "Many members of the Wallace Library staff are active scholars, too, and work on interesting projects such as digital humanities, access to information and the need to do so in ways that are equitable and just, and the impact of information literacy on retention. The library's holdings and collections are not only sources for our community but also for scholars from other institutions."
The September 27 program will begin at 5 p.m., with a talk led by Westfall, in the Woolley Room at Mary Lyon Hall, followed by a reception with light refreshments at 6 p.m., also in the Woolley Room.
Westfall, who recently won a Mellon Foundation grant to fund her continued research, had her first book, the co-authored "The Politics of the Headscarf in the United States," published this past May, through Cornell University Press.
"While headcovering is not heavily politicized in the U.S. like it is in other contexts, it accentuates and engages Muslim identity in especially American ways," Westfall said. "The nearly 2,000 Muslim women we surveyed and the 72 women we interviewed in focus groups discussed the headcovering and other Islamic practices in relation to everyday politics and community life in America, while comparatively situating it across time and space."
She will expand on these findings in her talk, and will be available for questions afterward.
Westfall also recently won a fellowship from the Marion and Jasper Whiting Foundation to travel to Scotland, to conduct interviews for a new book project, Jock Tamson's Bairns: The Politics of Immigration in Scotland.