Business and management and economics double major John Giberti '20 spent last summer and the first week of winter break learning the business of wine production—from crushing grapes to selling the final product—in a two-part internship with Prospect Hill Winery in Lebanon, Maine.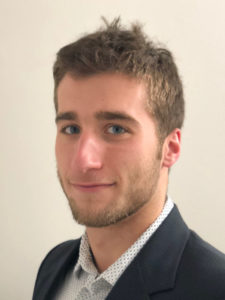 "In the summer, I gave wine tastings and tours of the facility and helped create plans for expansion of the business in the future. As for production, this winter I was involved in the crushing and pressing the juice out of the grapes, and helped start the fermentation process. From there I helped transfer the juice into stainless steel vats, where the juice will ferment into wine," Giberti said.
The Wheaton senior said he's interested in a career in financial services, and that working in winery sales is helping him prepare for that field. He's also interested in owning a vineyard in his retirement.
"The internship gave me a bit of experience in the industry," he said. "I have learned that the wine industry is much more complex than it seems. There are tons of ways people make wine, and very few wineries use a traditional method."
Giberti received support from a Blakely Fetridge Bundy '66 Work and Learning Fellowship for his winter internship.