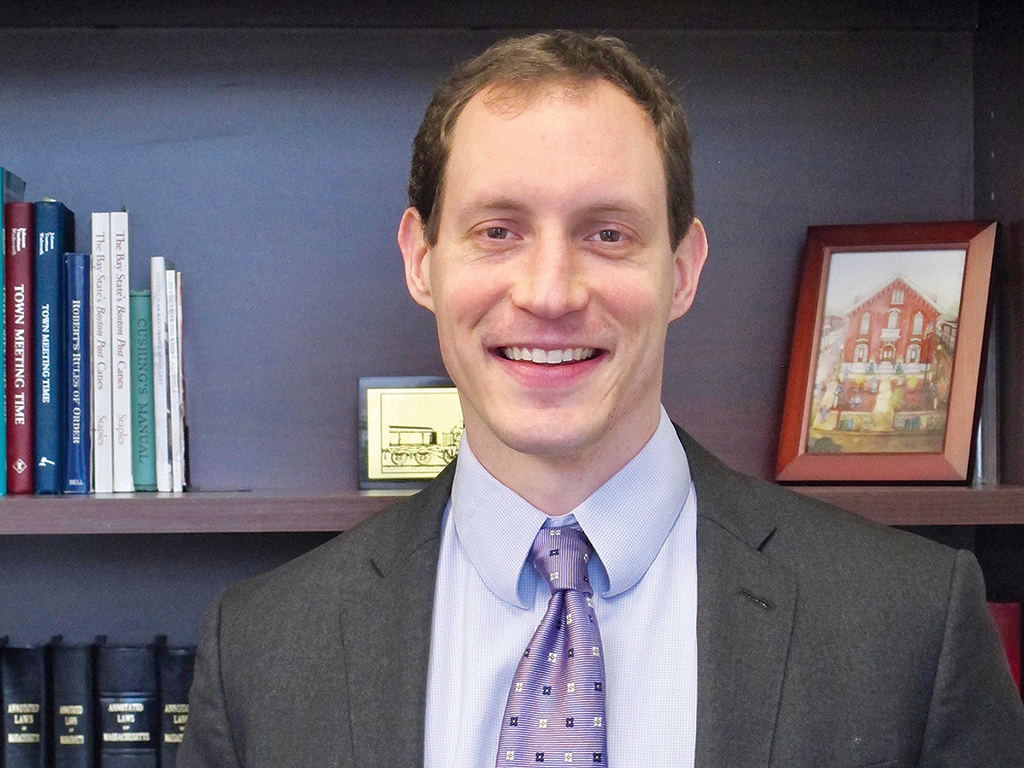 Austin Simko '09 always harbored a fascination with the mechanics of government.
As a student, he impressed his professors with his policy chops and leadership talent; his peers elected him president of the Student Government Association.
Now, 10 years later, Simko is the chief strategy officer and town clerk for the Town of Andover, Mass.—a position that he says is a culmination of experiences gained at Wheaton.
"Like the SGA, I'm leading a residential community that I'm a part of, only on a bigger campus with a bigger population," he said.
At Wheaton, Simko led the formation of a committee to save electricity among campus residence halls and student houses, and worked on the Educational Policy Committee. He also honed his leadership skills as a member of The Gentlemen Callers, the Wheaton Chamber Singers and Wheaton Chorale and as a writer for The Wheaton Wire.
"He had a vibrant presence, and he really made the most of his time to drink in all of the opportunities," said Gerard Huiskamp, professor of political science. Huiskamp recalls Simko creating videos that were "artful and funny" to highlight serious issues on campus while SGA president.
Darlene Boroviak, professor emerita of political science, called Simko one of her top students during her 46 years at Wheaton.
"His final paper in 'U.S. Foreign Policy,' an analysis of the strategic frameworks then shaping U.S. policy, could have been written by someone in the State Department or Pentagon. He is a perceptive and intuitive policy analyst," she said.
After Wheaton, Simko graduated from Boston College Law School, practiced law at an international law firm, clerked with the Massachusetts Supreme Judicial Court and worked in corporate strategy.
But his talent for governmental affairs caught the attention of Andover officials while Simko served as chair of the town's Planning Board and as a member of the Housing Partnership Committee. The town manager took the unusual step of recruiting Simko, a volunteer, when the position opened up.
"The town manager saw my performance [on the board] and was open-minded in fitting me into the organization," he said.
The town created a position unique in municipal government: chief strategy officer and town clerk. As such, in addition to his town clerk duties, Simko helps the community and town conduct long-term strategic planning and works on projects of strategic importance, focusing on everything from communications and legal matters to personnel and land-use issues.
"I see my role as helping to lead a 'company' whose 'product' is the complete living experience of 33,000 residents. I'm never bored. I always have something to do and am continually challenged in different ways," Simko said.
"I've never worked as a town clerk, and all of a sudden I need to organize a primary election, conduct a congressional recount, put together a budget, learn how to help the community write a [Request for Proposals] to redevelop a town-owned parcel. I have had so much to learn about the job I'm doing," he said.
But Simko enjoys every minute of it. "I love the variety and the ability to have an impact."
---
Simko is a Wheaton trustee and president of the Gentlemen Callers Alumni Union.