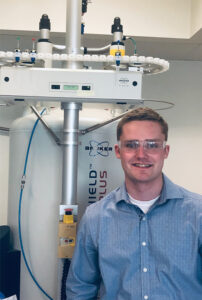 Biochemistry major Robert Black '21 interned over the summer in the polymer chemistry research lab at Enable Life Sciences LLC in Worcester, Mass.
Black worked to prepare, coat and analyze polymers used in medical stents, which help provide structure to damaged arteries in humans.
"Polymer chemistry is a topic that I had not been exposed to before, so most of the chemistry was new to me and I was learning it for the first time. Along with that, I learned new synthesis techniques, while also further developing already learned analytical techniques," he said.
Black is interested in attending medical school after Wheaton.
"This internship provided me with valuable exposure to chemical research in a professional setting, and in a laboratory that deals with biomedical devices," he said.