In early July, Wheaton College will host an outdoor performance of a story and musical work written for children.
"Fire in the Big-Top!," a musical tale for young audiences, will be performed by the Epic Brass Quintet and award-winning actor Maurice Parent on Friday, July 7, 2017. The performance will take place at 5 p.m. in the college's central quadrangle, which is known as "The Dimple."
Composed by Wheaton music professor Delvyn Case, "Fire in the Big-Top!" tells the story two children who save their town when a fire breaks out at the circus. In this interactive event, children sing along with the musicians, make "fire sounds," and learn about the brass instruments while listening to the storyteller. The piece is suitable for all children, even those young at heart, and lasts about an hour.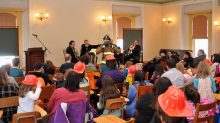 Before the concert, children will have the opportunity to meet a real Norton firefighter, explore a fire truck and partake in circus treats. The first 50 children to attend will receive a free firefighter's hat. After the concert, attendees will have the chance to see the brass instruments up close and meet the musicians.
A Boston-based actor, singer and dancer, Parent was honored with the 2017 Elliot Norton Award for Outstanding Actor from the Boston Theater Critics Association. He has performed with all the major theater companies in Boston, as well as in productions off-Broadway and in Asia. He has taught in the Boston Public Schools and at Northeastern University. He is a current faculty member at Boston University.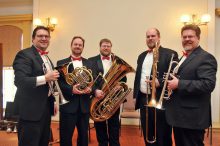 The Epic Brass Quintet, led by Wheaton faculty member Earl Raney, has performed in 46 states and appeared at Carnegie Hall and at the Kennedy Center. Deeply committed to education, each season the group presents more than 100 school concerts, master classes and workshops for young musicians. The quintet is on the roster of the New England Foundation for the Arts and the Massachusetts Cultural Council and has appeared as guest artist for Young Audiences of Connecticut, the Great Woods Educational Forum in Mansfield (MA), the Newbold Music Festival in Bracknell, England, and the New England Summer Arts Program in New Hampshire.
For visitors: There will be no admission charge for the performance. Parking will be available in parking lots #1 and #2, both of which are located on the north side of Route 123.