Jennifer Lawrence, Leonardo DiCaprio and Wheaton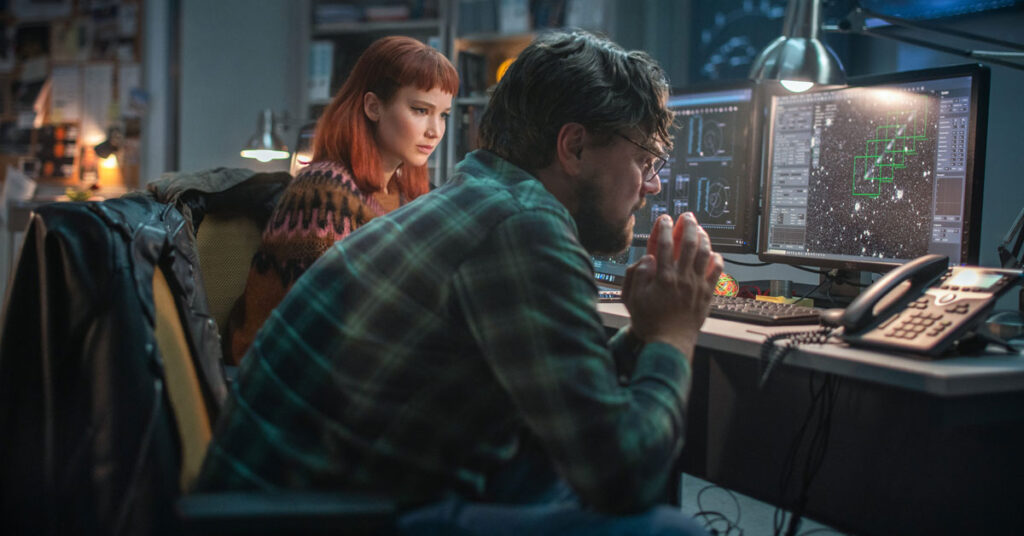 Campus serves as a location for filming scenes for "Don't Look Up"
Coming soon to a big and small screen near you—Wheaton College in "Don't Look Up," starring Jennifer Lawrence and Leonardo DiCaprio.
The Wheaton campus was one of several Massachusetts locations chosen for filming scenes in "Don't Look Up," which is scheduled for release in select theaters December 10 and on Netflix December 24.
In the comedy, written and directed by Adam McKay, two astronomers go on a media tour to warn people about an approaching comet that will destroy Earth. The star-studded cast includes Meryl Streep, Cate Blanchett, Jonah Hill, Tyler Perry and Ariana Grande, to name a few.
Although there is no guarantee that the Wheaton scenes won't end up "on the cutting room floor," as they say, those involved in the experience are thrilled to have been a part of it.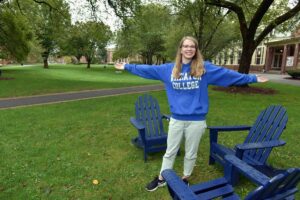 That includes Allison Chaves '21, who majored in film and new media studies at Wheaton. She applied and got cast as an extra. You might make her out for a split-second in the movie trailer—don't blink.
During a super-secret November 2020 filming day on the Dimple and in Mary Lyon, Chaves got to "play" a college student. She was in two scenes on campus, had one wardrobe change and hair-and-makeup styling. Also, to her surprise, she was called back for two scenes filmed later in January 2021 in Boston.
"I can actually see myself in the trailer," she said during a recent interview while sitting on the roof deck outside of Balfour-Hood. "In one of the Boston scenes, there's an establishing shot of people walking down the street and you can see me walking down the street talking on the phone and holding a little bag."
During the fall semester 2021, Chaves has been on campus working in the Visual Art Department as a video producer. Prior to this, she was a production assistant on an Apple TV+ film.
Stepping in front of the camera was a nice change, she said. "I was very excited to do it. I wasn't really nervous at all. I was excited to see the environment, how the whole movie production works because I had never really seen that before. It was really interesting to see all of the different people doing all their different jobs and how the crew set up and broke down for each kind of shot."
At Wheaton, two staff members played major off-screen roles—Therese Doyle-Parillo, director of Conference and Event Services, and Gina Boyd, assistant director of Conference and Event Services. They handled all the logistics and were liaisons between Wheaton and the Netflix production team.
For filming, tents were set up to accommodate dining, equipment and staging needs for the crew and stars. Cole Memorial Chapel was set up for hair, makeup and costuming and as a holding area for extras. All setup, work and filming strictly followed COVID-19 protocols, Doyle-Parillo noted.
The filming involved several locations on campus and included transforming the interiors of some campus buildings to accommodate the plot, Doyle-Parillo said. Some of Wheaton's Permanent Collection was used to decorate an interior in one of the scenes. The Dimple was the setting for major action involving Jennifer Lawrence, who stars as one of the astronomers.
In 2016, the Wheaton campus also was used as a location site for "Professor Marston and the Wonder Women," about the behind-the-scenes story of the creation of the Wonder Woman comic books.