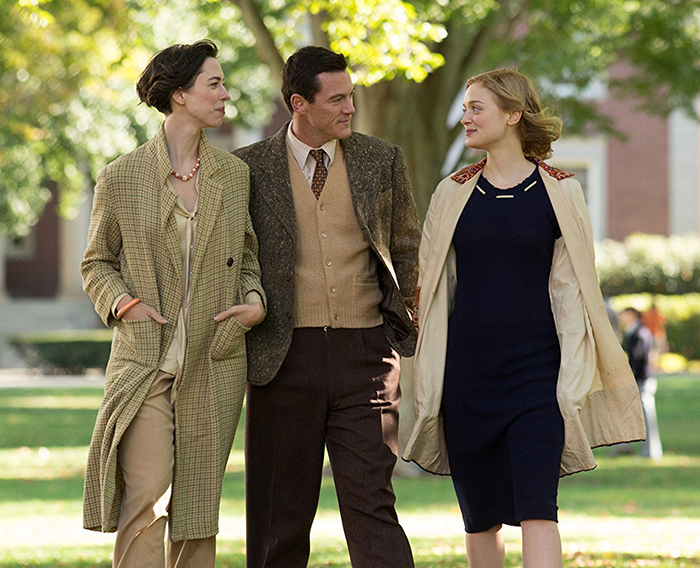 The Wheaton College campus will be appearing on movie screens across the country very soon.
"Professor Marston and the Wonder Women," which opens nationwide on Friday, October 13, includes scenes shot on campus almost exactly one year ago, during the 2016 October break. It tells the behind-the-scenes story of the creation of the Wonder Woman comic books. William Moulton Marston, a psychologist and inventor, created the character in 1941. The movie traces the complicated story of his polyamorous relationship with his wife and another woman, the fictional character that he developed with them, and the controversy the comic book generated in its early years.
The film's producers came to Wheaton for scenes that related to Marston's teaching career at Tufts University. The library, the Dimple and the Holman Room in Mary Lyon Hall are all clearly visible in the movie's trailer.
Becky Ebeling, Wheaton's director of event and conference services, recalled that the movie was a small, independent film when its producers first approached Wheaton, but when they arrived months later, it had developed into a major studio production.
Extras for the film lounged about the Dimple in 1930s-period dress. Staff and faculty were asked to avoid the center of campus. A tractor trailer truck full of equipment parked on Howard Street; trailers for the film's stars—Luke Evans, Rebecca Hall and Bella Heathcote—were parked in Lot 2.
"The crew arrived at about 5 a.m. (and I arrived at 6 a.m.), and shot until the sun went down on Day 1," Ebeling said. "On Day 2 we were here with the crew until midnight taking down the set and resetting the Holman Room for class on Wednesday at 9:30 a.m., and it was like almost nothing had happened."
Clinton O'Dell, associate professor of theatre, was among the professionals working on the production during its two-day visit to Wheaton. He served as a member of the costume department with Costume Supervisor Virginia Johnson, who was previously a visiting artist at Wheaton.
"I was even able to get Andrew Kimball '18 hired on with me for Professor Marston for two days as a costume production assistant, which subsequently led to him being hired in the same position this summer on X-Men," said O'Dell, who also spent the summer working on the next installment of the popular movie franchise.
When you watch the Professor Marston film or its trailer, look closely at the foliage. Ebeling said that the leaves on the trees in the Dimple had not changed color as much as had been expected so the producers returned several weeks later at fall peak to photograph the campus again. "The plan was to add the leaves in digitally in post-production to look more autumnal," she said. "I am curious to see if it worked."