Internship offers experience running biotech lab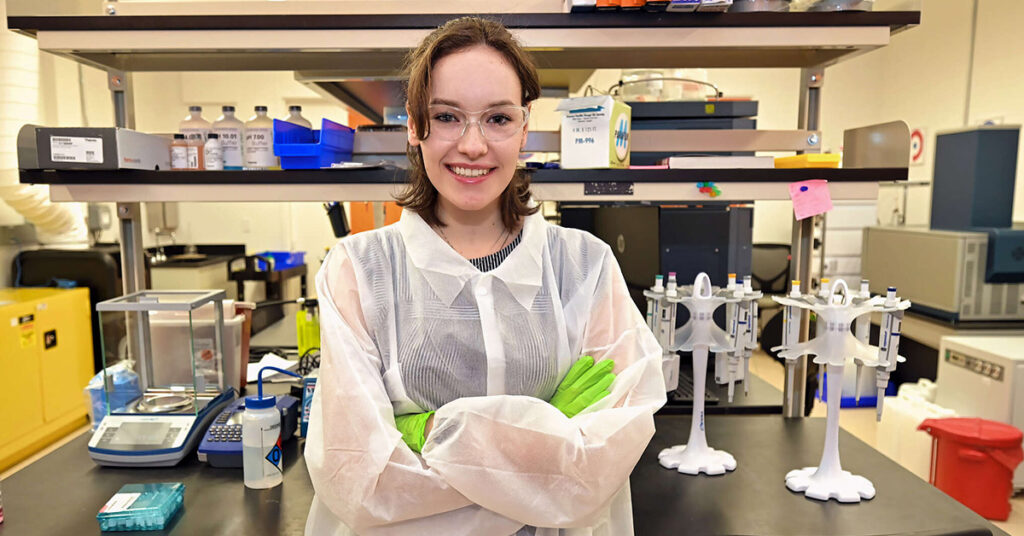 Allison Darling '26, an aspiring doctor, gains valuable laboratory skills at Mansfield-based Phenomenex
Allison Darling is just beginning her Wheaton journey as a first-year student, but she already is gaining valuable laboratory skills that will give her an edge in a future career in medicine.
Since November 2022, Darling has served as an intern at Phenomenex, a California-based scientific company that has a laboratory in Mansfield, Mass. She has been learning essential aspects of running a lab: from managing inventory and safety procedures to gaining hands-on experience with techniques like instrumentation and initial calibration assays.
"So far, I have learned a lot about the machines in our lab and how they work; machines like mass spectrometers, HPLCs, NanoDrop Microvolume Spectrophotometers, pH meters and cell culture hoods. I also have gotten to lead several projects regarding inventory and organization," said Darling, who is double majoring in neuroscience and French.
"As the lab sets up, I am organizing and categorizing, but I am really learning about what it means to be a scientist," she said.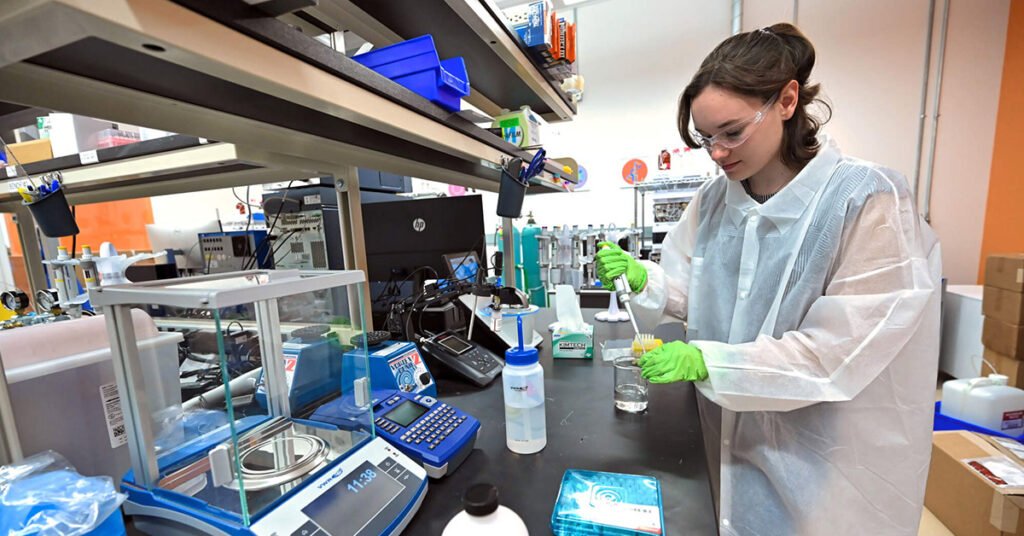 Darling's placement at Phenomenex is part of a partnership between local biotech companies, including EverCell Bio, and Wheaton's Biology Department and Social Entrepreneurship Program.
As the lab gets up and running, Darling will learn from Phenomenex's scientists, who specialize in the characterization and separation of various biomolecules. The lab's projects use cutting-edge technology to drive innovation in the drug discovery field.
Michael Mattera, LC/MS analyst at Phenomenex, said Darling has demonstrated adaptability as the startup establishes its laboratory. She works hard and has a good attitude, and isn't afraid to ask questions to ensure her understanding of the work they do, he said.
Mattera added that many science students don't have the opportunity to practice many laboratory skills until graduate school.
"The ability to walk into an interview and say, 'I can use micropipettes and I've calibrated balances and pH meters' will give you a leg up in job hunting as a recent graduate," he said.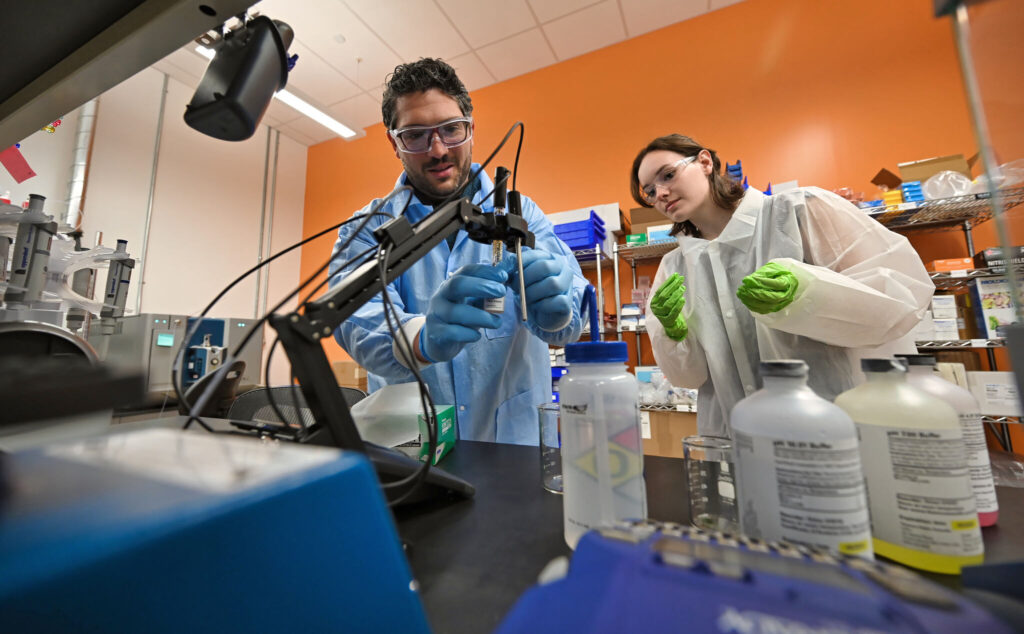 Darling secured the internship by networking, she said. After she received an email last fall about an opening event for Mansfield Bio-Incubator, a collaborative space that includes Phenomenex and 24 other startups, she decided to attend, not knowing what to expect.
"That is where I met [Wheaton Professor of the Practice of Social Entrepreneurship] Pabel Delgado and the Phenomenex group. I wanted to be involved and I put myself out there, but truly I owe it to Pabel and his willingness to help everyone succeed," she said.
The position fits well into Darling's long-term goal of becoming a doctor. Her aspiration stems from personal experiences with neurological disorders.
"I have had three major concussions, been diagnosed with vestibular migraines, and have seen the clinical process through it all. Although, this time, I'd like to be on the other side of things," she said. "In addition, my best friend was diagnosed with a brain tumor, and another friend had anxiety/depression—two very different things but both have to do with the brain. I see the brain as a puzzle and I want to help find solutions when things go wrong."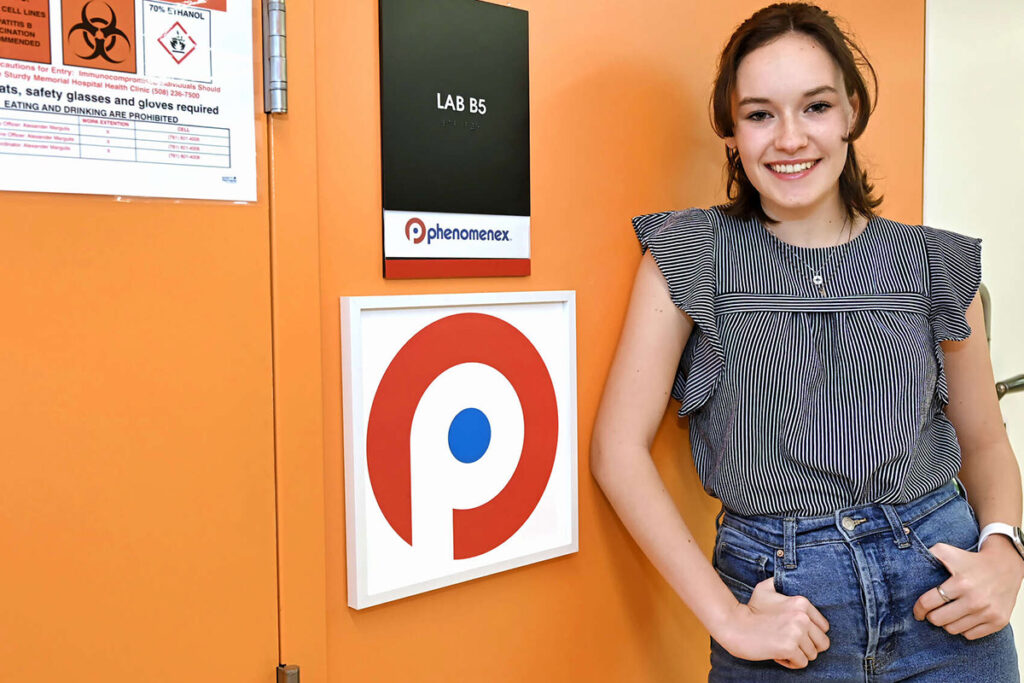 With her French major, Darling hopes to develop fluency in the language so she can someday pursue a career with Doctors Without Borders, or Médecins Sans Frontières, and provide medical treatment to those in impoverished and war-stricken countries.
Darling said the most meaningful part of the Phenomenex internship is knowing that she is starting to make that dream come true.
"I know that these are the first steps in my path to going to medical school, joining Doctors Without Borders, traveling the world, and doing all the things I love. That is the most gratifying part," she said.