Students get inside look into biotech world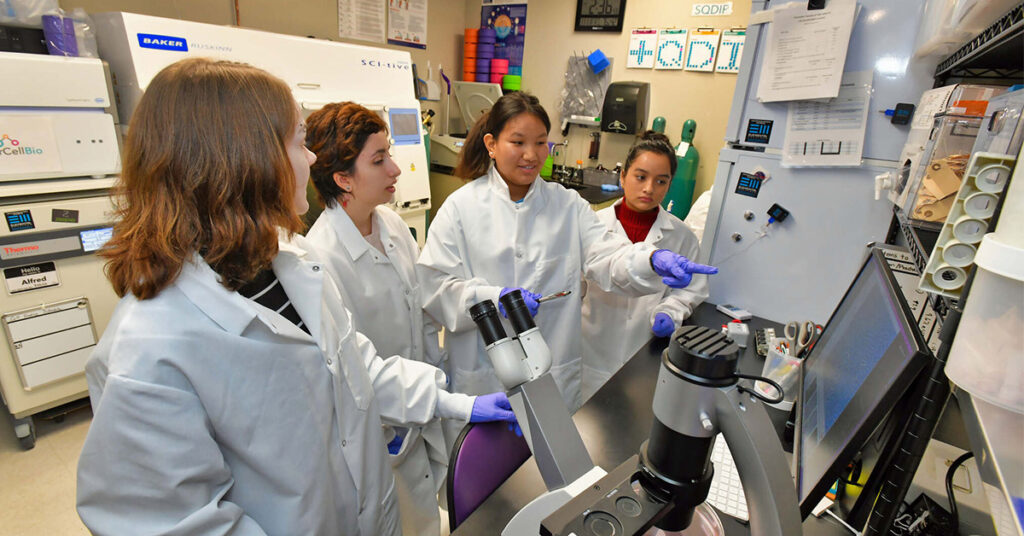 Technical experience at alum-owned company provides skill-building opportunity
In a small state-of-the-art laboratory, Nyima Bhuti '25, Prabidhi Malla '26 and Rawan Abushanab '26 donned lab coats and got to work. 
On that Thursday afternoon in November at EverCellBio, a startup biotech company based in Natick, Mass., the three Wheaton students practiced various cell culture techniques. They used handheld pipettes to collect cells from petri dishes, which they then counted using a sample under the microscope. Afterward, they vialed the cells and moved them to the freezer.
The lab experience offered these students the chance to both apply their scientific knowledge in a real-world environment and connect with the company's owner and founder, who happens to be an alum: Philip Manos '08. The students also benefited from the wisdom and experience of another alum, EverCellBio scientific associate Jessica Morris '21, who instructed them in the lab work.
The students visited EverCellBio, a company focused on stem cell research, through Wheaton's Business and Management Department's field experience course taught by Professor of Practice of Social Entrepreneurship Pabel Delgado. See gallery below.
The class included both the lab experiences as well as on-campus visits from Manos, who graduated from Wheaton with an independent major in psychobiology. 
"Having this opportunity to come and see how researchers work at a biotech and shadow them has been very beneficial, especially for someone like me who wants to work in biotech in the future," said Abushanab, who plans to double major in bioinformatics and data science (an independent major). 
"This is also a great opportunity to learn about what it's like to be an entrepreneur from Phil, who is both a scientific researcher and business owner," Abushanab said. 
Malla echoed the sentiment: "This experience has allowed me to not only work with lab resources, but also to grow my network and essentially help me understand what exactly I want professionally for my life."
Bhuti, who also is majoring in biology, added that the experience showed her how to apply the concepts she has learned in a setting outside of the classroom and campus lab.
"This experience is really priceless. It's a foundation for students who want to do biotech or life science careers. The small environment and learning space teaches us that you don't have to go into big industry to do life sciences work. You can start in a small startup," she said.
Morris said the field experience has helped the students gain confidence in the lab.
"Everyone was a bit nervous working with live cells in a biosafety cabinet at first, but over the past few weeks they've already been getting more comfortable with it," she said, adding that she was struck by how well the three students have supported each other's learning. 
"They are constantly answering each other's questions and helping each other work through techniques. They divide up the work quickly every week while still advocating for themselves and supporting each other's learning," she said.
Morris began her role as a scientific associate at EverCellBio shortly after graduating with a bachelor's degree in biology. She said working so closely with Wheaton and another alum has strengthened her connection to the college. "It's empowering to be able to teach and help further the early careers of students in the same position that I was in just four or five years ago."