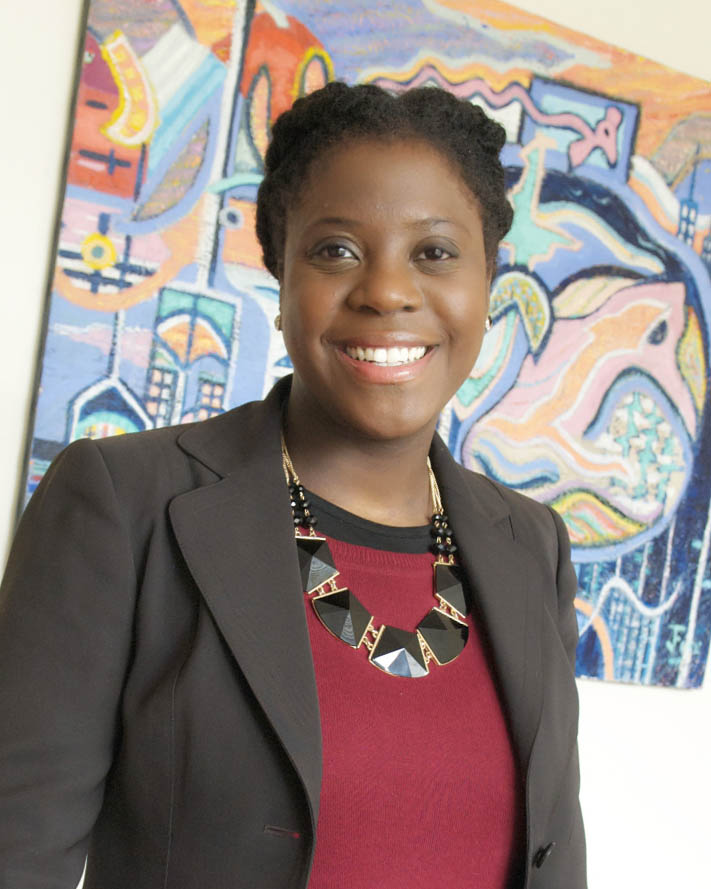 For Shaya Gregory Poku, inaugural director of the Center for Social Justice and Community Impact (SJCI), Wheaton's small size and residential community are ideal for social justice work.
"So much about social justice is the process of building community," said Poku, who joined the newly established center in October. "My impression so far is that Wheaton is a very tight-knit and caring community. I've been impressed by the amount of collaboration between student affairs and academic affairs, and the campus's commitment to holistic student development."
As center director, Poku serves as a leader both in the Division of Student Affairs and on campus in establishing programs and initiatives related to diversity, equity and inclusion.
Under her leadership, SJCI will facilitate opportunities for community service and support partnerships with local organizations; work closely with Religious and Spiritual Life to support Wheaton's diverse student body; and oversee Safe Zone trainings—which support the college's LGBTQ+ community.
Poku's plans include increasing students' awareness of social justice issues and movements; providing more opportunities for dialogue; training students on how to interrupt harmful behavior around them; expanding opportunities for community leaders to bring their knowledge to campus; and helping students use language that is affirmative to all people.
Currently, the center is developing a "Real Talk" film screening and discussion series, for which Wheaton student groups will select, screen and facilitate topical social-justice related conversations. Also, the center will collaborate with the Marshall Center on a pilot "allyship" training this spring.
Poku's passion for social justice stems from her past work in international peace-building, but also her childhood experiences—both in innovative programs taught at her elementary school in California and in her home life.
"Growing up, we'd take road trips across the country. I always thought: 'How would my life be different if I grew up elsewhere?'" Poku said.
Her parents took her to museums and exposed her to people from different backgrounds. (She fondly recalled one time her mom took her to an event hosted by Sikhs.) In school, she learned about Native American history and the Californian missions, women's rights and Japanese internment camps.
These early experiences fostered a curiosity and deep empathy that guided her studies, she said. She earned her bachelor's degree in international relations from Agnes Scott College and her master's degree from Lesley University in intercultural relations and will complete another master's degree in security and resilience studies from Northeastern University this spring. Most recently, she served as the program director for the social justice center at Northeastern University.
Poku thinks there are many common misconceptions about social justice; in particular that it is only for minority groups.
"Really, social justice is for everyone and ultimately benefits everyone," she said.
As such, she encourages all students to reach out to the newly established center to discover the many ways to make a positive impact on the world.
"I want students to be aware that we want to hear from them, that we are a space for people's voices—everyone's voices. We want to be a place for dissent to happen, but in a productive way; a place for empathy; a place for people to challenge themselves to gain a greater understanding of the world and of themselves; and also for skills—life skills and professional skills," she said. "We are all here in college to learn."