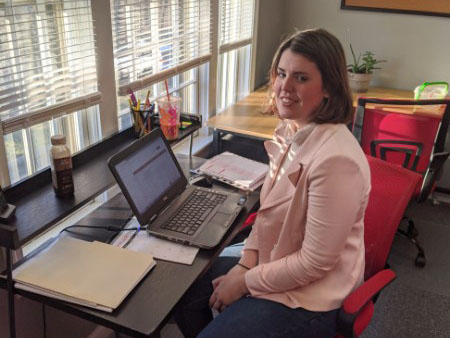 Business and management major Mira Lockwood '20 was able to expand on her coursework and gain experience in the field she hopes to work in through an internship with marketing firm LG&P this winter.
Lockwood, also a double major in visual art, worked in the firm's Install Solutions Division, sitting in on meetings and conference calls and supporting project managers in a variety of ways.
"I enjoyed having the opportunity to see what a business is like firsthand. Wheaton has given me the knowledge and experience in writing official business documents and what to expect in the field. Being able to experience a company firsthand has given me a new level of knowledge as to what to expect," she said.
Lockwood said she learned how to work closely with colleagues and how to manage several people and jobs at once.
"A lot of what working for a company entails is managing and learning how to work with and for people. The only way you can learn how to be successful with this is through experience," she said.
Lockwood is interested in working for a marketing firm after college and also hopes to attain a master's in business administration.
She received support from a Blakely Fetridge Bundy '66 Work and Learning Fellowship for her winter internship.