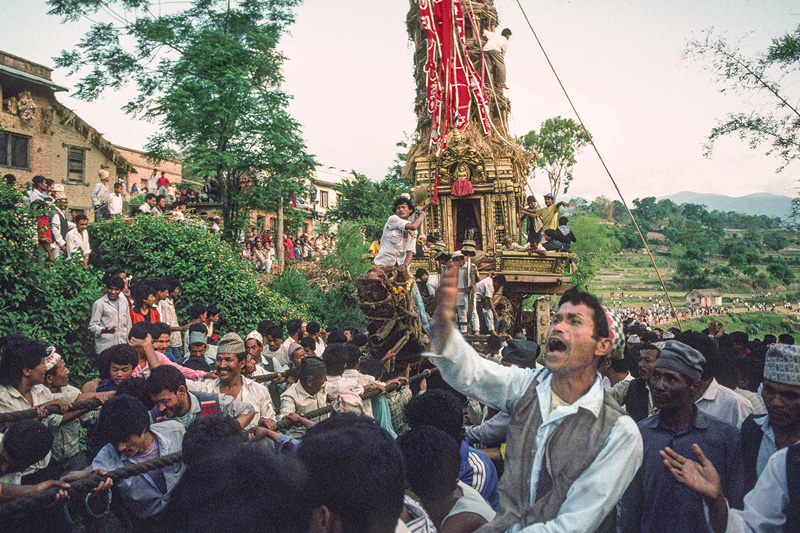 Professor's photographs featured in New York Times-highlighted show
Seven photographs taken by Associate Professor of Anthropology Bruce Owens were featured recently in a show The New York Times named one of the most important art exhibitions in 2019.
"Dharma and Punya: Buddhist Ritual Art of Nepal" was on display at Cantor Art Gallery at the College of the Holy Cross in Worcester, Mass., from September through mid-December of 2019 and featured nearly 100 objects of Buddhist ritual art, including eight images captured by Owens at the festival of Rāto Matsyendranāth/Bungadyaḥ, held annually in Nepal's Kathmandu Valley. Owens has taken thousands of photographs of the festival during a span of nearly 40 years; the images in this exhibition were taken between 1982 and 1991.
Owens also contributed an object from his personal collection to the exhibition—a clay image of the god honored at the festival, which he said was handcrafted and typically used in a home shrine.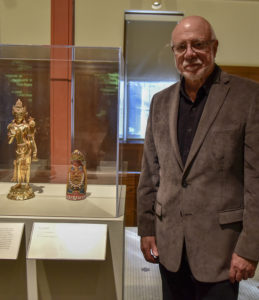 New York Times art critic Holland Cotter included "Dharma and Punya" in his list of 2019 highlights, calling the show "a gem."
"Assembled by two scholars, Jinah Kim and Todd T. Lewis, it uses objects to tell a tale of the little-studied traditions of a popular religious art in the Kathmandu Valley, an art that is devotional, intensely social and inevitably political, and one that takes the pursuit of do-no-harm generosity as its subject, creed and goal," Cotter wrote.
Owens gave two talks related to the exhibition—the first, titled "Local Manifestations of Universal Compassion: Lokeśvara of the Four Places in Nepal," was delivered on November 7 as part of a lecture series connected with the exhibition. The second, titled, "The Chariot Festival of Rāto Matsyendranāth/Buṃgadyaḥ of the Kathmandu Valley: Forty Years of Innovations and Transformations," was given on December 7 at the symposium "Nepal Mandala in Early Modern Global Asia," held at Harvard University in honor of the exhibition.
Additionally, his essay, "Popular Images of Bunga-Dyaḥ, Compassionate Localized Bodhisattva," was included in the exhibition catalog, Dharma and Puṇya: Buddist Ritual Art of Nepal, edited by Jinah Kim and Todd Lewis (Boston, Brill/Hotei Publishing, 2019).