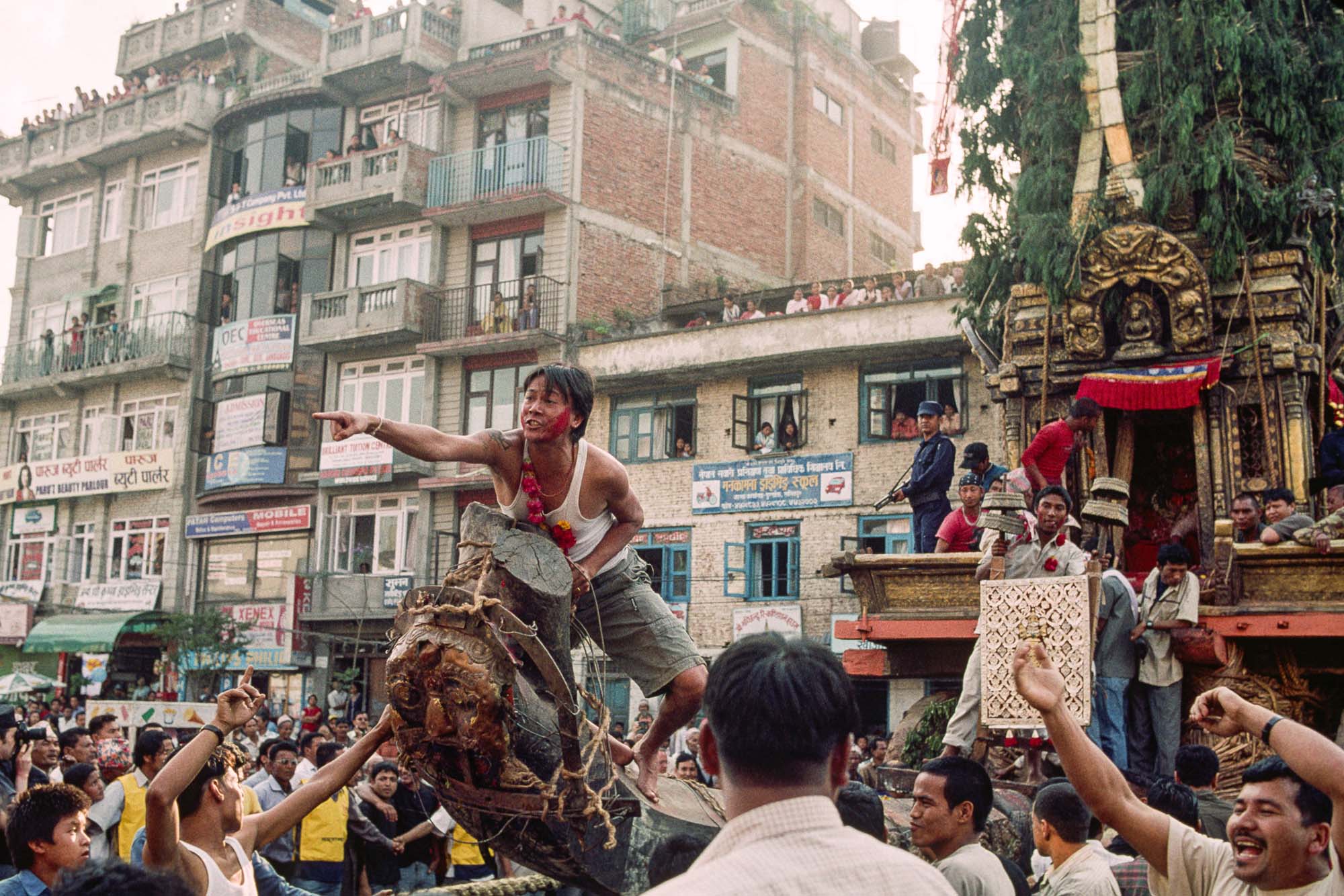 Associate Professor of Anthropology Bruce Owens's photographs of Nepal's annual Rāto Matsyendranāth festival—of which he has thousands, taken over nearly 40 years—are being featured this fall in three exhibits in that country.
Owens's images were on display from October 21 through November 3 during Photo Kathmandu, an international photography festival, held in Kathmandu, Nepal. As part of the photo festival, the images were displayed at two temples in Kathmandu that honor Matsyendranāth, a god of rain who is worshipped by both Hindus and Buddhists and who is celebrated with the annual Rāto Matsyendranāth festival.
A third exhibition is being held at the Patan Museum in Patan, Nepal from October 27 through November 26. Following that show, Owens' photographs will join the museum's permanent collection and may be displayed at other museums around Nepal.
Owens's photos were taken between 1977 and 2016 and are part of his ongoing research on the people and cultures of Nepal, Himalaya and South Asia.
"I used photography as a tool for learning as well as documenting a festival that was inherently chaotic," Owens wrote of the exhibits in the Nepali Times. "As an anthropologist, I try to have as little impact as possible and introduce myself to the people involved and ask to meet them again to talk about what they were doing. I give them copies of the photographs and use them to ask questions."
Owens said the exhibits are "continuations of my practice of learning through sharing images and thanking those portrayed within them" and that the response to the photographs has been overwhelmingly positive.
"Many have pointed out relatives and friends that [the images] depict who are no longer with us," he said. "As always, I continue to learn about the festival as people share their memories and thoughts while looking at the photos."
In an interview published in the English edition of onlinekhabar.com, Owens explained how he first came to be interested in Nepal and in the festival in particular.
"I walked into Patan for the first time and a crowd of little boys came around seeking to be my guide. They all said the same thing—'Do you want to see the golden temple?' 'Do you want to see the Ashok Stupa?'—and one said, 'Do you want to see a festival?' I picked him. The rest is history," Owens said.