Honorary degree recipients announced
Wheaton to recognize accomplishments of alumna historian, inclusive engagement specialist
Wheaton College will present honorary degrees to E. Frances "Fran" White '71, a historian and author, and James "Jamie" Washington, president and founder of the Washington Consulting Group.
White is a professor emerita at New York University. Her many honors include the 2013–2014 NYU Distinguished Teaching Award and the Catherine T. and John D. MacArthur Chair in History (1985–1988).
Washington is a writer, speaker and coach, who has served as an educator, administrator and consultant in higher education for more than 37 years. The Economist has listed him as one of the top 10 diversity consultants in the world. He works with organizations and individuals to address and break down barriers to success while envisioning a more liberated and inclusive environment.
Each will receive an honorary doctor of laws as part of Wheaton College's 186th Commencement ceremony on May 22, 2021.
Frances White '71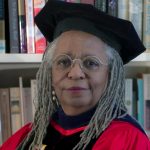 "Wheaton exposed me to the value of a liberal arts education. I am especially grateful for Wheaton models for living a professor's life that includes scholarship and close relationships with my students," White said. "My senior thesis on Marcus Garvey continues to inform my work. I learned how to value the study of primary documents and to use those documents to fashion complex narratives that reveal the contradictions in those historical documents. I moved from a simple worshiper of Garvey, whose movement my grandfather joined, to someone who respected his achievements without ignoring his shortcomings."
White has been enthusiastically engaged with the college as an alumna, including serving as a member of the Black Alumni Group from 1996 to 2004, on the President's Commission from 1997 to 2003, and as a member of the Alumni and Parent Admission Committee in 1985. While in graduate school, she acted as a Black student advisor from 1971 to 1973, and was an internship housing sponsor in 1988.
After graduating from Wheaton with a degree in urban studies, she received a master's degree in history as well as a Ph.D. in African history from Boston University.
In addition to her career as a professor of history and Black studies, White has held distinctive positions in academic administration. She served as NYU's vice provost for faculty development from 2005 to 2008 and spearheaded the university's efforts to diversify the faculty. She also was chair of the NYU Council of the Deans from 2001 to 2005 and dean of the Gallatin School from 1998 to 2005.
She has been awarded fellowships from the Danforth Foundation, the Mellon Foundation and the National Endowment for the Humanities and was a Fulbright Senior Research Scholar in Sierra Leone and The Gambia.
Before working at NYU, she taught at Fourah Bay College of the University of Sierra Leone and at Hampshire College, where she became dean of faculty. Her teaching and research interests include the history of Africa and its diaspora; history of gender and sexuality; and critical race theory. She also helped found the Critical Race Feminist Collective, a platform for dialogues and conferences between feminists in South Africa and the United States.
Since 1997, White has served as series editor of Critical Studies in Racism and Ethnicity at Temple University Press. She has written two books, Sierra Leone's Settler Women Traders, and Dark Continent of Our Bodies, and co-authored Women in Sub-Saharan Africa. She was awarded the 1987 Letitia Brown Memorial Publication Prize for the best book on Black women.
James Washington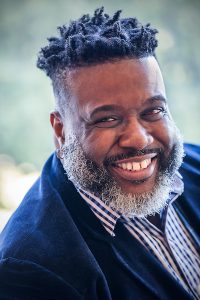 Washington, who is the president and co-founder of the Social Justice Training Institute, said he is grateful to receive this honor from Wheaton College.
"I have had the opportunity to work with Wheaton for many years. The leadership has a clear commitment to building a campus community that not only values diversity, equity and inclusion, but also is committed to preparing the next generation of leaders to live into the values of democracy, anti-racism and justice," he said. "This is my life's work and I'm honored to be recognized in this way."
At Wheaton, he has welcomed incoming students during the orientation session "Building an Inclusive Campus Community," and hosted an open forum on campus titled "Leadership and Diversity in the 21st Century." He also has led training for student leaders to prepare them to facilitate small group conversations about diversity, equity and inclusion.
He earned his bachelor's degree from Slippery Rock State College; dual master's degrees from Indiana University Bloomington; a Ph.D. from the University of Maryland, College Park, and a master of divinity degree from Howard University School of Divinity.
He serves as an invited instructor in the Harvard Graduate School of Education and the Lancaster Theological Seminary. As the head of the Social Justice Training Institute, he works with colleges and universities to engage campus leaders, staff, faculty and students in creating a culture that values, respects and includes all of its members, while helping campuses to address the historical and residual impacts of exclusion.
In addition to his work in higher education, Washington has an extensive list of corporate, nonprofit, government and faith organization clients, including Starbucks, Wachovia and Wells Fargo and the Human Rights Campaign.
Among his honors are the University of Maryland Baltimore County's Legends of Excellence Award for his contribution to the lives and education of Black and LatinX faculty, staff and students; the 2021 NASPA Bobby E. Leach Equity, Diversity and Inclusion Award, and the 2020 Annuit Coeptis Senior Leader Award from the American College Personnel Association, of which he is past president and a current trustee. He also is on the board of the Vanderbilt School of Divinity's Creating Welcoming Churches project and chair of the board of Many Voices, A Black Church Movement for Gay and Transgender Justice.