Helping women take the lead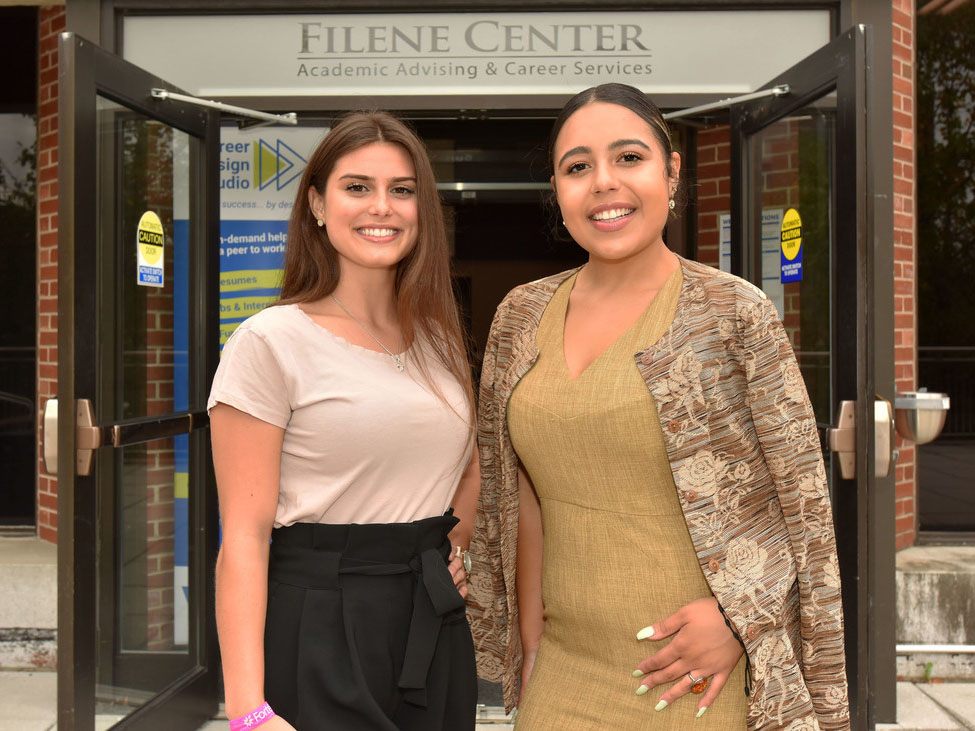 Wheaton partnership with Forté Foundation led by student ambassadors
Wheaton students have always had strong connections to women leaders through the college's alumni network. Now they can expand their reach through a new partnership with the Forté Foundation.
The nonprofit Forté Foundation seeks to "change the balance of power in the workplace" by creating an infrastructure of education, networking and other opportunities to support women as they pursue business careers in a variety of fields, from healthcare to hospitality.
Early this year, Wheaton alumna Diane C. Nordin '80 gifted the college its first membership in Forté, giving Wheaton students access to the foundation's many resources, including free admission to attend conferences across the country, educational webinars and an online professional development platform, similar to LinkedIn, called Rising Stars.
"Most importantly, Forté offers Wheaton students the opportunity to connect with a large and diverse network of women who want to support the professional success of women," said Andrew Brereton, executive dean for student success in the Filene Center, which is helping to facilitate the partnership along with Assistant Professor of Business and Management Sabrina Speights, as faculty advisor, and two Wheaton students.
Blake Ferretti '20 and Genesis Maldonado '20 are taking the lead in promoting Forté on campus through the Forté Campus Ambassador Program. Known as "FAMbassadors," the two are working to spread the word among their peers about the opportunities available through Forté, and to organize events that help students build their professional skills and eventually bring in professional speakers through the foundation.
"Although I am a political science major, the Forté motto is that 'business is a language spoken in all [academic] divisions.' The Forté Foundation focuses on the idea of what it looks like to be a businesswoman within all these different divisions, honing in on the importance of being able to market yourself and highlight your strengths and passions, regardless of what you're doing post-grad," Maldonado said.
She and Ferretti attended an informational session on the Forté partnership in February and expressed an interest in helping to grow the program on campus.
"We knew that what Forté offered was huge, especially the networking opportunities," said Ferretti, a business and management major.
The foundation offers several conferences each semester—this fall, that includes the College to Business Leadership Conference in New York City, the Fast Track to Finance Conference in Boston and the Women of Color College Leadership Conference in Washington, D.C.
Ferretti and Maldonado attended a Forté conference in Boston last April, along with a few other Wheaton students. One woman Maldonado met at the conference helped connect her to a recent New York law school graduate who has agreed to read the Wheaton senior's personal essay, as she prepares her own law school applications.
"One of the many great things about Forte is their ability to motivate women and encourage them to strive for success. Their willingness to help you succeed is what makes them special," Ferretti said.
English major Alisa Sultan '20 also attended the Boston conference last spring.
"It gave me confidence, wisdom and exposure, along with networking opportunities—from the students in our groups to the facilitators," she said.
Along with those who participated in events run by the foundation last spring, more than a dozen Wheaton students have signed up to attend Forté conferences this fall, said Lisa Gavigan '83, director of career services in the Filene Center.
"This partnership is of great value to the Wheaton community as a whole," Gavigan said. "The foundation's online Rising Stars program mirrors the career education we provide students through the Filene Center, reinforcing our message. The conferences provide attendees with exposure to peers interested in business and finance and to leaders in those industries, building their professional networks. The students are also exposed to industries and career paths they might otherwise not have considered."
Students can learn more about the opportunities available through Forté by reaching out to Ferretti and Maldonado, following their Instagram account (/forteatwheaton) or connecting with the Filene Center.