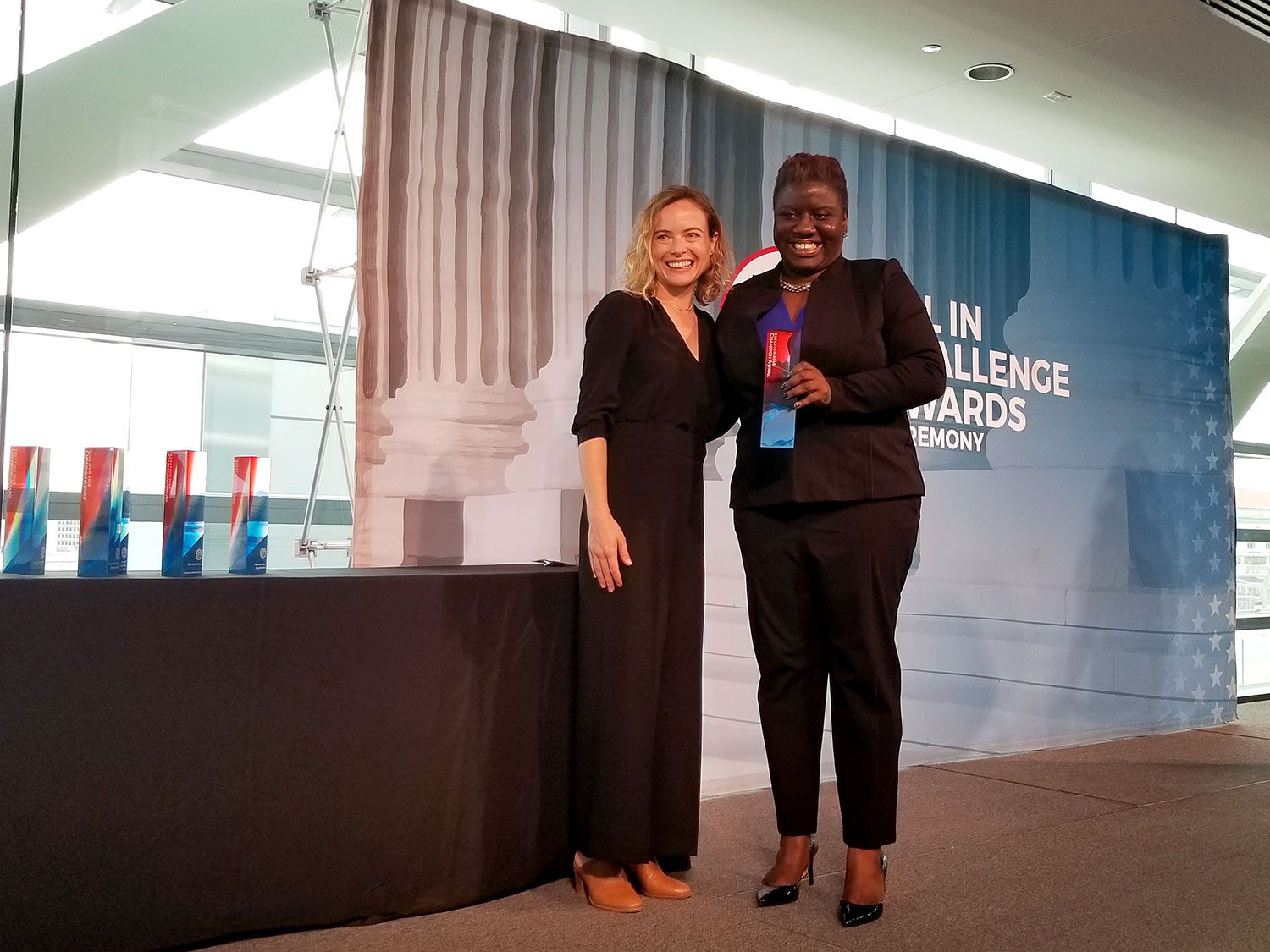 Wheaton wins award for improving campus registration rate
Wheaton was recognized this week for campus efforts to increase voter registration and turnout, receiving the ALL IN Campus Democracy Challenge's Champion Award for having the most improved registration rate of all participating campuses in the 2018 midterm election.
Wheaton also received the ALL IN Challenge Silver Seal for having a student voter turnout of 30–39 percent in 2018. About 37 percent of the student body voted in the most recent midterms, versus just under 8 percent in 2014, according to the National Study of Learning, Voting and Engagement (NSLVE).The campus is actively working to grow that number to above 50 percent.
Nationwide, student voter participation more than doubled in the 2018 midterms, with an average institutional voting rate of 39.1 percent, according to NSLVE.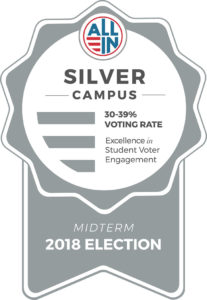 The next big challenge is for Wheaton to increase voter registration and turnout in the 2020 presidential election. About 43 percent of Wheaton students voted in the 2016 presidential election, and 42 percent of the student body voted in 2012, according to NSLVE.
Wheaton's success in the ALL IN Challenge also contributed to the college being recognized as one of the top 50 liberal arts colleges for promoting public service in the Washington Monthly 2019 Liberal Arts Rankings. Wheaton was ranked 46th out of more than 200 colleges based on a number of factors, including military and Peace Corps service, community service and voter engagement.
Wheaton is one of a national coalition of colleges and universities that have joined the ALL IN Campus Democracy Challenge, with the goal of improving democratic engagement among students, as well as promoting voter registration nationwide through the sharing of information, said Cassie Peltola, assistant director for Community Service and Civic Engagement in the Center for Social Justice and Community Impact (SJCI).
"By participating in this challenge, we are committing to documenting and sharing the cross-divisional work that we are already doing to improve democratic engagement, in an effort to help us assess and reflect on what works best," Peltola said. "We compare our action plans with other institutions in an effort to establish a set of best practices. This civic action challenge also helps to hold us accountable in our commitments related to civic engagement."
SJCI partnered with student groups, including the Wheaton College Dems and House of Reps theme house, and the Political Science Department to host a variety of activities aimed at improving civic engagement and awareness of key issues leading up to the midterm election. Among these programs were an event promoting the importance of midterm elections and offering a rundown of the 2018 ballot questions; regular, visible on-campus voter registration tables; guest lectures and discussions on topics such as political divisiveness; shuttle transportation to the polls; and projects like the Norton town cleanup that directly connects students with local politicians and residents.
As the SJCI civic engagement intern last year, Casey Smith '20 supported many of the programs encouraging voter registration and action. One of her favorite programs was bringing Massachusetts State Senator Paul Feeney to campus to speak about investing in local politics.
"The ALL IN award is an absolute honor, and I'm so proud of the Wheaton students who have gotten us here. The dedication to keep coming to events, to take the time to register to vote, is a really amazing way to see democracy in action," Smith said. "I think this award shows a lot of growth in our campus community; the social activism I've seen on campus this year and the high turnout to politically themed events has been truly inspiring."
Peltola said the work of promoting civic engagement continues this year, with programs such as debate watch events for the 2020 Democratic primaries, a climate change letter writing campaign and plans for discussions about voter suppression and the U.S. Census.
SJCI Director Shaya Gregory Poku said she is excited to see how the work of the center is nurturing students so that they are "equipped and inspired" to create change in society.