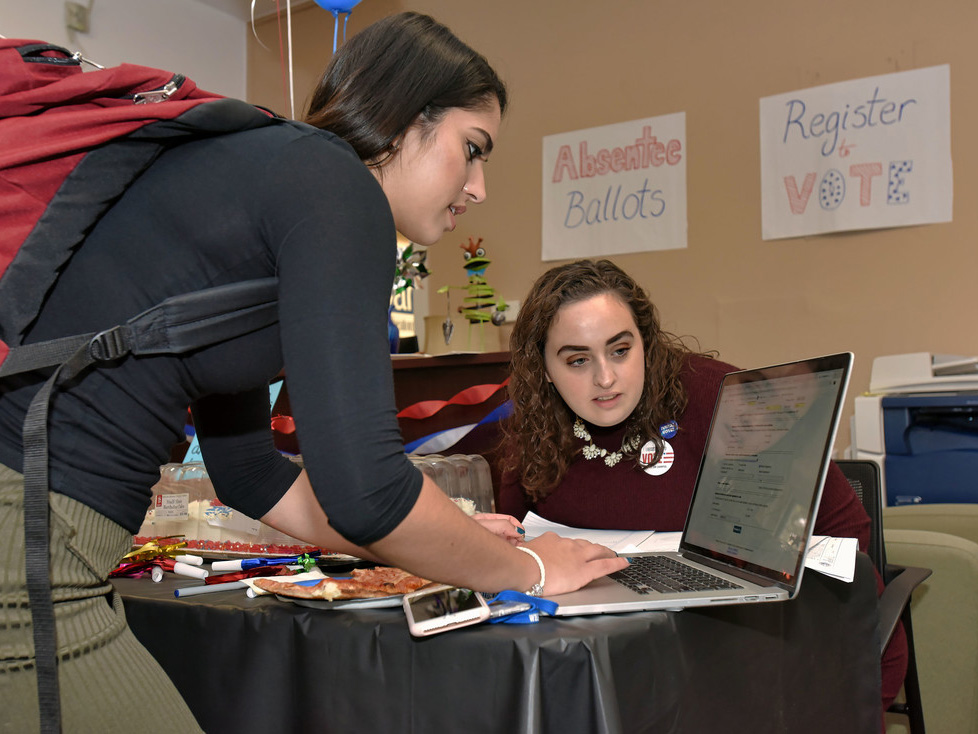 Efforts help improve access to voting
With the midterm elections only two weeks away, the Center for Social Justice and Community Impact and various student groups are energizing students to exercise their right to vote.
So far, they have helped 150 students register or submit absentee ballots and on Election Day, Tuesday, November 6, they will provide transportation to polls in Norton every 30 minutes from 9 a.m. to 5 p.m.
Throughout October, the center and groups including the House of REPS (Residents Engaged in Political Science), the Wheaton Democrats and Emerson House have assisted students at tables in Balfour-Hood. Also, on October 12, at a Midterms Elections Party organized by the House of REPS, Cassandra "Casey" Smith '20 and Assistant Professor of Political Science Bradford Bishop discussed civic engagement and the impact of political disillusionment among young voters.
Samuel Mahler '19, a double major in political science and economics who helped students navigate the voter registration and absentee ballot process at tables on campus, said he is passionate about removing barriers to vote.
"Voting is the right that all other rights follow. Not making the effort to exercise this right is a big mistake," said Mahler, who lives in the House of REPS and is president of the Wheaton College Democrats.
He said while this region of the country has pretty lenient voter registration and absentee laws, signing up in other states can be markedly more difficult. For example, in Alabama, a person looking to submit an absentee ballot must fill out a longer form, and prove their identity by providing their Social Security number and license.
The volunteers helped students follow-through with their efforts to vote. "We had the students fill out the forms on a laptop at the table, and it significantly helped," he said.
Smith, vice president of the Wheaton Democrats, also assisted students at tables. She said it's helpful for students to know that they can vote—especially people who live relatively close but don't want to drive hours to fill their ballots.
"I think they are surprised that it's that easy to get an absentee ballot. You get the application in the mail, and mail back the ballot," she said.
While many are focused on who will be voted to Congress, both Mahler and Smith stressed that municipal elections are important as well.
"Most change happens at the local level. From there, it's easier to get involved, and you feel like you are making a difference," Smith said.
She said it does take time and energy to learn about different candidates and their platforms, and that she is committed to informing voters on the issues.
"It's my job to make sure that people have really easy access to that information," she said.
Cassandra Pelota '14, assistant director of community service and engagement, said that during the 2016 presidential election, a little less than half of all Wheaton students were registered to vote.
She hopes that this collective effort removes as many barriers as possible while educating students on the issues at stake.
"We hope to increase voter registration rates significantly, which is no easy feat during a midterm election, which has traditionally a much lower voter turnout," she said.