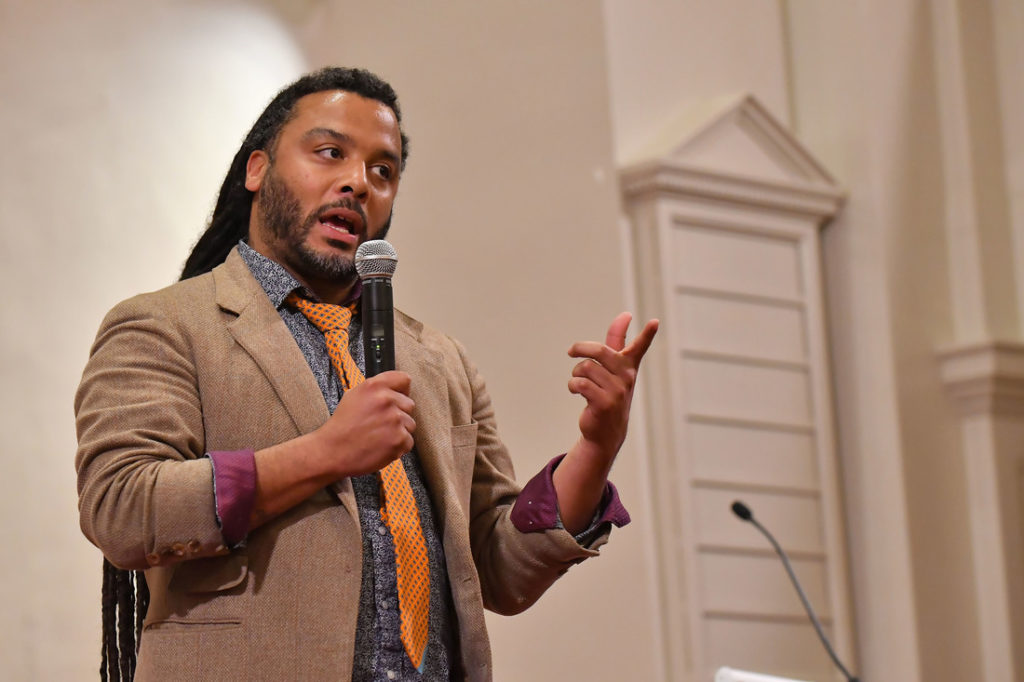 Students, history professor honored at MLK Jr. Legacy Celebration
Wheaton honored the legacy of Martin Luther King Jr. on Tuesday with a ceremony that was both a celebration of achievement and a challenge to the entire college community to do more to promote a diverse and inclusive campus.
The third annual Martin Luther King Jr. Legacy Awards honored Associate Professor of History Dolita Cathcart and student Musa Ali '18 for their contributions to combating discrimination on and off campus.
The Martin Luther King Jr. Legacy Celebration—organized by the Council on Inclusion and Diversity, the Black Student Association and the Marshall Center for Intercultural Learning—also featured a keynote address by attorney and civil rights activist Adam J. Foss; music, spoken word and art presentations by winners of the Creative Arts Showcase; and a performance by Voices United to Jam.
Associate Professor of Psychology Peony Fhagen, a 2017 Legacy Award recipient, said Cathcart is "a beloved teacher" who has taught courses on the history of civil rights movement, the South African Truth and Reconciliation Commission and racism. She cited Cathcart's service as Wheaton's first Posse mentor, her work as a key organizer on various faculty and student workshops on diversity and cultural appropriation, and her contributions as co-chair of the Council on Inclusion and Diversity.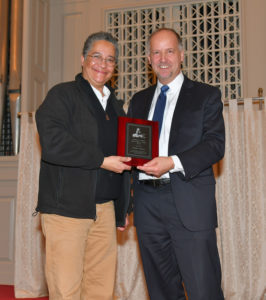 "Dolita's aim to do scholarly work that reaches a wider audience through documentary film has been refreshing and has extended our definition of scholarship. She has cemented her reputation as a scholar activist," Fhagen said.
Olivia Benissan '19, who announced Ali as a winner, said his efforts to create dialogue across different parts of campus have helped unite the Wheaton community. Ali is a residential advisor who serves as co-president of the Middle East Club and is involved in the Black Student Association,, Latino Student Association, the men's rugby team, the Together We All Prosper House and The Lyons Den.
Cathcart and Ali both received plaques engraved with the Martin Luther King Jr. quote "Our lives begin to end the day we become silent about things that matter," which President Dennis M. Hanno said in his opening remarks "describes why we are here, and the way I hope this community will live its life."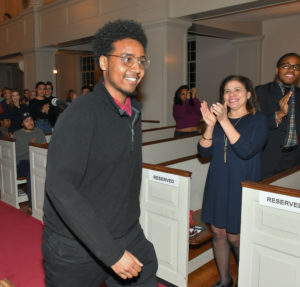 In his keynote address, Foss urged the Wheaton community to harness their "sword and shield"—which he describes as their power, privilege and opportunity—to join the ranks of individuals fighting injustice in the criminal system and beyond.
"Each one of you has the opportunity to disrupt [injustice] in whatever way you choose—whether it's [in the fields] of nutrition, health, sleep, education, social science. Each one of you will walk out of this place with a sword and shield in your pocket," he said.
He shared his own personal story: how he "won the privilege lottery" when his father, a police officer who adopted him, helped him avoid a drug felony at age 19 when he tried transporting marijuana across state lines.
"It was the most valuable moment of my life," he said.
Many others are not as lucky. Many end up "going down the rabbit hole," with a growing criminal record ruining their shot at accessing a good education, health care and safe neighborhoods, he said. Foss, who ended up going to law school and becoming a prosecutor, now helps youth redirect their lives through accountability and restorative justice.
More than 2.3 million people are incarcerated in the United States, and one in three black men born today will spend time in prison, he said.
"I want you to think about every empty chair you see in your classrooms and why it's not filled by someone from a marginalized population," he said. "There are millions of people you'll never meet because they made a bad decision and their lives have ended. They would be here if they could be."
He also called out those students who did not attend the event and urged the administration, student government and their classmates to ensure they understand what they missed.
The ceremony also recognized four students' creative works from the Creative Arts Showcase:
First place: Audrey Aka '18
Second place: Daniel Alexandre '20
Third place (tied): Jasmine Silva-Jones '18 and Mwarianesu Makufa '20
Other contestants in the showcase were:
Andru Anderson '19
Steven Flowers '20
Mariela Saver '21
Dominick Torres '20