Students' talents took center stage at the third annual Martin Luther King Jr. Legacy Celebration with the presentation of this year's Creative Arts Showcase winners.
Meet this year's winners and read, see or hear their work.
First place
What Do You See by Audrey Aka '18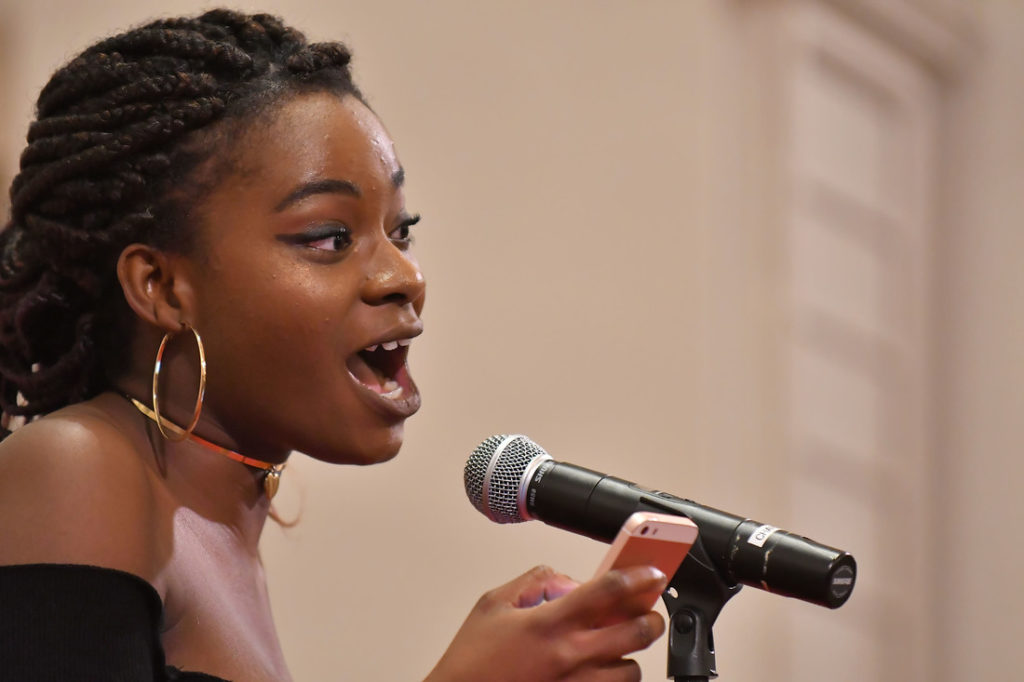 "I wrote this piece was at a pivotal time in my life, during my junior year when I felt like I was just starting to understand that the circumstances under which I grew up were not actually my fault. Seeing all of the horrible things happening in the news to people who look like me, and no one caring. I knew somewhat that the scales were tipped, but I hadn't really internalized it until I wrote this poem.
"It gave me a chance to sort out which misconceptions I had let hold me back, and analyze where that may have come from. I really became a full conscious adult, and this was my way of providing words of encouragement for others who have gone or will go through similar experiences and might need this in order to have that same epiphany.
"I just never want another beautiful black soul to feel afraid to take up space."
Read What Do You See.
---
Second place
Ebony by Daniel Alexandre '19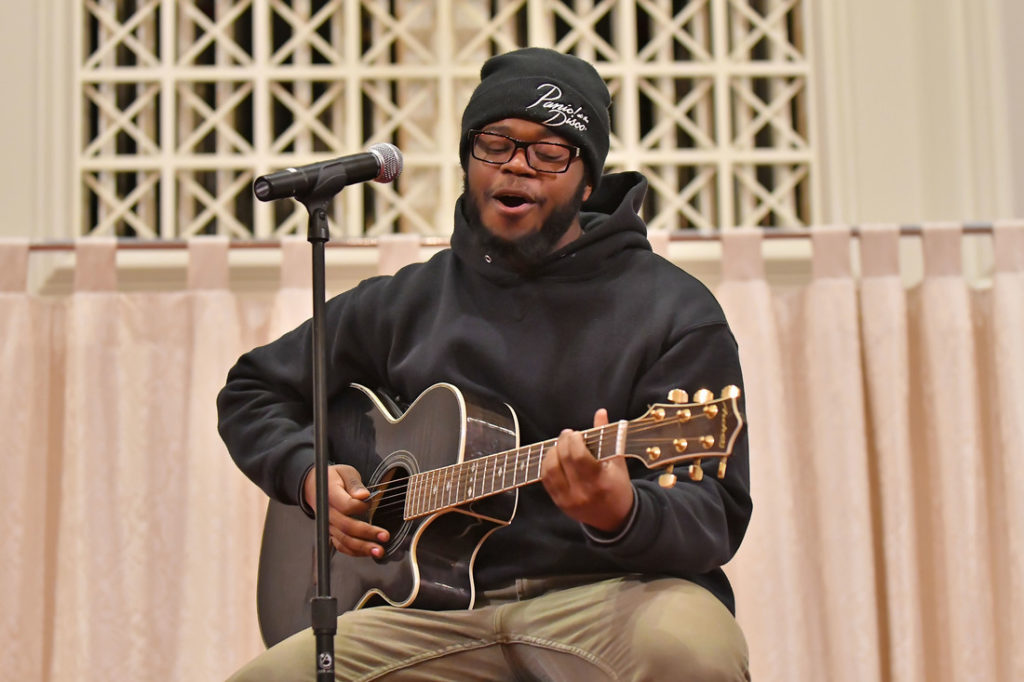 "I wanted to write a song about a beautiful black woman. This is about her strength and the trials she goes through on a daily basis. It reflects the kinds of things that those who are not people of color don't appreciate and that are not reflected in the media."
---
Third place
Supreme (lithograph/ink on paper, April 2017) by Jasmine Silva-Jones '18 (tie)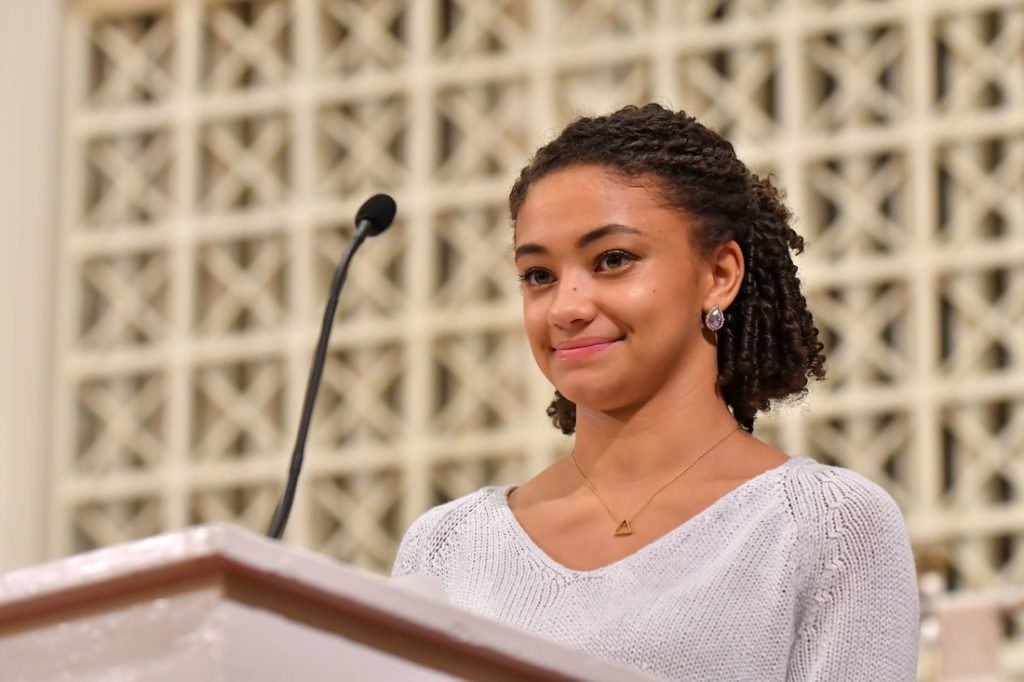 "The world is quite the diverse place with a myriad of different cultures and backgrounds. In an ideal world, these differences would holistically be embraced; people hailing from different horizons would have the same range of opportunities as anyone else.
"However, this is unfortunately not the case in reality. In a society of dense with oppression, everyone needs to find a way to escape the stress that they experience.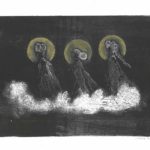 "In this print, I wanted to exemplify the differences and similarities that we all share. I composed three women that each have a gold glow to show a nature of humility, but each character is styled as an individual. The three women are joined together on a cloud to symbolize their dreams and the progressive power of equality despite their distinctions.
"Stimulated by injustice in my hometown, I began to ponder solutions for the community's imbalance. Through multiple different sketches during the concept development phase, three essential pillars repeatedly came to mind: strength, hope, and equality. Keeping these ideals in mind, I wanted to find a way of symbolizing the mutuality of this mindset amongst oppressed individuals, which came via the three gold glowing auras atop each person."
---
Third place
Coming of age of a young black man by Mwarianesu Makufa '20 (tie)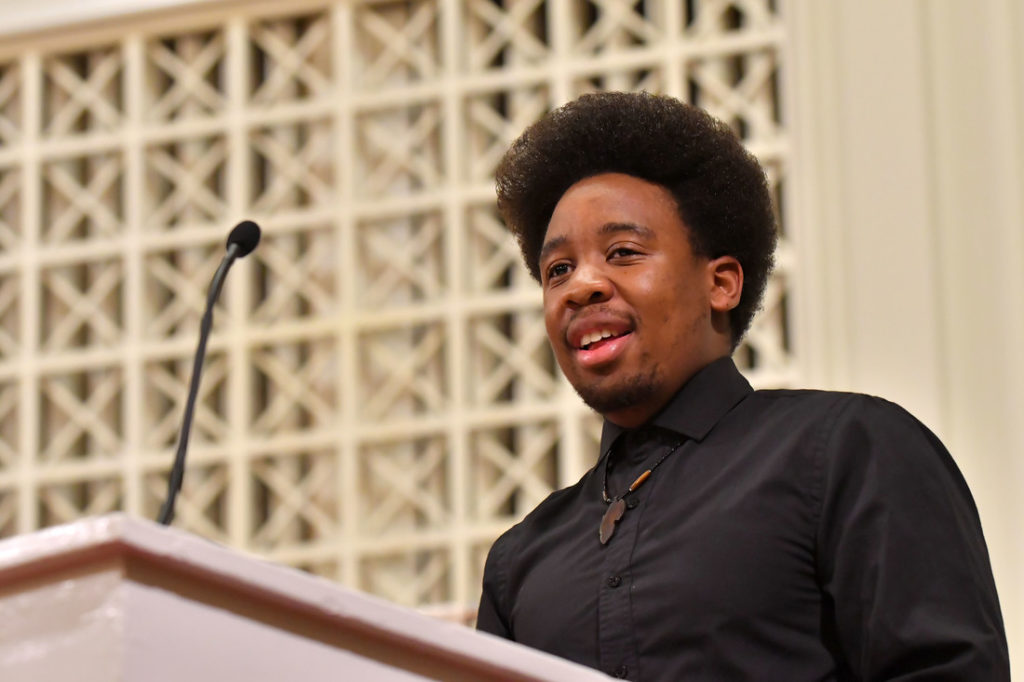 James wakes up, it's 8:15
He's late….
No time for a proper breakfast, he decides to run to chipotle and then quickly to class.
He gets out of bed, showers, looks himself in the mirror and repeats to himself his favourite MLK quote he says every morning without fail: "today I will ensure only to be judged by the content of my character"
It's like a mantra, a type of faith based speak-it-to-existence type of reminder that he never forgets to say
He smiles, fixes his collar, packs his bag and starts his day
Read the full story.