It was another busy spring for Wheaton students and graduates winning Fulbrights, with eight seniors and three recent graduates receiving awards to teach or conduct research abroad. In addition, Wheaton students won a Projects for Peace grant, a Beinecke Scholarship and two Watson Fellowships. Here's a look at the Fulbright winners:
Clancy Connolly '15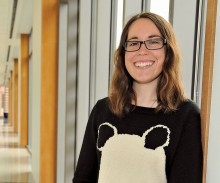 Hometown: Scarborough, Maine
Major: Anthropology
Award: Fulbright English Teaching Assistantship
For Clancy Connolly, learning a language is about more than picking up words and inflections—it's about cultural immersion and exchange. She will experience all of that while teaching English in Macau.
Connolly was drawn to Macau, one of two Special Administrative Regions of the People's Republic of China, because of its unique background as a former Portuguese colony, and the opportunity to learn Cantonese. She also has studied Spanish for six years and Mandarin Chinese for two.
She plans to pursue a master's degree in Teaching English to Speakers of Other Languages and a career working with international students or immigrant populations.
Jonathan Gerkin '15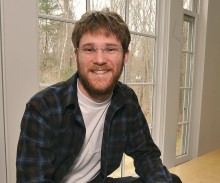 Hometown: Stamford, Conn.
Majors: English and philosophy
Award: Fulbright English Teaching Assistantship
Jonathan Gerkin plans to pursue a master's degree and Ph.D. in medieval literature, but first he will get to explore medieval towns in the Slovak Republic while teaching English on a Fulbright grant.
"I am fascinated by hilltop ruins like Považský hrad along with still-living medieval towns like Banská Štiavnica and Kremnica that fit perfectly with my aim to be a medievalist," he wrote in his application.
The Fulbright also allows Gerkin to further pursue his passion for study, teaching and travel. While at Wheaton, he spent a summer teaching English for a nonprofit in Peru, and studied English and religion at Trinity College in Ireland.
Courtney Gilman '15
Hometown: Mount Vernon, Maine
Majors: German, international relations, and women's and gender studies
Award: Fulbright English Teaching Assistantship
Courtney Gilman decided during her first year at Wheaton that she wanted to win a Fulbright.
"A friend and I ended up at an information session for postgraduate fellowships," she said. "We were the only freshmen there. When I heard Dean [Alex] Trayford talk about the Fulbright, I knew that I wanted it."
Gilman is interested in a career advocating on behalf of women, children and families around the world.
"As a triple major, I truly view my majors as a cohesive unit … a powerful platform that will allow me to work internationally on the issues that I care most about," she said.
Leslie Gould '15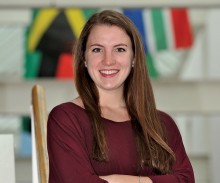 Hometown: Ashburnham, Mass.
Majors: Hispanic studies and psychology
Award: Fulbright English Teaching Assistantship
Leslie Gould arrived at Wheaton unsure about what to study. In May, she graduated with a focus on global education and a Fulbright to Mexico.
Gould credits Wheaton with helping her discover her interests and become a "globally aware" citizen.
"My first year at Wheaton was very exploratory. I enrolled in a variety of courses to find out what interested me," she said. "I soon found that I loved psychology and Hispanic studies courses the most."
She also developed valuable skills beyond the classroom through her work as a resident advisor, global peer advisor and class senator, and her study abroad experiences in Tanzania and Spain.
McKenzie Kuhn '15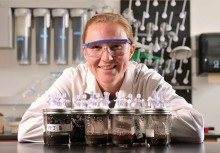 Hometown: Glenwood Springs, Colo.
Major: Environmental science
Award: Fulbright Research Grant
McKenzie Kuhn became enamored with nature as a youth, camping, hiking and playing along the Colorado River. Now she will delve even deeper into environmental research as a Fulbright Scholar.
Kuhn will conduct research at Umeå University in Sweden, studying greenhouse gas emissions from aquatic environments that form from thawing permafrost in the summer months. Her work will build off of research she did during a summer internship in 2014 with the Polaris Project in Siberia, Russia, where she explored the effects of methane gas on the earth's warming climate.
She plans to pursue a doctorate in biogeochemistry with a focus on arctic ecosystems.
Erika Prince '15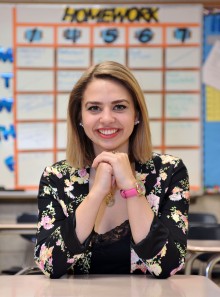 Hometown: Plymouth, Mass.
Majors: Education and history
Award: Fulbright English Teaching Assistantship
Though her Fulbright year in Turkey will be her first time abroad, Erika Prince is already familiar with teaching English as a second language, having spent the summer after her junior year as an ESL teaching intern in Mount Hermon, Mass.
Prince discovered at an early age that she wanted to become a history teacher and sees the Fulbright as a natural fit. "U.S. classrooms are seeing more and more English language learners walk through their doors, so any experience I have teaching English skills will better prepare me for the students I might one day have in my classroom," she said.
Elaine Yuan '15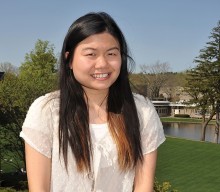 Hometown: New York, N.Y.
Majors: Education and psychology
Award: Fulbright English Teaching Assistantship
As a junior, Elaine Yuan helped turn an English conversation group into a new club to help international students develop their language skills. Now she'll take her passion for teaching and talking to Taiwan on a Fulbright.
The club, known as Supporting Wheaton's English Language Learners, or SWELL, provides a safe space where English learners on campus can build language skills, converse with native English speakers and develop positive cross-cultural relationships.
Yuan plans to become an educator in New York City, where she grew up and where her ESL teaching experience will be highly beneficial.
More award winners:
Nana Asare '15, an anthropology major from Ghana, won a Thomas J. Watson Fellowship to study how grassroots efforts help transform public health in underdeveloped countries. He will travel to Ethiopia, Nepal, Peru, Rwanda and Thailand.
Elizabeth Bouchard '15, an environmental science major from Cumberland, Maine, won a Udall Undergraduate Scholarship. The Udall is awarded to students pursuing a career related to the environment, tribal public policy or American Indian health care.
Marguerite Dooley '16, a political science major from Brattleboro, Vt., won a Projects for Peace grant to launch an after-school program that will support homeless and at-risk youth in southern Vermont.
Eric Esten '16, an English major from Bethesda, Md., received a Beinecke Scholarship to help pay for his graduate studies after Wheaton.
Lindsay Koso '15, an art history and Latin double major from Lexington, Mass., won both a Fulbright Teaching Assistantship to teach English in Bulgaria and a Thomas J. Watson Fellowship to study the preservation of sacred objects in India, Japan, Spain and Turkey. She has accepted the Watson.
Read more: