Experiential learning inside out
Students honing research skills in class, assisting housing authority
The Taunton (Mass.) Housing Authority has partnered with Wheaton College Associate Professor of Sociology Karen McCormack and her students to serve as external evaluators for a Massachusetts grant program aimed at improving the financial and educational outcomes of residents living in public housing.
The collaboration provides students the opportunity to help an organization while gaining experience working as a team, honing their research skills and learning how to apply them through a fall semester course, "Evaluation Research," designed by the professor.
The Taunton Housing Authority is one of four in the state selected to benefit from the A Better Life (ABL) grant, which focuses on helping residents achieve economic self-sufficiency through employment, financial literacy and education. The key is figuring out what residents need to succeed and how the Taunton Housing Authority can fill the need.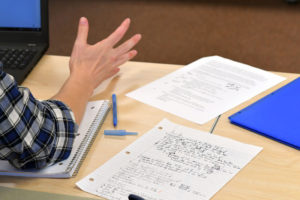 That's where McCormack and Wheaton students come in. During the three-year grant period they will work closely with Taunton Housing Authority Executive Director Colleen Shea Doherty, a Wheaton alumna from the Class of 1990. [Read about Colleen Shea Doherty '90.]
The opportunity led McCormack to create a spring 2018 course, "Research for Nonprofits," to provide a framework for conducting the work. This semester, she is continuing the process with students in her "Evaluation Research" course, which builds off of the first one.
"I've always wanted an opportunity like this to work with students in the service of a local organization and help students develop their research skills in a really practical setting," said McCormack. "There's a huge benefit for students who are used to trying to figure out, 'what does my professor want and how do I best deliver it to get a good grade?' Here, the stakes are higher."
A Better Life has the potential to impact the lives of 146 residents at both the Taunton and Stoughton, Mass., housing developments, Doherty noted. "The work that Professor McCormack is doing with her students will help us determine successes and failures of the A Better Life program. Gathering input from residents throughout their experience in the program will help us to make adjustments to areas that aren't working, resulting in a stronger ABL program for current and future participants," said Doherty, who grew up in Taunton and has worked at the housing authority for 24 years.
"I have really enjoyed working with both Professor McCormack and her students. They are very focused on getting results that will be useful to us not only for ABL but future programs we may build. I really enjoy their energy and curiosity."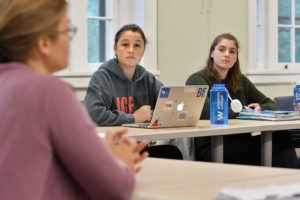 Sasha Herman '20, sociology and Hispanic studies double major, has valued the opportunity to make a real impact. "My interest in the 'Research for Nonprofits' class initially was due to my excitement in applying the sociology that I've been learning at Wheaton to a real-word situation. While the academic theory is fascinating, this class was an important reminder that the concepts that we are learning about have the ability to affect real change in society and provide an important contextualization for the true lived experiences for many people," Herman said. "Wheaton College always emphasizes the importance of connections, and this class was essential in connecting the content that we study in sociology to the purpose of our studies."
Herman's coursework also helped her during her summer internship at Mobilization for Justice, a legal services nonprofit that defends low-income tenants being evicted in New York City.
"I was able to synthesize what I learned with Professor McCormack with the intricacies of housing policy and practice in New York City. I have learned a great deal about the relationship between housing and poverty and stability, as was discussed thoroughly in class. In the future, I am interested in continuing to explore that relationship and the implications it has on individuals experiencing housing instability. Both my experience in 'Research for Nonprofits' and my internship have inspired me to pursue work in the housing field in the future, and I am excited to continue to explore the issue from both a sociological and policy perspective."
Last spring in "Research for Nonprofits" McCormack worked with Herman and eight other students to create and distribute a needs assessment for residents. "Our goal was to try to identify the primary barriers that people experience as they try to improve their lives. The housing authority can use that information to ensure that the programs they develop are the ones that are most needed," McCormack said.
The work required students to touch base with professors across disciplines—including Mary Beth Tierney-Tello in Hispanic studies for help translating the survey into Spanish, Lindsay Flynn in political science for information about housing policy, and Bianca Murphy in psychology for consultation on how to pose sensitive questions about mental health.
This semester in "Evaluation Research" students (three of whom took "Research for Nonprofits," including Herman) move on to the next step in the process: analyzing the data and presenting the information to the housing authority officials. They also plan to make a presentation about their work on the project at the Eastern Sociological Society meeting in March 2019.
"One of our goals is to help students understand how to answer researchable questions. For most of our students, except for those who go onto do a doctorate, if they continue doing research it will be for an organization—whether it's a social service agency, nonprofit organization, a government entity or a corporation," McCormack said.
"This is really designed to help students understand how collaborative research works. How you work with another organization, not just as an independent researcher following your own desires about what you want to know. Your work has to be oriented toward what the organization needs and, in this case, what would help the residents."