Colleen Shea Doherty '90 grew up in Taunton, Mass. Her mother never had the opportunity to go to college herself, but she instilled a hard-work ethic and an appreciation of education in her daughters.
Both Doherty and her older sister, Kristen Shea Bettencourt '89, attended Wheaton. In order to help pay for tuition, Doherty got a part-time job at the Taunton Housing Authority her freshman year.
Working on-site, Doherty can remember noticing how the people in the public housing projects were full of potential but also faced barriers. For example, the single mother in her early 20s with two kids who was clearly intelligent but had no family support and no job connections.
"I worked here every Friday while I was at Wheaton, so I would take the bus from Norton," said Doherty during a recent interview in her office. "There were times riding that bus when I would think, 'Wheaton is a world away from what I'm coming to.' How can you close that gap where kids are going to college and families are becoming self-sufficient?" she wondered.
Today she still spends her days trying to answer that question. Doherty is the executive director of the Taunton Housing Authority—a position she earned by rising up the ranks, starting right after graduating from Wheaton. In her role, she is not just making sure there is a roof over the heads of the families who live in housing complexes, but also that there are opportunities to create homes that provide a solid foundation for becoming self-sufficient.
Multidimensional perspective
Local and state officials—as well as Wheaton staff members—who have worked with Doherty describe her as a rare combination of disparate qualities. She has a good heart and a shrewd mind. She's modest but confident, and an effective leader. Doherty's influence on public housing spans from advocacy work to legislative reforms, to multi-million-dollar housing projects. Last winter, the Massachusetts Chapter of the National Association of Housing and Redevelopment Officials (MassNAHRO) elected her to serve as its interim president. Last year, MassNAHRO also elected her member of the year.
When a housing authority in a nearby city lost its director unexpectedly, Doherty stepped up to manage the housing authorities of both towns to provide stability until the crisis was over.
"I know that she was there nights and weekends, going to board meetings to straighten out the issues at this smaller housing authority," said Thomas Connelly, executive director of MassNAHRO. Connelly has worked with Doherty for 15 years, starting back when she was the executive assistant to the executive director of the Taunton Housing Authority.
Connelly said Doherty typically cuts to the heart of a matter without much fanfare. This is one reason why MassNAHRO asked her to chair its committee that meets regularly with state legislators. In fact, Connelly says Doherty was a crucial advocate for housing authorities during the drafting of the Local Housing Authority Act of 2014. Doherty worked extensively with the Massachusetts Joint Committee on Housing, then chaired by Senator Jamie Eldridge of Acton and Representative Kevin Honan of Brighton/Allston.
"That bill has the most sweeping changes and enhancements in 40 years," said Connelly. Massachusetts residents looking for housing had to sign up for separate waiting lists in each community. But the bill calls for the creation of a statewide centralized waiting list for public housing. "She [Doherty] worked with them and their staff on every single provision in that bill."
Lisa Audette, executive director at the Franklin Housing Authority, thinks Doherty's combination of empathy, preparedness and vision has made her a regional asset.
"She's very compassionate for the people she serves, she's always looking out for their best interests, not only for her residents but all residents," said Audette, who is also the current president of MassNAHRO.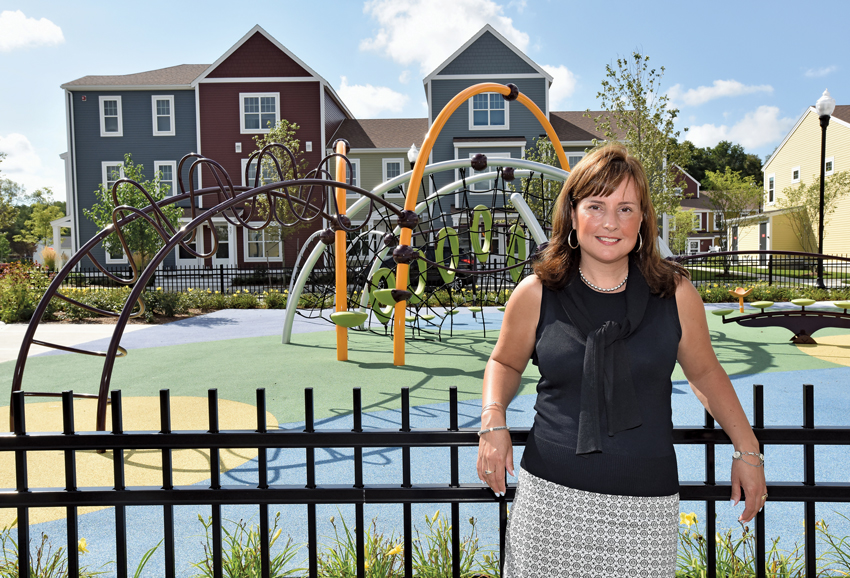 Bootstraps and barriers
In her 25 years of working at the Taunton Public Housing Authority, Doherty has seen plenty of struggles and successes. But a few moments stick in her mind.
One night in 2005 Doherty received a call before daybreak to come to the public housing complex Fairfax Gardens. There had been a drive-by shooting, and as the executive director of the housing authority she had to attend to the site during the police investigation. She remembers watching the sun come up and the school buses arrive for the next school day.
"I was watching this kid come out with his backpack on, go under the tape and go to the bus," she said. "Because I knew his background, I knew that his mother wasn't even home. That she had been hospitalized.
"This child was getting himself up, going to the bus, and here we had crime-scene tape and a bunch of police out here, and bullet holes in some of the buildings," she said.
"That's what hit me. I remember saying to myself, 'We're providing housing, but what do we provide beyond that?' A roof over their heads, that's it. That's all it was."
Doherty and her colleagues had tried various tactics to clean up the crime-ridden Fairfax Gardens site. But more policing and security measures hadn't seemed to work. So she started talking to the Taunton Housing Authority board about trying something drastic—demolishing the site and starting anew.
The sociology major operates on the philosophy that her office should not just provide shelter, but a foundation of stability so that families can move up and out of public housing. And for the elderly and disabled, who may always need to rely on public housing, that stability can allow them to contribute to the community.
But Fairfax Gardens itself seemed to reinforce instability and isolation among its residents. The project was built in 1951 on a 43-acre plot in a neighborhood of single-family homes. Housing authorities administer several tiers of housing assistance according to a family's financial need, but Fairfax Gardens was slated to only house people in the neediest category.
The site's 150 townhouse units were crowded into a few small blocks of courtyards, leaving the remaining expanse of the wooded lot unused. One road—DeWert Avenue—went in and out of the site.
Whatever the original intentions, Fairfax Gardens created a wooded buffer between its vulnerable residents and the middle-income community outside. It was a place where crime could easily flourish, but opportunity seemed out of reach.
Doherty said both Fairfax Gardens and DeWert Avenue had become synonymous with drug trafficking and gangs, and the residents began to feel branded with a reputation.
"I once had a resident come in and say, 'My son couldn't get a job at a local market because of his address.' They wouldn't hire him because he was from DeWert Avenue," said Doherty. "That really hit me hard, because I had never thought of that as a barrier. How could I change that?"
If Fairfax Gardens were demolished and rebuilt, Doherty knew it would give everyone a clean slate. All the stakeholders—the residents, local leaders and social service agencies—could work together to create a new space where families could flourish, and connect with resources in the greater community. Doherty's decades of experience working with public housing residents had already given her some ideas.
"It was always hard to go into the units and see kids eating in front of the TV, or doing their homework in front of the TV," she said. "But because the units were so small, there really was no choice."
The old units were just big enough for a kitchen table or a couch, but not both. Doherty thought it should be a priority to build out new units with enough space for a kitchen table so that families could eat a meal together, and kids had a place to sit and do homework.
Once those families went outside, Doherty wanted space for a neighborhood community to grow in a healthy way. She also wanted to connect the residents in the public housing units to the surrounding community of Taunton.
"We needed to build out neighborhoods that could become self-sufficient," she said. That would mean a partnership between the housing authority and local social service agencies to bring money management, job-skill training and other programs to the residents of a new site.
Doherty knew the first step was to find the money to rebuild, so she took an ambitious shot at a federal grant called HOPE VI.
Persistence pays off
The U.S. Department of Housing and Urban Development started HOPE VI in 1993. In the first 15-plus years of its existence, the HOPE VI program gave more than $6 billion of federal funding in grants—mostly in cities much larger than Taunton. Doherty applied twice for the grant—once in 2009 and again in 2010—before getting it in 2011.
"That HOPE VI grant was tremendously hard to get," said Connelly. Of the many housing authority directors in the state—and there are 242 housing authorities represented by MassNAHRO—Connelly said Doherty stands out.
"She's got a real feeling for how to get people to work together for the same objectives—even though they may have differing viewpoints," he said. Connelly thinks that Doherty's ability to debate and build consensus helped Taunton win the HOPE VI grant.
Thanks to the HOPE VI and other funding, all the units in Fairfax Gardens were demolished to make way for the new project called Bristol Commons, which opened in October 2014. Bristol Commons was designed to have fewer, larger units surrounded by more green space.
Where once stood crowded blocks of units now lie several wide one-way streets lined with colorful two- or three-story townhouses. All 88 townhouses have small porches, planters and deck chairs, with a space in back for barbecue grills and children to play.
DeWert Avenue is gone. Now the road to the housing units first passes by a community building. Inside is a recreation hall, a computer lab for youths to use after school, and a Head Start Pre-K program, where parents can drop off children on their way to work.
A community garden sits at the end of one road. It's open to the greater community as well as the residents. But a plot is reserved for the children in the Head Start program, who get to eat the vegetables they plant themselves. A common green area lies in the center of two main roads, with playgrounds, a splash fountain and seating for adults.
The HOPE VI funding was large enough to revamp another blighted lot in downtown Taunton called Parcel 6A. This second site, now called Lenox Green, contains the same colorful style of mixed-income townhouses but specifically caters to the needs of elderly and disabled residents. Doherty's office and the Taunton Housing Authority are also a block away.
Community building between worlds
When someone walks into Doherty's office, the first thing they see is a wooden table, much like a kitchen table, with chairs where people can sit and talk. Leaning on the wall next to her desk is a giant cardboard check for $22 million from the HOPE VI program.
Doherty credits her education for many of her achievements, including the HOPE VI grant, Bristol Commons and Lenox Green.
"In my position, if I were just about bricks and mortar, or just about the social aspect of it, or just about the business side of it, then I'd have too much tunnel vision to pull it off," she said. "I think Wheaton made sure I never have that tunnel vision."
Doherty has split her time between two different worlds for most of her career. There is the world of donors, city officials and state legislators in downtown Boston—those who hold the power to mete out where resources go. And then there is her home turf in Taunton, and a world of teenage mothers, the elderly and the disabled—people who would be one stroke of bad luck away from living on the streets without extra help.
While working at the Taunton Housing Authority, Doherty has made efforts to help students build bridges between their academic world and a living local community. In 2014, Wheaton student Hannah Dalglish '16 went door to door surveying residents about their needs. This year, Sienna Arpi '17 and Molley Shea '17 spent time as translators for Spanish-speaking residents in internships supervised by Associate Professor of Hispanic Studies Francisco Fernández de Alba.
"I had a great experience," said Arpi. "I translated legal documents and newsletters into Spanish, and I really felt that I was helping to provide important resources to the Latino residents."
Arpi worked directly under case managers Ann Sullivan and Marta Pinto at the Taunton Housing Authority. But she was inspired to see Doherty direct the programs.
"I appreciate her facilitating my internship, and it's clear that she works very hard to support the Taunton Housing Authority staff and residents," said Arpi. "As a current Wheaton student, I think it's great to see how she's dedicating her degree to serve a community in need."
Two more Wheaton students—Giovanna Bishop '17 and Evania "Eva" Thompson '18—worked with Lydia Silva at the Bristol Commons community garden this summer. The students ran gardening workshops each week for families who had a plot in the garden, did outreach to attract more families to the garden, and ran programs for the older children who lived in Bristol Commons.
"We planted a pizza garden at the beginning of the summer, and on the last day of our internship we had a pizza party with the kids, eating the vegetables we planted," said Thompson.
"We let the students go out and do their research and customize their experience as part of the learning of an internship," explained Vereene Parnell, associate dean for Service, Spirituality and Social Responsibility at Wheaton. Parnell has partnered with Doherty on community service projects and helped connect Bishop and Thompson to the internships at the community garden. Not only did the students help create the garden, they also developed an accompanying educational unit.
"They grew exponentially in terms of their ability to articulate the importance of what they were doing, and their people-organizing skills," said Parnell.
Parnell said Doherty is also an excellent educator, even if she may not think of herself that way. Parnell was particularly impressed with Doherty when she spoke at Wheaton's annual Sophomore Symposium.
"At the college level we have students who are our policy wonks who love the political aspects, and then we have students who love the community work—and they are rarely the same students," said Parnell. "She [Doherty] is very good at communicating that you have to address the root cause, and that is often in policy and politics, and you can't just float above it because policy is what is going to make systemic change."
Photos by Keith Nordstrom