DEAL Senate student liaison
Annie Nadich '24
Major: Undeclared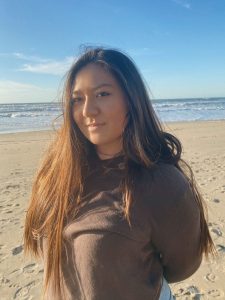 What inspired you to join the DEAL Senate as a student liaison?
"I was inspired to pursue this leadership opportunity because I think it is important to be involved in anti-racist work as a student of color on campus. The efforts to ensure inclusivity at Wheaton are extremely important due to the historic and unfortunate ongoing discrimination and inequality that students of color still face at predominately white institutions. It is imperative that there is work being done to create an equitable learning environment."
What are your basic responsibilities and activities that you engage in for your role?
"I brainstorm with the other student liaisons possible ways we can introduce more inclusive practices and I also participate in the DEAL Senate meetings with faculty and staff."
What have you learned and what skills have you gained from the experience so far?
"Through my time as a part of the DEAL Senate, I have learned that these problems are extremely deeply rooted and require continued anti-racist work. Nothing will be fixed immediately. I have gained experience in group dialogue and voicing my opinions."
Annie Nadich is involved in the Best Buddies club and also is a member of Renaissance House on campus.