Celebrating Dennis M. Hanno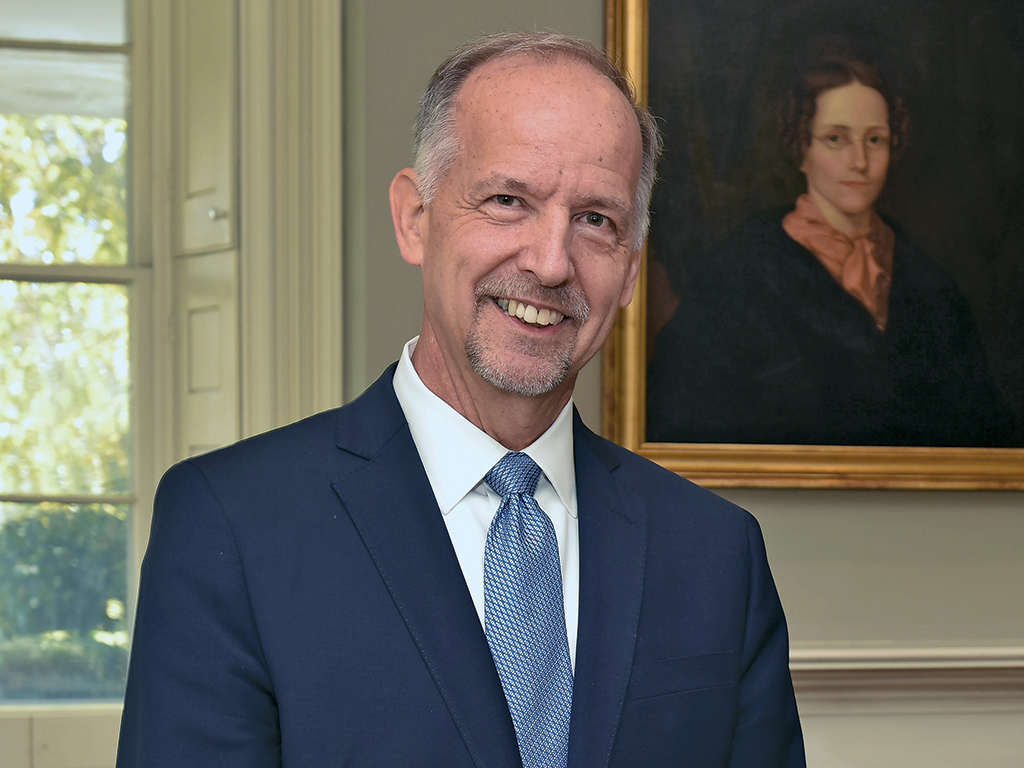 Wheaton's eighth president leaves a legacy of connectedness, growth and forward momentum
Standing in the Dimple in August during the Opening Day ceremony, President Dennis M. Hanno scanned the audience of incoming students and took a dramatic pause.
"Stop for a minute," he told them. "I want you to take all of this in. You are part of the history of this college. Think about it. For 180-some years—almost 200 years—this place has seen people come and go, and people who have been dedicated to making a difference, making a change. And now you are part of that legacy."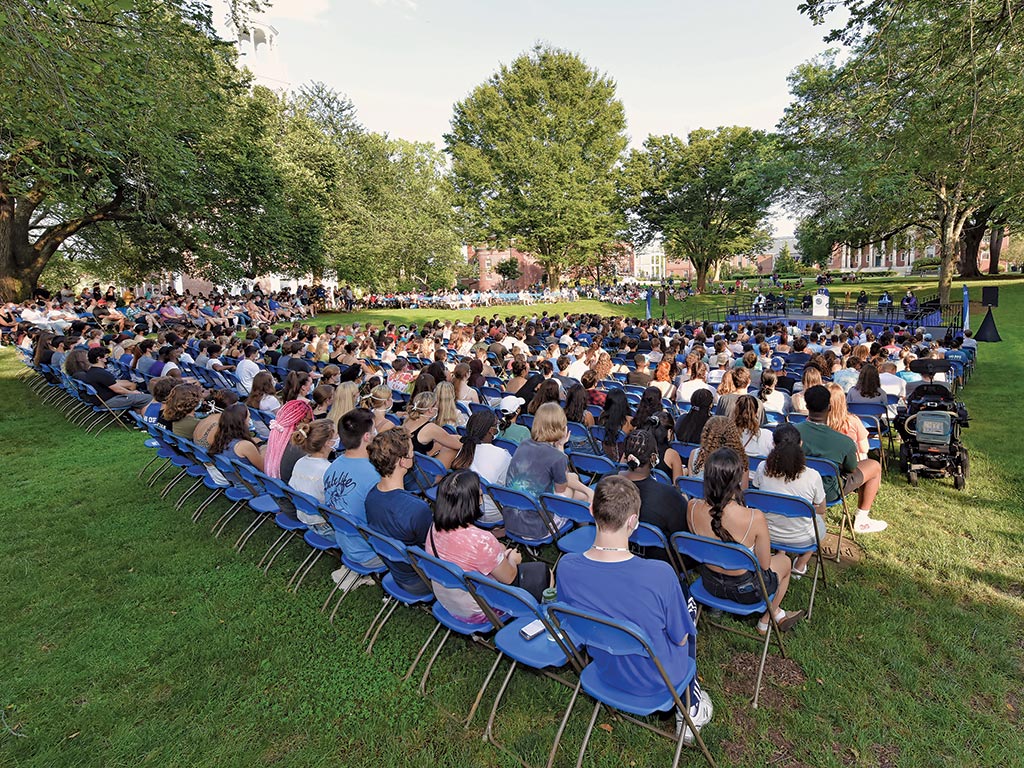 His words appropriately set the tone for the 2021–22 academic year and the stage for the future as he prepared to exit Wheaton as the eighth president of the college after nearly eight years of service.
President Hanno himself leaves a legacy of contributions that have shaped and elevated Wheaton's mission and helped it successfully navigate the COVID-19 pandemic, one of the most challenging times in the college's history.
During his tenure, he championed experiential learning; helped Wheaton grow its influence in the world through local, national and international programs and partnerships, including in Africa and India; fueled growth in enrollment; initiated campuswide work around racial justice; and sought to invest in the campus—leading to the construction of Pine Hall, the renovation of Chase and Emerson dining halls, Admission building accessibility updates and the transformation of the former science center into the Diana Davis Spencer Discovery Center, Dedicated to Free Speech and Innovation. He also has strengthened local connections with neighbors and infused a sense of fun on campus by being his authentic self.
On Dec. 9, 2020, Hanno announced to the community that he would be stepping down at the end of 2021, saying that he leaves with mixed emotions because leading Wheaton has been the highlight of his entire career.
"I have been truly honored to lead this special place for the past several years, but I am even more grateful for the many friendships and connections I have formed here," Hanno wrote. "You are what makes Wheaton such a special community and what has made my time at Wheaton so memorable."
Board of Trustees Chair Janet Lindholm Lebovitz '72 praised him for his outstanding leadership in serving students, parents, faculty, staff, alumni and friends—particularly throughout the pandemic, working tirelessly to keep the community safe, connected and engaged.
"I believe that his years of relationship-building and investment in making tight connections within our community fueled our resiliency during these many challenging months," Lebovitz recently said. "He leads with such remarkable energy, has an incredible knack for engagement and an abundance of good cheer."
In October 2021, in a tent under the stars in the Presidents' Garden, the Board of Trustees hosted a dinner celebrating Hanno. There, Lebovitz and many others, including students and alumni, spoke of his accomplishments, describing him as an advocate for the institution but also as a friend to individuals.
"In 2014, you brought to Wheaton a vision focused on innovation and growth, and a set of values grounded solidly in Wheaton's liberal arts mission. During your tenure, the college has experienced an exceptional 10 percent growth in enrollment at a time when other colleges across the country were contracting, merging with larger institutions or closing their doors," Lebovitz said.
"You helped to introduce the Compass curriculum to further expand the definition of the liberal arts. You encouraged the community to think broadly about academic programs and how they might dovetail with, or expand, Wheaton's offerings," she said. "And you heightened Wheaton's long-standing social justice commitment to include programs in social entrepreneurship."
In the social entrepreneurship courses Hanno has taught at Wheaton and abroad, he tells students to know who they are and to take time to reflect on values and priorities. The pandemic provided him the time to take his own advice for self-reflection.
Like many others during the global health crisis, he came to clearly see the shortness of life and what is most important. A key part of his decision to step down as president was the desire to spend more time with his family, which has grown since the start of the pandemic. Hanno and his wife, Sue, have two adult children and two grandchildren.
"This is a 24/7 job, 365 days a year. My family would say that I've always been a workaholic, but I also have always made decisions along the way that made it possible for family to be part of my work life," President Hanno said. "I chose to come to Wheaton because I thought Sue and my kids could be part of the community—and they have been. Now, I really do want to have the flexibility and the time to be able to prioritize family more.
"Education and higher education are critically important to me, so I will find ways to continue to be engaged. However this global health crisis, even with all of the challenges, has provided the space for me to reflect on some of the other things I've been missing out on."
At the trustees' celebration, Lebovitz raised a glass to toast Hanno and invited others to do the same, ending her tribute with heartfelt words: "Dennis, you have given of yourself to Wheaton, and that is a gift to the college of immeasurable value. … Thank you."