Advancing gender equity in anthropology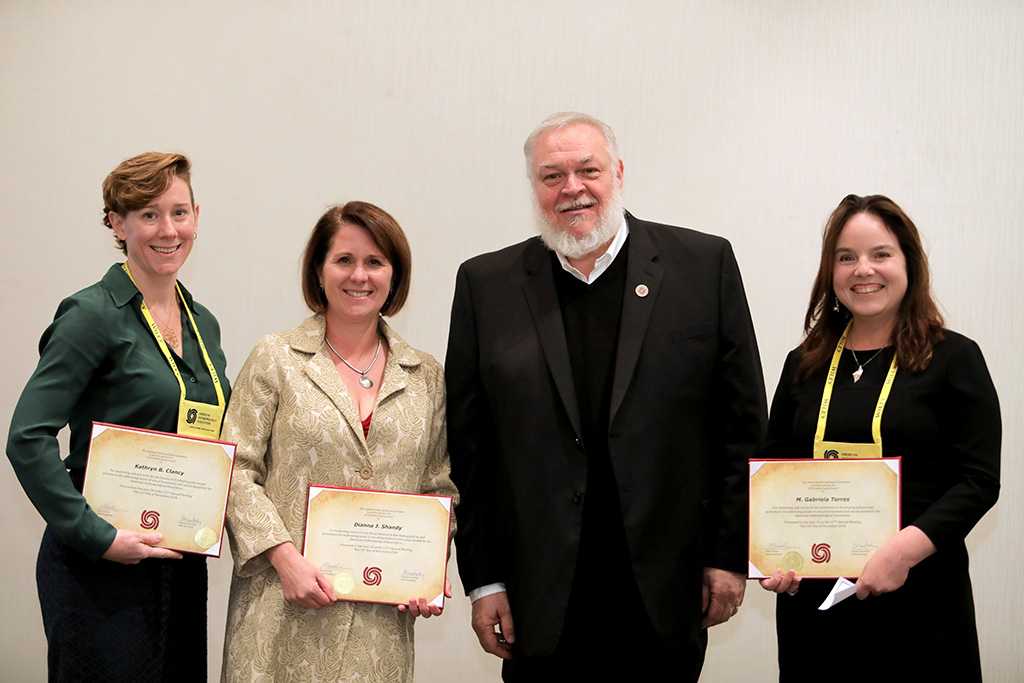 Professor honored for leadership in crafting new sexual harassment policy for professional organization
Professor of Anthropology M. Gabriela Torres has received the American Anthropological Association's 2018 Gender Equity Award for her work leading the development of the association's new sexual harassment and assault policy—work that was informed in part by her own research and by almost a decade of serving the association in various capacities.
Torres worked on the policy with Dianna Shandy, anthropology professor at Macalester College, and Kate Clancy, anthropology professor at University of Illinois. The three were honored together at an awards luncheon held Friday, November 16, as part of the association's 117th Annual Meeting in San Jose, Calif.
In a statement read at the ceremony, the three were recognized for their "leadership and service to the profession."
"This is a critical time in our nation's history when these issues [of sexual harassment and sexual assault] are front and center. Their hard work in developing the [association's] Comprehensive Policy on Sexual Harassment and Assault should be recognized, and we are proud of what they have accomplished in the committee's first year."
Torres has volunteered with the association since 2009, serving as member and chair of the Committee on Gender Equity in Anthropology, as secretary of the Association of Feminist Anthropology and in the gender equity seat on the Members Programmatic Advisory and Advocacy Committee (MPAAC). She currently serves as the organization's ombudsperson for sexual harassment and sexual assault and on the MPAAC, in the minority issues seat.
"My research on sexual violence informed the work I undertook last year with colleagues to design our new policy," Torres said. "Focused on how to understand sexual violence in wartime and most recently in marriage, this work supports the association's mission to advance anthropological knowledge so as to solve human problems."
As part of the annual meeting, Torres presented the new policy at the association's executive session and led a session on institutional implications of sexual assault in the discipline. She also led a career mentoring workshop on working at teaching intensive institutions.