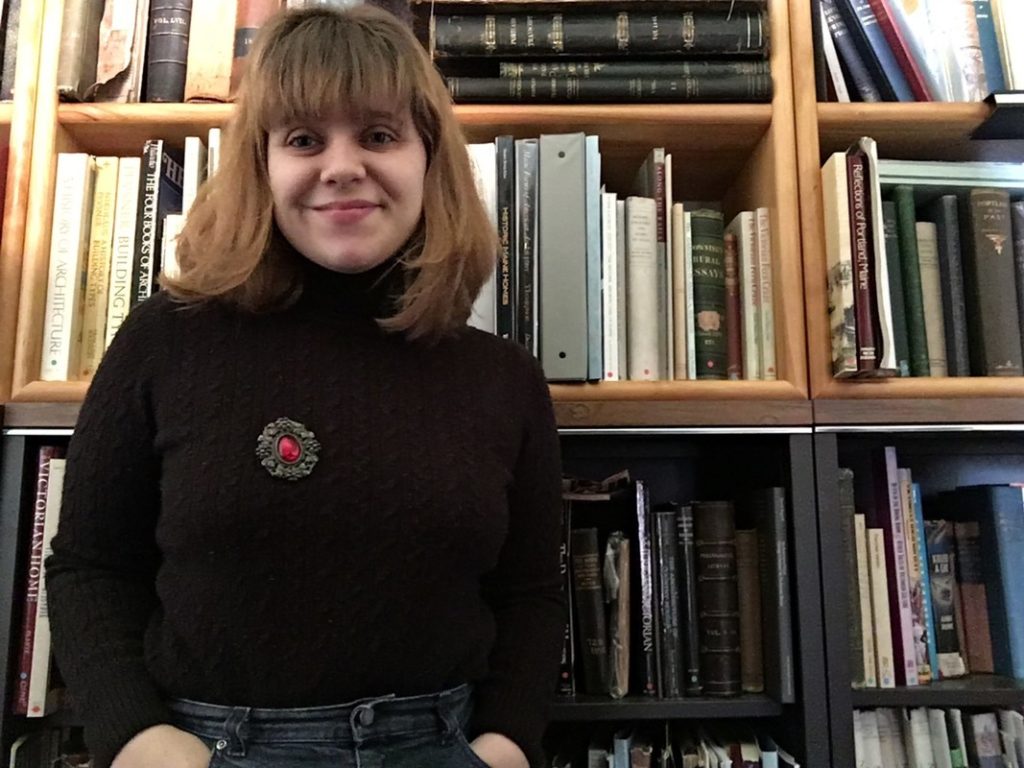 MacKenzie Jones '20 awarded Fulbright Scholarship to teach in Kosovo
An inspiring educator, MacKenzie Jones '20 seized every opportunity to teach, tutor and mentor students at Wheaton College.
While balancing her coursework in education and history, Jones served as an apprentice student teacher at Attleboro High School and a classroom assistant at Elisabeth W. Amen Nursery School, as well as an outreach tutor and a peer mentor at Wheaton.
Now the senior is gearing up to take the next step in her development as an educator: a Fulbright English Teaching Assistantship (ETA) in Kosovo.
In January 2021, Jones is scheduled to travel to this small country in the Balkans to teach English as a second language at the university level. Her scholarship also entails independent research, which Jones plans to conduct on conflict-related sexual violence. (The trip, originally set to start in September 2019, was postponed due to COVID-19.)
"I see the opportunity to teach English abroad as a challenge as well as a necessary skill to have as a future educator. I grew up in the United States with the knowledge that my language gave me a certain level of privilege. Teaching English as a second language requires a certain level of humility I am excited to explore," Jones wrote in her application.
Scott Gelber, associate professor of English, said Jones's deep and sincere interest in teaching methods makes her well-suited for a Fulbright ETA.
"When she took my education policy course, I could see Mack's aptitude for teaching when she worked with classmates to design and implement a lesson plan. She contributed to the development of a thoughtful student-centered activity and worked hard to anticipate and highlight specific passages from the readings so that her group was ready to prompt classmates to support their comments with evidence," Gelber said.
Jones's decision to pursue a Fulbright Scholarship in Kosovo stems from her experience studying abroad in both Serbia and Bosnia and Herzegovina in 2019. During that trip, she spent a week in Pristina, Kosovo, where she visited the remains of a high school looted and destroyed during the wars in the 1990s.
Her program instructor said that teachers were heroes at that time, as education had been denied to many people, particularly Albanian Kosovars.
"The instructor spoke of education as rebellion and told stories of classes that were taught at night, secretly in pubs or in teachers' own homes. …This perception was not only inspirational to me, but it also gave me deeper agency in my stance as an educator," Jones said.
Jones said she hopes to reconnect with the community she met during that week-long visit.
"I hope to further explore the culture that has experienced so much conflict but has proven to be resilient in its reconstruction. I hope to be a resource for those trying to understand the United States, while I seek a similar understanding of their culture. I hope to grow more, learn more, see more and understand more: about the Balkans, about history, about education, about social change, and finally, about myself," she said.
After the Fulbright ETA, Jones plans to return to the United States to teach.
"I believe experiencing teaching in another country will be extremely beneficial for when I apply for teaching jobs in Massachusetts," Jones said.