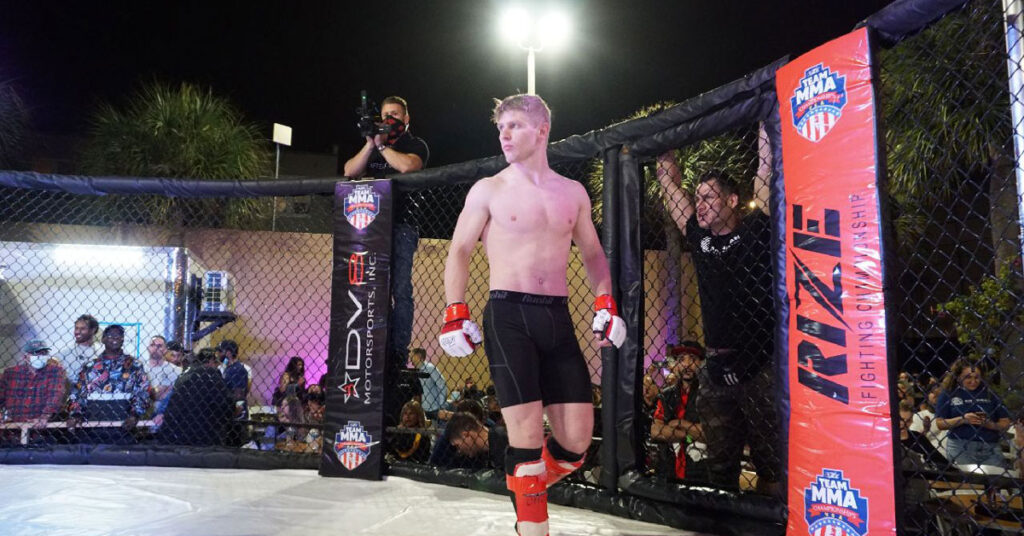 News article illustrates how Wheaton education prepared Lucas Rosa '18 to succeed in life and mixed martial arts
It is no surprise that Lucas Rosa '18, who double majored in philosophy and creative writing at Wheaton College, is well equipped to win debates and to get his point across in well-organized prose. But the Watson scholar is also using his liberal arts education to win other fights—real ones—in the mixed martial arts ring.
A news article posted August 6 on seacoastonline.com showcases Rosa as a smart mixed-martial arts (MMA) fighter, following in the footsteps of his brother, Charles, who is a Ultimate Fighting Championship star. The story illustrates that a liberal arts education helps students and alums follow their passions—wherever they may lead.
Rosa, who trains out of American Combat Gym in Florida, as of August was undefeated at the amateur level. In his work life, he is a senior editor at Captain Words, a professional content service provider. He works remotely, which provides flexibility for his three-times-a-day, six-times-a-week training schedule.
"Yes, on the surface the Seabrook native would seem to check off all the requisite and stereotypical boxes for MMA: A relentless striker-grappler hybrid, who lives in the gym and happens to come from a family of esteemed fighters," wrote Bob Albright. "All are critical traits that have helped Rosa get off to an undefeated start as an amateur in the sport, including a TKO win in less than a minute in his most recent fight in July."
But, there is more to Rosa than meets the eye, the article notes:
"People look at it as a very barbaric, violent and base sport and to me, I don't think they realize the mental dexterity you need," Rosa told the writer. "That is kind of one of my lofty goals, to show that the toughest fights in life are not won by being an aggressive brute. They're won by heart and sophisticated and intellectual thinking."
The story, "'A calling': WHS grad Lucas Rosa, brother of UFC standout Charles Rosa, now an MMA fighter," delves into Rosa's travels as the winner of a Thomas J. Watson Fellowship and the lessons he learned.
Rosa earned a 2018 Watson to travel to Holland, Thailand and Cambodia to study the nuances of the hand-to-hand combat tradition at MMA academies in the three countries. The Watson is a $30,000, one-year grant for independent study and travel outside of the United States.
Wheaton magazine editor Sandy Coleman followed up to ask him more about the impact of the Watson and his education.
"The Watson journey was such a privilege and I'm super grateful to Professor John Partridge and Lisa Gavigan [Career Services director] for their support and guidance in my application. I'm also grateful to the Wheaton Rugby team for helping me develop my leadership skills and for making me tough," said Rosa, who was inducted into the Phi Beta Kappa honor society his junior year at Wheaton, was president of the Men's Rugby Team, editor-in-chief of the Wheaton Wire and an ambassador for the nonprofit Chucky's Fight to help prevent teen substance abuse.
"I always viewed martial arts as similar to philosophy or academic thinking in the sense they both had a kind of unrelenting pursuit of knowledge. To be a great fighter you have to be good at all aspects of fighting [striking, takedowns and grappling] and know all the different styles within those aspects," he said. "You really have to embrace this level of Socratic wisdom and always be a student to try to learn new strategies and techniques from every person and every style of martial arts. It's called mixed martial arts for a reason, and it's because no one style is the solution, you have to pick up techniques from everywhere and make subtle improvements until you are the best you can be, and it's an incredible intellectual challenge to do so. To me, it's like the physical manifestation of philosophy in some ways."
"Liberal arts taught me in some sense how to think, or really how to learn and absorb information like a sponge without dismissing ideas just because they were unique or unorthodox. This is one of the things that helps me most with my fighting; I have a thirst for knowledge and a need for conceptual understanding. It's instilled in me to want to learn, to embrace different ideas, and to understand the subtleties of what techniques work best for me and why. I try to develop my fight IQ as much as my body, and I think without the intellectual curiosity, I would not be as successful as I've been in this early part of my fighting career."