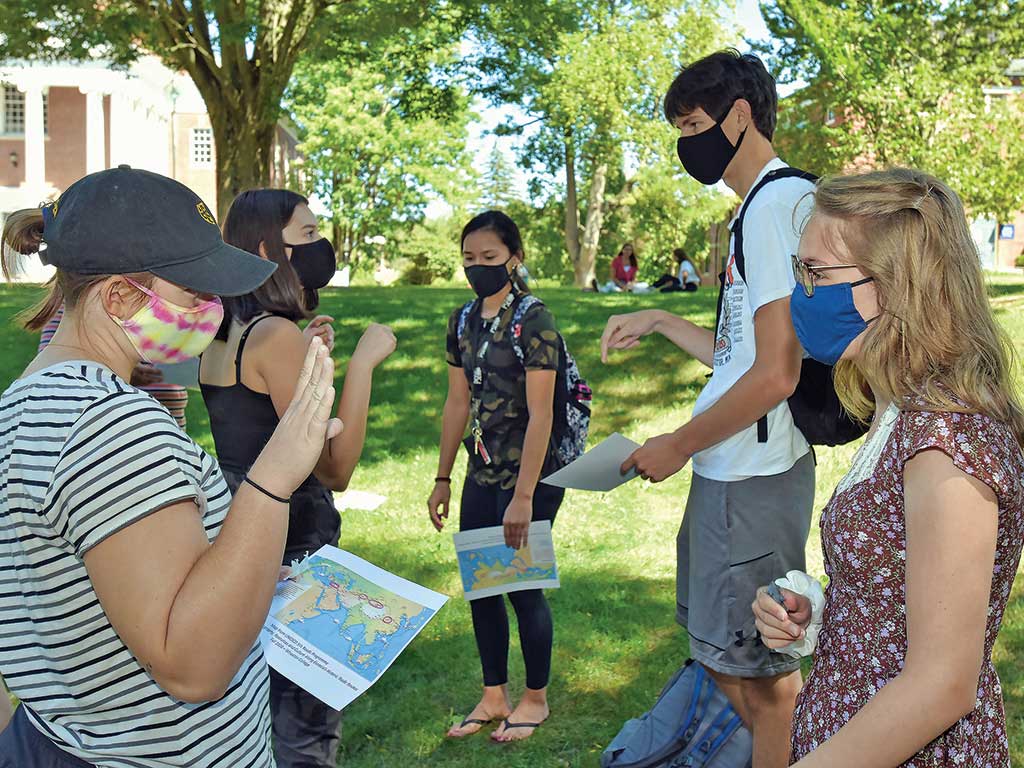 Compass curriculum offers students personalized paths
At the start of the fall semester, as pandemic protocols held many people in place, a group of Wheaton students and four professors went on an interdisciplinary adventure—right in the Dimple. They traveled back in time to explore the Silk Road by creating a scale model of the ancient trade routes that linked the Western world with the Middle East and Asia.
The exercise was part of the team-taught First-Year Experience (FYE) course "Contact: Geography, Resources and Culture along Eurasia's Historical Trade Routes"—one of a dozen FYEs offered to incoming students—and an imaginative starting point for Wheaton's new Compass curriculum.
Compass, approved by faculty members in spring 2019, officially launched this academic year with the Class of 2024. The new curriculum reimagines Wheaton's general education requirements with opportunities that challenge and support students in designing their own educational paths and builds on Wheaton's core principles of intellectual curiosity, global citizenship, experiential learning, social justice, diversity and inclusion, and
collaborative community.
The curriculum encourages students to connect academics to career interests and features four key elements required of every student: at least one major, Sophomore Experience, Mentored Academic Pathway (MAP) and FYE.
It also introduces three optional honors programs that encourage students to expand their studies and help them define their educational paths: Global Honors, Eliza Wheaton Scholars and Latin Honors, and Taylor and Lane Scholars.
The Taylor and Lane Scholars program is named for the first two Black women to graduate from Wheaton—Alice Taylor Sanford '50 and Nadine Lane '50—and asks students to address questions of social justice, inclusion, equity and diversity through engagement within and beyond the classroom.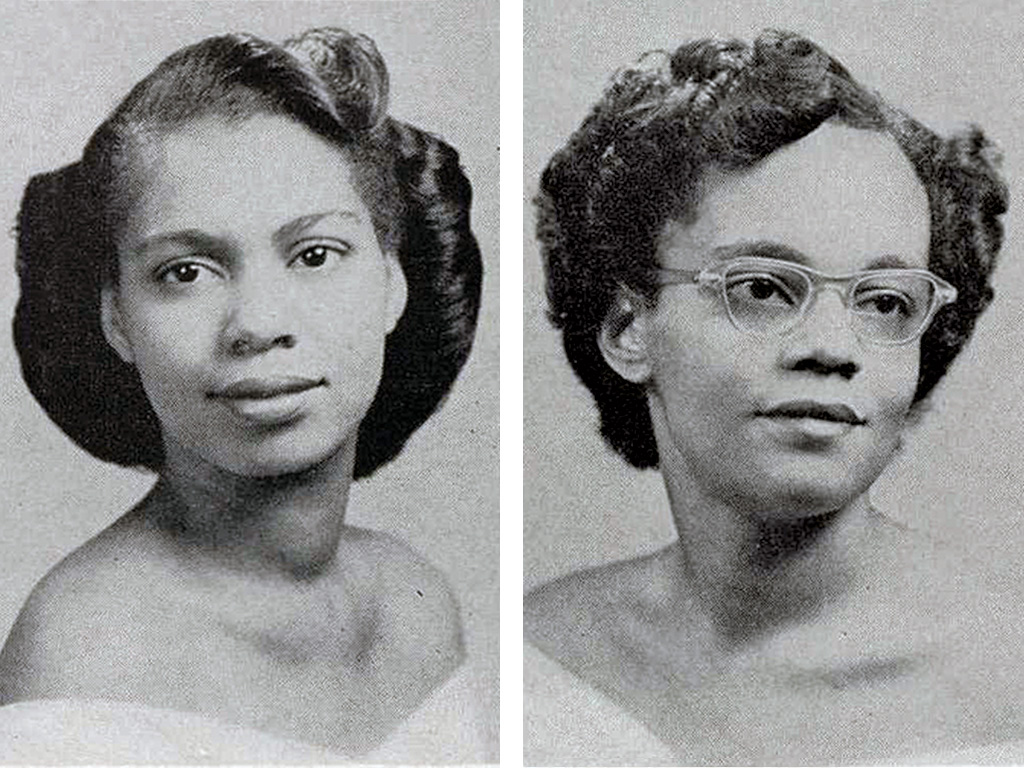 Another optional element to the Compass curriculum is a set of programs that will begin rolling out this spring called LEAPS. The programs are career- and skill-focused, each made up of a set of classes and learning experiences.
While LEAPS and the Sophomore Experience are still taking shape under the direction of the Curriculum Committee, MAP and FYE got off the ground during the fall semester.
"The goal of Compass is for students to chart their own course through the curriculum and to take ownership of their education. FYE offers tremendous opportunity for students to imagine what that might look like, what interests they will want to pursue, and how collaborative work is possible and valued at Wheaton," said Professor of Sociology Karen McCormack, who serves as Compass curriculum coordinator and was co-chair of the Compass Curriculum Implementation Team along with Assistant Professor of Political Science Lindsay Flynn and Matthew Wheeler, assistant director of career services in the Filene Center.
FYE is designed to encourage interdisciplinary exploration and excitement,
develop strong student cohorts and introduce new students to the rigor of college-level work.
"Faculty offered a variety of amazing FYE classes that involved most academic departments and programs," noted Provost Renée T. White. "I am appreciative of how faculty have stepped up as MAP advisors and FYE instructors and how faculty and staff have continued serving in leadership roles for the Global Honors and Taylor and Lane Scholars program as well as in the Curriculum Committee and FYE Steering Committee. Students have responded very positively to our scholars and honors programs and in the coming year they also will have LEAPS to pick from."
Exploring together through FYE
The "Contact" FYE was collaboratively co-taught by professors Geoffrey Collins (geology), Nancy Evans (classics), Shenglan Li (history) and Leah Niederstadt (museum studies/history of art).
On a hot afternoon in August 2020, the professors and their students interacted as Silk Road travelers might have in the exchange of materials and ideas—with a modern twist that involved students carrying 3D-printed totems representing their "home" locations (courtesy of Madison Dunaway, coordinator of innovation spaces and programs). The group also invented personalized greetings that they had to communicate and then teach to others along the way.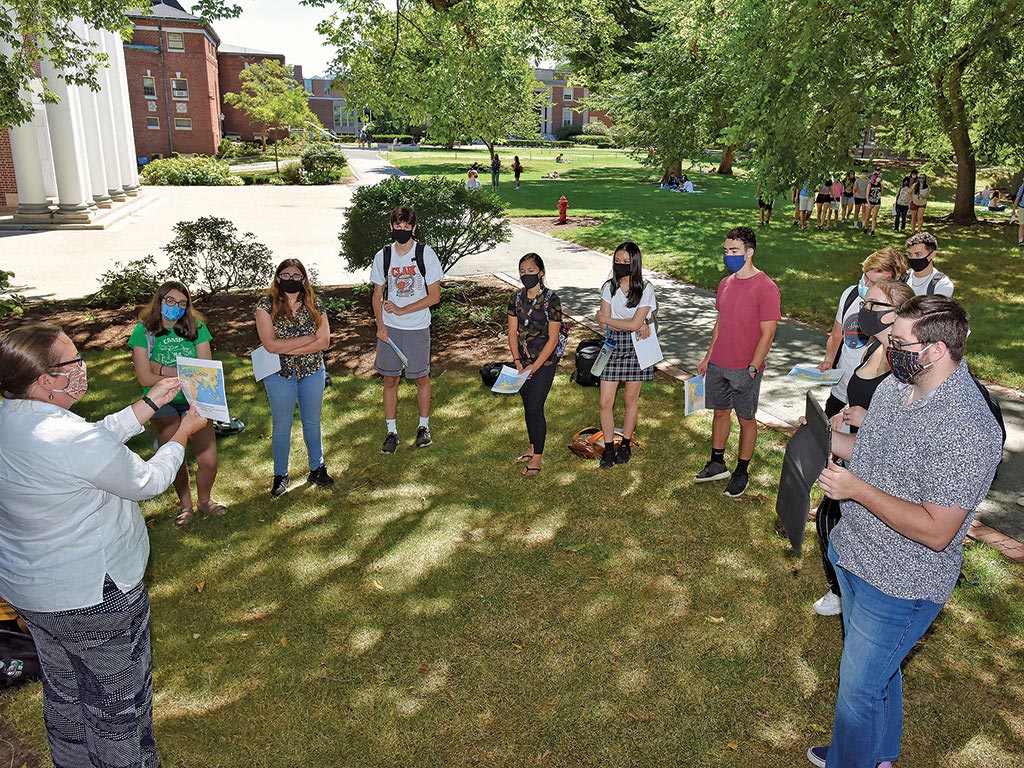 "For me, the greatest thing about the Silk Road assignment was working with my three faculty colleagues," Evans said. "We met together via Zoom to brainstorm how to teach our different subject matter and allow students to get a sense of the larger connected FYE, all while being socially distanced. These three colleagues are the best. Planning and teaching this connected FYE has been one of the highlights of my career at Wheaton."
Niederstadt said the Silk Road scale model exercise exemplifies the type of interdisciplinary collaborations at which Wheaton excels. "It was made possible by faculty, staff and students from multiple departments, programs and offices sharing expertise, knowledge and their desire to help," she said. "It also highlighted our creative spirit and willingness to take pedagogical risks and introduced our students to some of our wonderful campus resources, including the innovation labs and the Dimple itself."
There was even an iPad to engage with Assistant Professor Li and the students who participated in the FYE remotely. That way they could see the activity and interact with the on-location classmates and professors.
For the assignment, Ozgur "Tuna" Ozturk '24 played the role of a merchant traveling to exchange goods and culture. "The most interesting thing," said Ozturk, "was that even with one activity where we just made up our own greetings, we created a community and shared our culture with each other."
Sarah Flynn '24 conversely was struck by the challenge of communication. "I really started to understand the language barrier between all of these countries and how difficult it would have been to talk to travelers from other places in the world," Flynn said.
Following the MAP
Mentored Academic Pathway (MAP) provides additional opportunities for students to make discoveries about the possibilities of their Wheaton journey, as well as about themselves.
The MAP is a series of reflections that students will engage in throughout their time at Wheaton to think about what they are learning—both inside and outside of the classroom—to discuss with their peers and MAP advisor, and use these to guide plans for the future.
The first MAP Day took place in October 2020 and allowed cohorts of students to meet with advisors and take advantage of a wide range of 51 programs that included academic planning, career conversations, self-care and creative activities like circuit card-making.
Maura Anish '24 attended several MAP Day sessions, including "Planning Beyond the First Semester," "Honors, Scholars, LEAPS: Opportunities in the Compass Curriculum" and "Black Lives Matter," hosted by Diversity, Equity and Access Leadership (DEAL).
"I felt like I came away with a better understanding of how to structure the next few years of my classes in order to achieve all of the honors certificates and major and minor combinations that I'd like to complete," Anish said. "Also, the Black Lives Matter session hosted by DEAL was extremely powerful. Professor [Dolita] Cathcart and [Visiting Assistant Professor Joe] Wilson's presentations have definitely stuck with me."
Diana Blake '24 attended "Social Media, You and Your Job," among others.
"MAP Day was a great opportunity for students to take a day to step back from usual classes, and to remind ourselves that there's much more to learn outside the classroom. I went into each session with the intention of learning at least one new thing that I can apply to some aspect of my life. The sessions were informative and easily allowed me to do so. I think this was the most beneficial part," she said.
"In the session on using social media to gain advantage in the workforce, we learned that making a personal website that showcases our skills and highlights our experiences is a great way to stand out among competitors for jobs," Blake said.
Catherine Le '24 appreciated the discussion she had with her MAP advising group at the start of the day.
"We met at the outdoor classroom near the Mars science center, where we talked about how the semester was going for each of us. It was nice to have that space to talk about the different challenges we had and strategies that we found helpful," she said. "The things I learned from MAP Day have shaped the way I plan for my future both academically and personally. I feel like I now have a clearer goal that I want to work toward."
"I felt like I came away with a better understanding of how to structure the next few years of my classes in order to achieve all of the honors certificates and major and minor combinations that I'd like to complete."
Maura Anish '24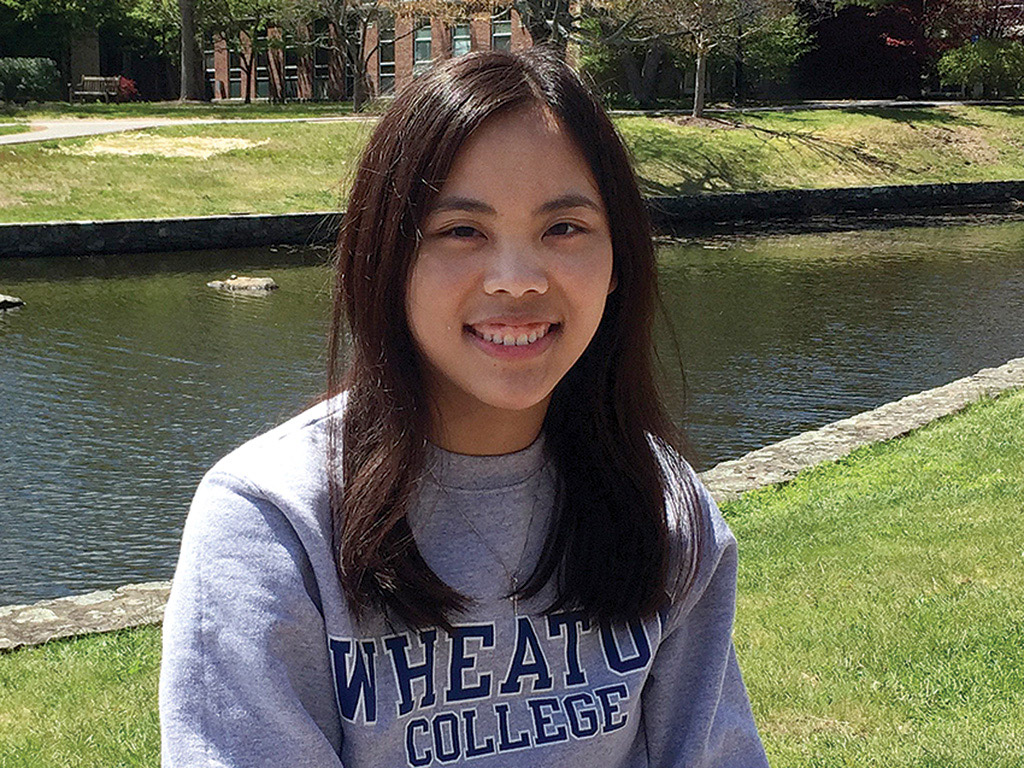 "MAP Day was a great opportunity for students to take a day to step back from usual classes, and to remind ourselves that there's much more to learn outside the classroom. I went into each session with the intention of learning at least one new thing that I can apply to some aspect of my life."
Diana Blake '24