Chase Dining Hall is slated to close for renovations on March 7, 2015. Photographer Keith Nordstrom visited recently for a last look around. When the space reopens at the start of the fall semester, Chase will look very different, on the inside. And the menu will be different, too.
If you haven't said your farewells yet, you have another chance. Director of Dining John Bragel announced a farewell dinner for Thursday, March 5.
As the last Chase renovation was in the '80s our theme for the dinner will be the '80s. In Chase Round join us for '80s arcade games. We'll be looping through our flatscreens some '80s classics (Top Gun, Footloose, the Breakfast Club…). Listen to some gone, but not forgotten '80s music (Duran Duran, Eddie Money, Loverboy, Motley Crue…).
Best of all, you can help get the demolition work started by cutting off a piece of the famous green carpeted wall and keep it as a souvenir.
Related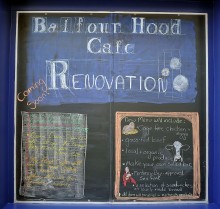 Find out more about the plans to renovate Chase and upgrade the dining program at Wheaton.