The dining program at Wheaton is poised for a major upgrade to improve the quality and variety of offerings as well as the facilities serving students.
The planned improvements, which will be phased in over the next year, touch every part of the college's dining program. They include
College officials developed the plans in consultation with students, faculty and staff during the past six months, along with assistance from Wheaton's food service provider, Aramark, and the design firm, Prellwitz Chilinski Associates.
Work on the dining upgrade began at the end of the 2014 fall semester with renovations to the Cafe in the Balfour-Hood Campus Center and will continue throughout 2015, wrapping up with renovations in Emerson Dining by the 2016 spring semester.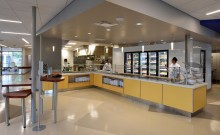 Chase Dining Hall received an upgrade over the summer and is expected to open soon. More >>
Students got a sneak peek at the Emerson Extension Dining Room. More >>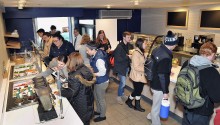 The newly renovated Hood Café will host a weeklong celebration of its new menu and new look. More >>