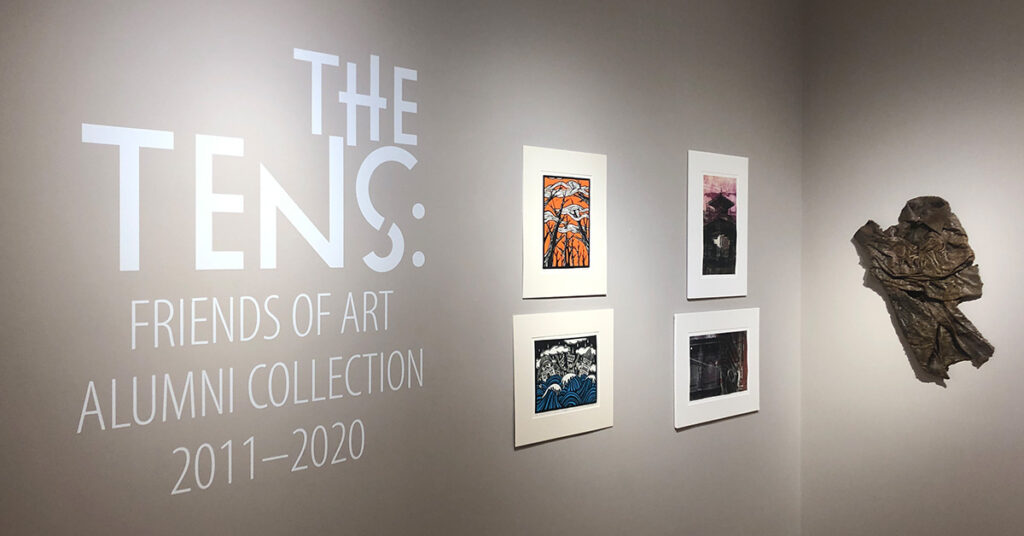 Alumni exhibition showcases work of visual arts majors, reflects inspiration of professor
A current exhibit in Beard and Weil Galleries showcases a selective array of photography, film, illustrations and sculpture from Wheaton College visual arts majors from the past 10 years.
"The Tens: Friends of Art Alumni Collection 2011–2020," which will be on display through March 27, features student winners of The Friends of Art Purchase Prize, which was established in 2000 to celebrate and support graduating visual art majors. These students' artwork was chosen and purchased from their senior seminar exhibition for inclusion in the Permanent Collection.
The Friends of Art exhibition coincides with the exhibition "Time and the River's Edge," which features work from Associate Professor of Art Patricia "Patty" Stone, who plans to retire at the end of this academic year.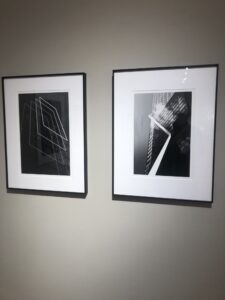 "In the discussion around the exhibition celebrating Patty Stone's retirement after 25 years at Wheaton, Patty brought up the Friends of Art collection. We both thought it would be a wonderful opportunity to pair her paintings with the fantastic student work selected by the Friends of Art Purchase Prize," said Elizabeth Hoy, director of the Beard and Weil Galleries.
"As a professor of painting and drawing, Patty taught almost all of the students whose work is in the collection. With the two exhibitions together, it became a way to think about the past and future and to celebrate the rich creativity at Wheaton," Hoy said.
Sixteen Wheaton alumni are represented in the alumni exhibition, including Walker Downey '13, Charlotte Hall '17 and Soraya Matos '14, who will be virtually visiting with students in the visual art senior seminar to discuss how their Wheaton education shaped their careers and post-graduation studies.
Downey is a Ph.D. candidate within the Massachusetts Institute of Technology Department of Architecture. The photographs from his senior seminar focused on abstract architectural subjects.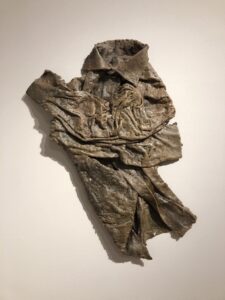 "Originally, I envisioned this series as a portfolio of straightforward architectural photographs. However, the more I photographed, the more I realized the technical limitations of my lens and camera, which couldn't capture subjects without significant distortion. I decided to make my series an exercise in abstraction, and developed methods of framing emphasizing volume, mass, shadow and other fundamentals. I found that I could further abstract architectural subjects by overlaying vector graphics on my photographs," said Downey, who double majored in art history and studio art.
The exhibited work of Hall, a professional artist and art educator, is from a series she created that revolves around the concept of decay called the "Unearthed Series."
The work of Matos, a San Francisco-based photographer and creative strategist, includes two photographs that feature a human form and an inanimate object: a nude woman with a scarf dramatically wrapped around her body from head to toe and one of a woman balancing a composition book on her knees.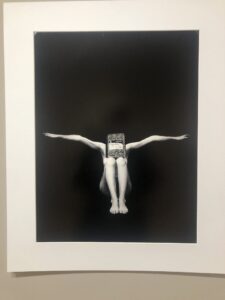 "This work stems from our attachment to objects and the meaning and association we place behind them. Objects such as these, are physical representations of memory. An inanimate object can remind its owner of a specific time, place or person and can thus help to maintain a connection to the past," Matos said.
"Through my senior seminar capstone project, I sought to visually document and understand the deeper relationship that we form to these treasured items. Through interviewing and featuring 50 subjects—all of which were Wheaton students at the time—I found that most of the objects highlighted were not important due to their monetary value. What held true is the bond between the owner and the object itself, which is utterly and completely unbreakable," she said.
Hall said she looks forward to meeting virtually with current visual art students.
"I'm extremely excited to share my successes and failures with them and provide real insight into post-grad life. Connections are important, especially in the art world. I'm grateful the current seniors are getting a chance to talk to art alums within the Wheaton community as part of their seminar experience," Hall said.