BRUSH COAT COVER
2019 WHEATON BIENNIAL
February 14–March 8, 2019

OPENING RECEPTION: TUESDAY, FEBRUARY 19, 5–7:30 PM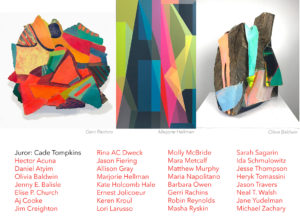 Brush Coat Cover is the fourth biennial at Wheaton College. The 2019 exhibition focuses on work that challenges, explores, and celebrates the definition and history of painting, collectively evoking an open-ended conversation on the medium.
With 31 artists from as far away as Singapore and California, as well as local artists from Massachusetts and Rhode Island, the artwork is as varied as where it was created. The exhibition includes video, site-specific installation, collage, photography, found objects, and a range of sculptural pieces.
As the title of the show, taken from the definition of "to paint" suggests, painting is an act. Whether the paint is brushed onto canvas, coating synthetic hair, or covering cowboy boots, the dynamic pieces in this exhibition speak to the variety of work that encompasses contemporary painting in 2019.
We are thrilled to have Cade Tompkins as our juror for the 2019 exhibition. Cade Tompkins has been a contemporary art dealer for 30 years, first in New York while working for a major gallery and then launching as a private dealer in 1992. The platform of Cade Tompkins Projects was established in 2009 in Providence, Rhode Island. Cade's focus is on contemporary art in all mediums and features work by both emerging talent as well as mid-career and established artists. In addition to the programed exhibitions in Providence, Cade Tompkins Projects participates in several art fairs during the year, including Spring Break Art Show during Armory Week and Master Drawings New York. Cade is a member of the International Fine Print Dealers Association (IFPDA) and is a graduate of the RISD Appraisal Studies in Art Certificate Program.