There is no higher priority than the safety of our students, faculty, and staff. With consideration of the challenges presented by the Coronavirus 2019 (COVID-19) pandemic, Wheaton College has taken significant steps in responding to our current reality and protect our campus community—including transitioning to a remote learning environment through the end of the 2019-2020 academic year. This was a necessary safeguard, however, we recognize that many of our students have experienced financial hardships during this difficulty and uncertain public health concern.
Today, we are asking alumni, parents, and friends of Wheaton to support our students by contributing to Wheaton's Student Relief Fund. Your contribution will directly benefit Wheaton students and provide relief for financial hardships, which has and will continue to be experienced by our students. The funds raised through generous Wheaton community members will allow the college to continue to aid our students in a myriad of ways as they navigate the numerous challenges and transitions ahead.
The Student Relief Fund will be supporting:
Housing and food insecurity
Travel expenses related to returning home
Technology needs to ensure students have access to remote learning
Replacing learning materials that were readily available on campus
Other unforeseen financial challenges
The response to our Student Relief Fund has been extremely encouraging thus far. President Hanno has set a short-term goal of $200,000 for this critical funding. If you are in a position to make a Wheaton Fund contribution to this initiative at this time, your gift—no matter the size—will be greatly appreciated. Our students could use this support more than ever right now.
Wheaton College's Response to COVID-19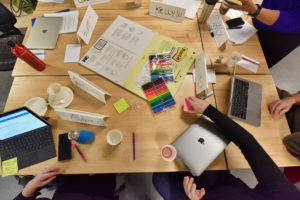 Remote Learning
Transitioning from in-person to a virtual classroom
The Center for Collaborative Teaching and Learning, the Wallace Library, Media Services, Information Technology Services, and many other college offices have been hard at work preparing faculty and staff for our move to remote learning, which began on Monday, March 23. Each department on campus is supporting students in a new world of remote operations, requiring significant adjustments to business as usual.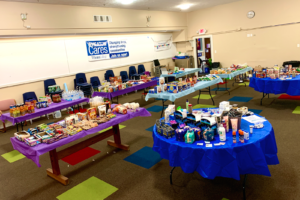 Housing & Food Insecurity
Supporting those experiencing housing & food insecurities
Wheaton provided the opportunity for current students to request to stay in housing due to life or travel restrictions. Over 60 students were approved to remain on campus due to their extenuating circumstances. With most campus buildings closed, and only dining services available for on-campus residents as grab-and-go meals, the Center for Social Justice and Community Impact created a food and supplies pantry on campus to provide essential resources for students who remain on campus.
Housing Refunds
Supporting our families through economic challenges
For students who are no longer residing on campus for the spring term, these students received a credit equal to 50% of the spring housing and meal plan charges. The credit will not be reduced by the amount of financial aid they receive. The college is cognizant of the fact that many families are feeling the economic challenges of this pandemic and hope that the college's decision to not offset the credit with aid shows our commitment to our students and their families during this challenging time.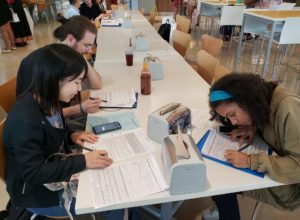 Student Employment
Supporting our students through economic challenges
In response to support students employed by Wheaton College through Federal Work-Study & Wheaton Work, the college created a new policy during this time of altered operations. The college committed to continuing to pay all student employees based on the average hours the campus employer reported each student working from January 22nd, 2020 – March 7th, 2020.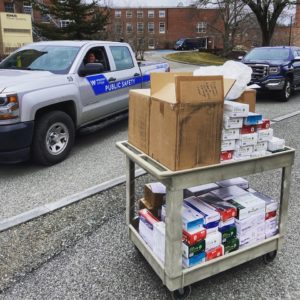 Community Partner
Supporting those on the frontlines during the pandemic
Faculty and staff in the sciences collected all the unused protective equipment that will not be used, due to on-campus laboratories being closed for the rest of the semester. The materials were donated to the college's nearby hospital—Sturdy Memorial Hospital—in response to the nation's shortage of protective gear for frontline medical professionals.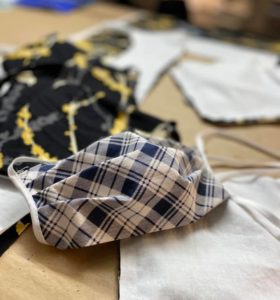 Community Partner
Continuing to support those on the frontlines
The Theatre and Dance Studies students are encouraged to share #weeklyproductions of their art via social media. In an inspiring post, associate professor of theater design, Clinton O'Dell, completes 40 cotton masks that will be donated to Phoenix House treatment facilities in Rhode Island. Professor O'Dell used all elastic from the Wheaton Theatre Department and as well as his own personal elastic supplies in his basement.
Support the Student Relief Fund
Text Wheaton to 56512 to get started.
One-time Donation
A philanthropic contribution will help cover the costs of essential activities and services that are now being modified to fit our new reality. Funds are immediately put to use to support those in need.
Make an Immediate Impact
Set-up Monthly Donations
By setting up monthly recurring donations, you will ensure that the college has a reliable source of income that will continue to benefit students and faculty during this tumultuous time.
Provide on-going Support
Other Ways to Contribute
Visit our Ways to Give web page to review and choose the way of giving that will be the most convenient for you to support the Student Relief Fund at this time.
Learn More
Stronger Together
The COVID-19 pandemic is affecting all of us. We hope you will share in the strength of our community and that you will take inspiration from the efforts of Wheaton students and faculty. Thank you for your consideration of supporting the Wheaton community during this unprecedented time.