Faculty Speaker Series – Dr. Geoffrey Collins
September 12, 2019 @ 5:00 PM

-

7:00 PM

Free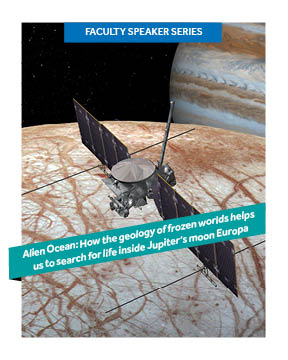 Dr. Geoffrey Collins, Professor of Geology, will give the third Faculty Scholar Speaker Series talk, "Alien Ocean: How the geology of frozen worlds helps us to search for life inside Jupiter's moon Europa".
Jupiter's moon Europa hosts a vast underground ocean that may be suitable for life as we know it. Dr. Collins will give a talk on his research looking into evidence for plate tectonics on Europa, which could be the key to keeping Europa's ocean habitable. He will discuss this in the larger context of what we know about Europa and why we think it's one of the best places to look for life beyond Earth. He will also describe his involvement in building the Europa Clipper spacecraft to explore this mysterious moon in the next decade.
The talk, suitable for general audiences, is open to the Wheaton and Norton communities and will be livestreamed. The talk will be held Thursday September 12, 2019 from 5-6pm, Holman Room, Mary Lyon Hall. All are welcome to attend a reception immediately following the talk and discussion in the Woolley Room.
To watch the event online, visit https://livestream.com/accounts/27137832/events/8812788.
Sponsored by Library Services and the Library, Technology, and Learning Committee, partners in celebrating Wheaton faculty scholarship since 2018.