Calling all lovers of texts and tech
November 15, 2017 @ 3:00 PM

-

4:30 PM
Calling all lovers of texts and tech:
'using digital humanities and computational linguistics to solve a medieval enigma'
WED, Nov. 15, 3:30 pm — csLab (Science Center SC 1315)
Dr. Judy Vernas, Dr. Christine Guedri, and Krissa Cusanelli '20 will present their work.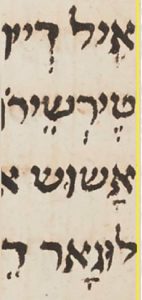 When and where was a manuscript composed in the Hebrew Writing system that denotes a Romance Language?  And what is that language exactly?
Programmers, Infographers, Medievalists, Historians of the XVth-XVIth, Textual Analysis Researchers, Calligraphers, Historians of the Languages of Spain, Historians of Jewish History Hebraists, Linguists can help solve the mystery!