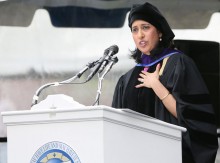 NORTON, MA—In a world filled with inequities and the denial of basic human rights, often supported by widely held beliefs and opinions, keynote speaker Sunila Thomas George challenged Wheaton College's graduating seniors to courageously speak up for what needs to be changed, armed with an education that allows them to see the world from many perspectives.
"If you remember one thing from today's Commencement address, remember this: Never stop questioning conventional wisdom," she urged on Saturday, May 21, 2016. George is a four-term commissioner for the Massachusetts Commission Against Discrimination (MCAD) and a 1991 graduate of Wheaton.
"No matter where you go from here, you will be faced with differing viewpoints, and Wheaton College—our Wheaton College—has prepared you for the world out there, where you will live alongside people who have backgrounds and beliefs different from your own, and where you will be confronted with opinions with which you disagree," she said. "In fact, over time, you will probably come to challenge your own long-held beliefs and that will be a good thing, because questioning conventional wisdom also means challenging yourself, asking if your own opinions stand up over time, and deciding if they make sense in the context of an ever-changing world."
Addressing the 399 members of the Class of 2016 during the college's 181st Commencement ceremony, George said that Wheaton gave her the education, as well as personal and academic experiences, that shaped who she is today.
"My intellectual curiosity was sparked and my appreciation for diversity deepened. In fact, my time at Wheaton laid the foundation and set me forth on a terrific journey that led to my becoming a commissioner for the Massachusetts Commission Against Discrimination—the state's chief anti-discrimination enforcement agency."
A political science major who attained her law degree from Western New England University School of Law, George began working for MCAD in 1997, joining the commission's Springfield, Mass., office, where she litigated cases at public hearings and trained area businesses and schools on anti-discrimination laws.
Massachusetts Governor Deval Patrick, a Democrat, appointed George to the role of commissioner after taking office in 2007, reappointing her in 2009 and 2013. She was appointed to a fourth term in September 2015—this time by Republican Governor Charlie Baker. As a commissioner, George is responsible for the administration, adjudication and education of civil rights matters for the Commonwealth. She also mediates cases for MCAD. Read more about her here.
George pointed out that a great deal of progress has been made regarding equity and civil rights in Massachusetts, which has a history of questioning conventional wisdom and exercising tolerance—from the abolition movement to being the first state to the grant marriage equality.
However, she noted, every day in her job she can see that "discrimination still exists. Women still receive unequal pay. Families with children are denied housing. People are sexually harassed and women get fired for being pregnant. People are sometimes shunned at work because of their faith."
Even something as basic as public accommodations can become a point of deliberation and dispute.
"Last week the legislature was debating whether Massachusetts should extend protection to transgendered individuals in places of public accommodation. Well, as we know, that debate still goes on," she said. "What is important, however, is that the people of the Commonwealth are having the conversation. They have opened up the doors to a dialogue involving different viewpoints from people who do not think like them, who do not act like them or look like them. "
Fighting for what you believe to be right is a never-ending challenge, George stressed in her closing remarks. "While you may have started questioning conventional wisdom here at Wheaton, you will hopefully continue doing so for the rest of your lives."
During the Commencement ceremony, George received an honorary degree, as did three other alumnae: Ligia Bonetti '89, Faith Khanyile '91 and Susan "Sukey" Nichols Wagner '56.
Bonetti is executive president and chief executive officer of SID Group, a Dominican Republic-based company that produces and exports a diverse range of products and is the sole distributor in the region for companies such as Kellogg's, Kimberly Clark, Hershey's and General Mills. Khanyile is a founding member, chief executive officer and director of WDB Investment Holdings Pty Ltd., a private equity investment arm of WDB Trust, based in Johannesburg, South Africa. Wagner is a Trustee Emerita of Wheaton and an active philanthropist, supporting programs in the United States and abroad that further social and economic equality, public health, conservation and education.
This year, four Wheaton seniors have been honored with Fulbright Scholarships to support a year of living, teaching and research abroad in Turkey, Greece and Malaysia. Kristen Anderson '16, a double major in education and English, has received an English Teaching Assistantship to teach in Turkey. Nataja Flood '16, who majored in education, English and African, African American, diaspora studies, received an English Teaching Assistantship to teach in Greece. Kathryn Hegarty '16, a double major in biology and Hispanic studies, has a Fulbright Research Grant to study green and hawksbill sea turtle nesting preferences on Redang Island, Malaysia. Elisabeth Hodge '16, who majored in dance, education and mathematics, received an English Teaching Assistantship to teach in Malaysia. Also Kylie Brewer '16, a French studies major, won a French Government Teaching Assistantship and Javon Mullings '16, a bioinformatics and business and management major, was awarded a Watson Fellowship.
Located in Norton, Mass., Wheaton is a selective college of the liberal arts and sciences with a student body of 1,600. Since 2000, more than 200 Wheaton students have won prestigious international scholarships, such as the Rhodes, Marshall and Fulbright awards. Wheaton continues to earn a top ranking among the nation's liberal arts colleges for its success in preparing students to win U.S. Fulbright awards for advanced study and work abroad.
Related Links