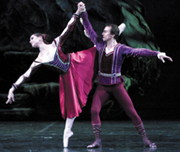 Wheaton enjoys a unique location between two lively metropolitan areas, Boston and Providence. As a complement to the visiting artists program, Haas Arts in the City connects Wheaton students to the wider world of culture in these two great cities and beyond.
Arts in the City funds transportation and tickets to the Boston Symphony Orchestra, Providence's Trinity Repertory Theatre, the Museum of Fine Arts in Boston and other world-class venues, thus enabling all students, regardless of their financial means, to explore the rich cultural resources of our region. And because New York City is just a short hop away, Wheaton's students and their professors can also avail themselves of that city's varied arts events.
Making connections
Launched in the spring of 2003, this program underscores the Wheaton Curriculum's emphasis on drawing connections among disciplines and examining complex issues from multiple perspectives. For instance, in February 2003, Associate Provost and Professor of Economics Gordon Weil took students in his class, "Poverty in a Global Context," to see the play, "Nickel and Dimed," at the Trinity Repertory Theatre. Based on Barbara Ehrenreich's non-fiction book Nickel and Dimed: On (Not) Getting by in America, Joan Holden's stage adaptation illuminated the human dimensions of economics by focusing on the lives and struggles of the working poor in America.
Arts in the City extends and enriches the campus resources available to support Wheaton's curriculum. In April 2003, students in Assistant Professor of Art R. Tripp Evans's introductory survey class, "Great Works," traveled to New York City to tour the Metropolitan Museum of Art, the Guggenheim Museum, the Frick Collection and the P.S.1 Museum of Modern Art–all housing art works the class was studying.
Just as the Haas Visiting Artists Program brings a world of art to Wheaton, Arts in the City immerses Wheaton's students in off-campus cultural offerings, thus strengthening a two-way connection between Wheaton and the contemporary arts scene.