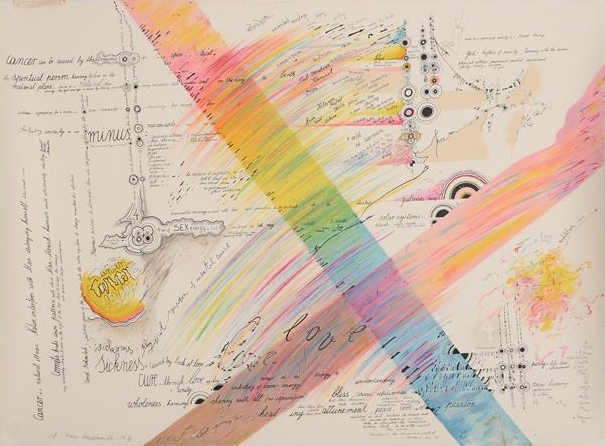 Object ID: 80.067
Creator: Mary Bauermeister
Title: Rainbow 156/250
Date: 1973
Culture: American / German
Dimensions: 25.75×18.875″
Materials: Lithograph
Credit: Anonymous Gift through Frontline Advisors
Provenance: 1973, created; 1980, donated to Wheaton.
To learn more about Bauermeister's lithograph, listen to the podcast written and recorded for the student-curated exhibition It's Elemental: Water. You can also read the print's exhibition label below:
Mary Bauermeister was raised and educated in Germany where she was active in the experimental Fluxus movement, along with such distinguished avant-garde artists as Hans G. Helms, David Tudor, John Cage, Christo, and Wolf Vostell. In the early 1960s, Bauermeister moved to New York to be closer to the burgeoning Pop Art and Nouveau Réalisme movements, through which she made friends with artists like Robert Rauschenberg, Jasper Johns, and Niki de Saint Phalle. During the following decade, she returned to Germany and began to study fringe sciences, including various geomancies, or forms of divination. It was during this period that she made Rainbow, a work that serves, in effect, as a mind map interweaving ideas and experiences from the artist's life. Ideas flow from one to the next, and despite its focus on dark topics, the work's color and title invoke hope for a new, brighter future – just as in Judeo-Christian mythology the rainbow symbolizes a new hope and God's promise to never again flood the earth.
-Liam Grace-Flood, Class of 2017