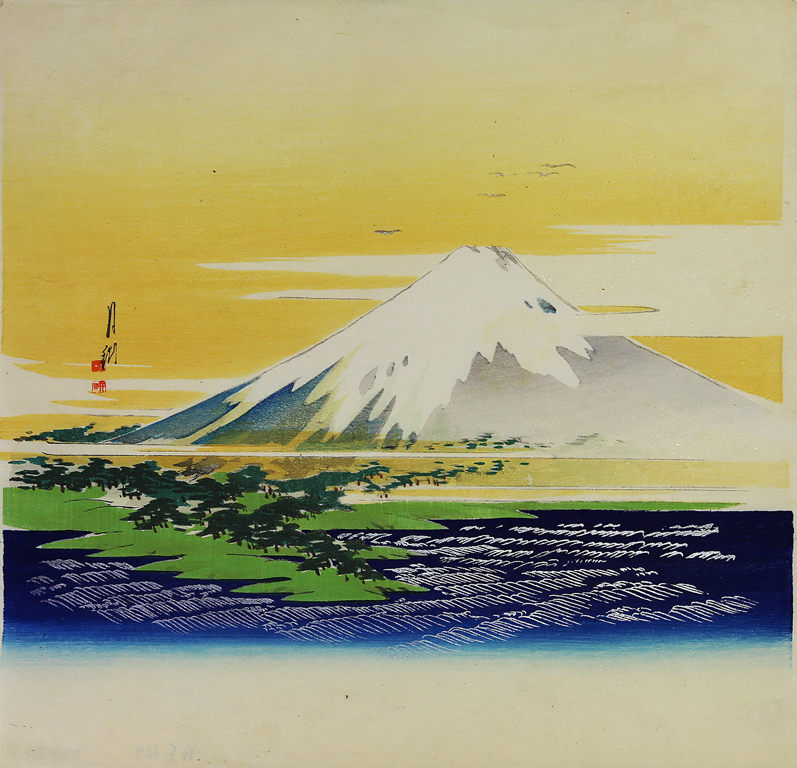 Ogata Gekkō created Mount Fuji in the late 19th century. The print features a scenic view of Mount Fuji or Fuji-san (富士山) under a yellow sky with a tree-filled peninsula jutting into the water. The tallest mountain in Japan and located just 62 miles from Tokyo, Mount Fuji stands at 12,380 feet atop a triple junction of tectonic plates.[1] Technically still an active volcano, it last erupted in 1707.[2] Although clouds often obscure the mountain, Mount Fuji can be viewed on clear days from Tokyo and Yokohama.[3]

Long an iconic symbol of Japan and Japanese identity, Mount Fuji has been considered a sacred site by Shinto practitioners since the 7th century.[4] Today, the mountain is dotted with Shinto shrines. The kami (神), or deity, of Mount Fuji is Princess Konohanasakuya (木花之開耶姫), who is symbolized by the cherry blossom.[5] Mount Fuji is also a popular site for non-religious tourists, who often begin climbing at night in order to see the sunrise from the summit, a tradition called Goraiko (御来光).[6]

Given its iconic status, Japanese artists often represent Mount Fuji in their work. Among the most well-known representations of the volcano is Katsushika Hokusai's Thirty-Six Views of Mount Fuji series.[7] This print by Ogata Gekkō defies the conventions of standard woodblock prints to achieve a painterly, watercolor effect.[8] Although it was created after the Edo Period (1603-1867), Ogata Gekkō considered himself as part of the ukiyo-e tradition for which the period is well known.[9] His picturesque view of Mount Fuji displays the mountain's continuing status as a source of artistic inspiration.

-Mandy Prue, Class of 2016

Sources:

[1] "Mount Fuji", National Geographic, education.nationalgeographic.org.
[2] "Mount Fuji", Japan Guide, japan-guide.com.
[3] "Mount Fuji", National Geographic.
[4] Id.
[5] Id.
[6] "Mount Fuji", Encyclopaedia Brittanica, britannica.com.
[7] "Ogata Gekko Biography", Ogata Gekko Meiji Master, ogatagekko.net.
[8] Id.