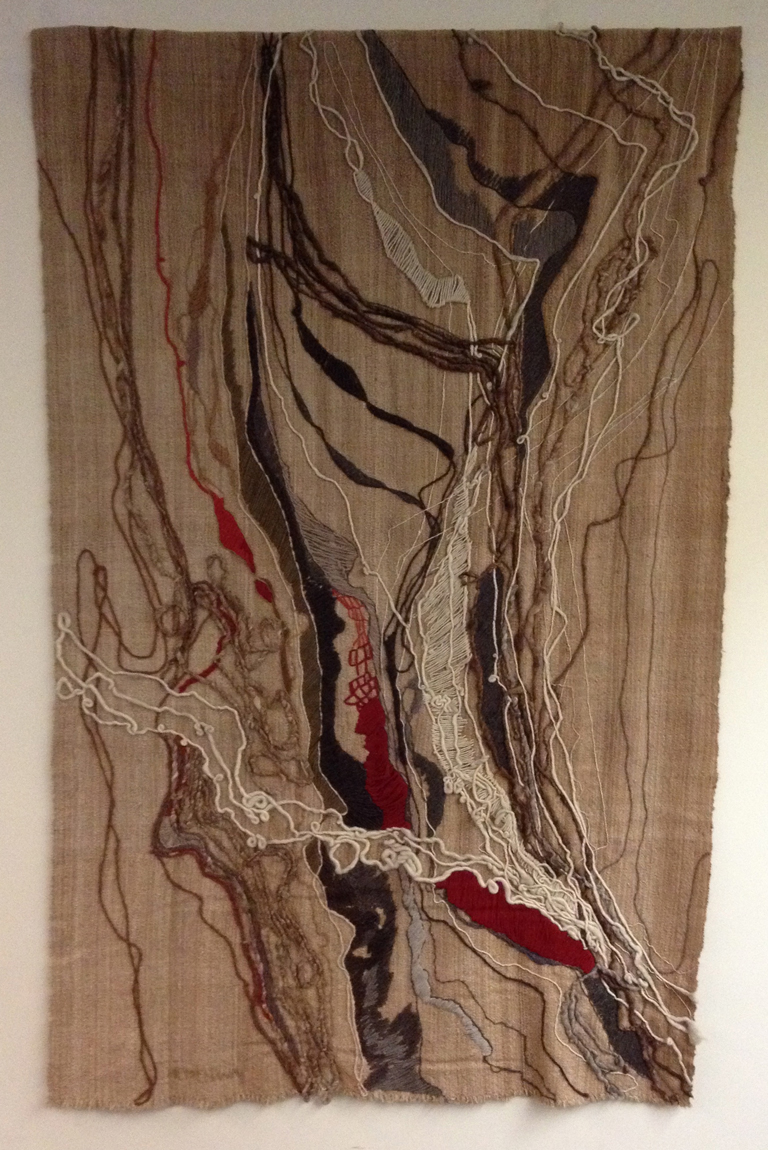 Object ID: 2005.017
Creator: Nancy Hemenway Barton (American, 1920-2008)
Title: Elements II
Date: 1967-1981
Culture: American
Materials: fiber, thread, wool
Credit: Gift of Nancy Hemenway Barton, Class of 1941
Provenance: 1967-1981, collection of the artist; 1981, donated to Wheaton.
Conservation: Conserved by Museum Textile Services through the Ann H. Murray Art Conservation Fund thanks to donations from the Wheaton College Friends of Art.
Born in Boothbay Harbor, Maine, Nancy Hemenway Whitten received a full music scholarship to Wheaton College. After graduating from Wheaton in 1941, she studied music composition at Harvard University and received a master's degree from Columbia University in Spanish lyric poetry. In 1942, Nancy married her childhood friend Marine Lt. Robert D. Barton. Following World War II, the Bartons traveled to Uruguay, Argentina and Spain. It was during these travels as a diplomatic spouse that art became a "focal point" in her life.
Of the artist's work, Professor Emerita of Art History Ann H. Murray once wrote, "Nancy Hemenway describes her medium as bayetage, a term that combines the Spanish word bayeta with the English word collage. Her tapestries incorporate a gamut of luxurious materials – bayeta, Swiss organdy, velvet, mohair, alpaca, lace – to create what she describes as 'a collage of weaving and fiber,' highly evocative of natural growing forms. Her tactile surfaces display an enormous textural variation played over with organically-inspired patterns rendered in needlecraft. Despite a delicacy that one generally associates with (but not dependent upon) their monumental scale. One is not surprised to learn that the artist's lifelong interest and skill in sewing is combined in these tapestries with a solid artistic foundation based on study with the Spanish artist Pierre Mathieu in Madrid, followed by classes at the Art Students League in New York. In fact, it was only in 1966 while living in Bolivia (where her husband was assigned by the State Department) that, denied that availability of paints and inspired by handwoven wools, she substituted her needle for her paintbrush and invented bayetage."
When told that she would be used as a "centerpiece" for her 40th reunion, Nancy replied, "I have never been a centerpiece, and realize that it means you may smell sweet, but you won't last long. And who cares if the food isn't any good? So I understand my place in the sun! In any case, it has occurred to me that perhaps the time to hang the tapestry would be at my 40th reunion. It is such a small thing in the vast life of Wheaton, but 1941 is a small class and we haven't made many waves, or even centerpieces to date."
Elements II has been central to the aesthetic environment of the Wallace Library since it was first displayed in 1981. In May 2013, it was removed for assessment, cleaning, and minor repairs, completed by textile conservator Camille Myers Breeze and the team at Museum Textile Services. With help from Wheaton carpenters Chris Chaves and Mike Yelle, the tapestry was re-hung in the library, where it serves as a lasting legacy to the Class of 1941 and to Nancy Hemenway Barton, who died in February 2008 at the age of 87.